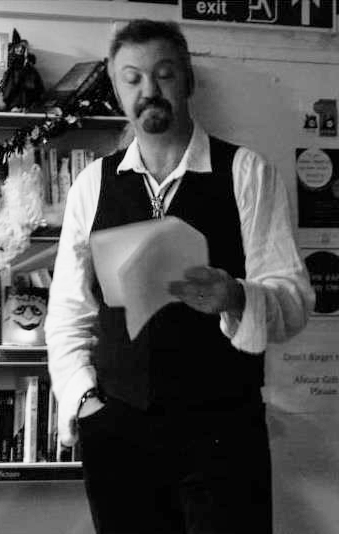 We are delighted to announce two new deals for one of Zeno's newest clients, Simon Unsworth. Simon is already very much established in the field of gothic fiction, and he's now stepping into a wider arena with THE SORROWFUL, a gripping, supernatural thriller set in Hell, pitched as 'The Wire meets Clive Barker'.
THE SORROWFUL along with a second untitled novel has been acquired by both Robert Bloom at Doubleday (North American rights) and Michael Rowley at Del Rey UK (UK & Commonwealth). The deals were negotiated by John Berlyne of the Zeno Agency. Publication is planned for Spring 2015. Translation rights will be handled by Zeno.
Rob Bloom says  'I knew I had to publish Simon Kurt Unsworth's THE SORROWFUL after reading the first scene, and then that scene was topped, and then topped again and again. THE SORROWFUL is chock-full of intense and vivid Hell-fire imagery, yes, but more than that it is a tautly crafted and suspenseful thriller of the highest caliber. It's a stunning and immersive novel that will be a rare treat for readers across genres—from horror, to fantasy, to thrillers.'
UK editor Michael Rowley adds, 'Simon's vision is astounding; his central character is a wonderful re-interpretation of the world weary, dedicated cop, the setting as captivating as it is unsettling, and the writing itself leaves you desperate for more. We can't wait to see THE SORROWFUL published as part of the Del Rey list.'
Simon Unsworth is a British author, born in Manchester in 1972. His most recent collection is the critically acclaimed QUIET HOUSES, which was long-listed for the Edge Hill Short Story Collection prize. His short story "The Church on the Island" was nominated for the 2008 World Fantasy Award. His work has been published in a number of anthologies including Dark Horse's Lovecraft Unbound, PS Publishing's Postscripts and Gray Friar Press's WHERE THE HEART IS. And here is taste of what you can expect from THE SORROWFUL…
An unidentified, brutalised body. A cowed and fearful populace. A society on the edge of collapse. No support from the authorities. Internecine political intrigue. More defiled bodies. Lies and rumours and false trails. An investigation under these conditions would be a tough proposition at the best of times. But it's all the harder when it takes place in Hell…
THE SORROWFUL follows Fool, one of Hell's 'Information Men', as he attempts to discover the identity of a vicious killer. But how do you investigate murder in a place where death, torture, and slavery are commonplace? Or when your main suspect-pool is a legion of demons? With no memory of his past, and no idea why this case matters to him so much, Fool determines to solve the mystery. His search will lead him to the man whose roots reach deep into every circle of Hell. He will visit the darkest places where the oldest demons live, where they jealously guard their privacy, and where things exist that have no name.
Welcome to Hell, where skinless demons patrol the lakes, gardens of flame burn things into existence, and the waves of Limbo wash against the outer walls with the souls of the Damned floating on their surface, waiting to be collected.  Hell is evolving, and Fool is caught in the middle…
Simon is currently at work on the sequel to THE SORROWFUL, tentatively titled THE DISAPPEARED.