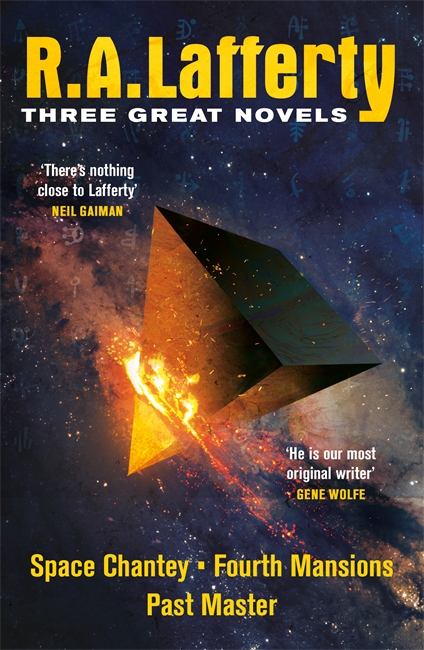 An omnibus edition collecting THREE GREAT NOVELS by R.A. Lafferty is out now, published by Gollancz. Including the acclaimed novels SPACE CHANTEY, FOURTH MANSIONS and PAST MASTER, here's the omnibus's synopsis…
Three early masterpieces from one of science fiction's great stylists.
Acclaimed, as one of the most original voices in modern literature, Raphael Aloysius Lafferty drew more from traditional oral storytelling techniques than from the usual pulp roots of SF. His inventive style and fondness for tall tales marked him out from his contemporaries, and writers of the calibre of Harlan Ellison, Neil Gaiman and Gene Wolfe acknowledge him as a major influence and force in the field. His fiction has garnered numerous award wins and nominations and he has been given the prestigious SFWA Grand Master Award and the World Fantasy Award for Lifetime Achievement.
This volume contains three of his early novels: the Hugo- and Nebula-shortlisted Past Master, space opera re-telling of The Odyssey, Space Chantey, and Fourth Mansions, also shortlisted for the Nebula.
A whole host of Lafferty's novels have also been made available in the UK as eBooks (including the three in the omnibus), published by Gollancz's SF Gateway. We've including the novels' individual synopses, below.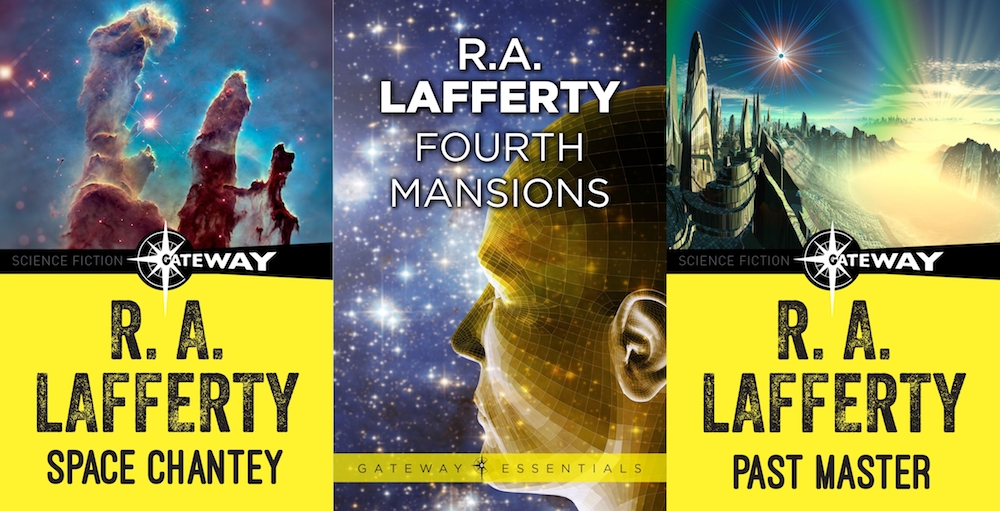 SPACE CHANTEY, originally published in 1968…
Set in the far future, Space Chantey chronicles the adventures of Space Captain Roadstrum and his crew, on a journey through galaxies resonant with myth and peril as Roadstrum valiantly battles to return across the cosmos to Big Tulsa, the Capital of the World, and to his wife and young son Tele-Max.
FOURTH MANSIONS, originally published in 1969…
Seven very special people blending to create a higher form of humanity…
A laughing man living alone on a mountain top, guarding the world…
The returnees, men who live again and again, century after century…
A dog-ape plappergeist who can be seen only from the corner of the eye…
And a young man named Foley, very much like you or me, who begins to find out about these people and these things, and how they are shaping the destiny of the world…
'Of all the contemporary authors generally considered to be part of the fantasy and science fiction genres, Lafferty is without doubt the most original.' — Supernatural Fiction Writers on FOURTH MANSIONS
PAST MASTER, also originally published in 1968…
The golden planet of Astrobe, made in the image of Utopia, now faced a crisis which could destroy it forever; and yet, no one could understand it: In a world where wealth & comfort were free to everyone, why did so many desert the golden cities for the slums of Cathead and the Barrio? Why did they turn away from the Astrobe dream and seek lives of bone-crushing work, squalor and disease?
The rulers of Astrobe didn't know, so they sought in humankind's past for a leader who could give them the answers. They brought to life the one man out of history who would most want to destroy Astrobe!
'Marvelously inventive… Profound wit and high adventure.' — Roger Zelazny on PAST MASTER
'As with everything the man writes, the wind of imagination blows strongly, with the happy difference that in a novel he can reach full  gale-force. Lafferty defies categorization; his work is unlike anyone else's. This is a great galloping madman of a novel, drenched in sound and color.' — Harlan Ellison on PAST MASTER
Zeno represents R.A. Lafferty in the UK and Commonwealth, on behalf of the JABberwocky Literary Agency in New York.