We're very happy to report that a number of our clients will be attending this year's British Fantasy Convention (FantasyCon), to be held between September 5th–7th 2014, at The Royal York Hotel. (This weekend!)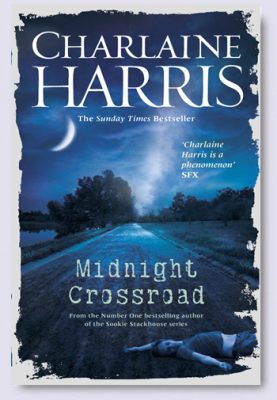 First up, we're delighted that Charlaine Harris, New York Times bestselling author of the Sookie Stackhouse/True Blood series of urban fantasy novels, will be a guest of honour at FantasyCon! Charlaine's latest novel, MIDNIGHT CROSSROAD was published in the UK by Gollancz in May 2014.
Here are our other clients' events during the convention, all of which occur on Saturday 6th…
10:00am – Anne Lyle and Kari Sperring take part in the 'Does It Make Sense?' panel – 'Economics of fantasy systems. If Smaug holds all the gold and it gets liberated, what does that do to the economy?'
Noon – Charlaine Harris in Conversation – interviewed by Adele Wearing
Noon – Edward Cox will take part in the 'Dead Parents, Burned Homesteads and Wicked Stepmothers' panel – 'Is it essential to write out the parents before youthful characters can head out on adventures? Are adult figures always unhelpful or malign? Should writers search for ways to keep parents around — or do fantasies of a world without parents fulfil a real need?'
3:00pm – Charlaine Harris will take part in the 'She Ain't Heavy, She's My Sister' panel – 'Kirk and Spock, Luke and Han, Frodo and Sam – epic friendships between men are common in fantasy, but friendships between women, or platonic relationships between men and women that stay that way – are much thinner on the ground. The panellists discuss why it matters and examine some of the rare exceptions.'
3:00pm – Edward Cox will take part in the 'Icky Romance' panel – 'Love and sex are powerful motivators and sources of dramatic conflict. However when combined with the conventions of SFF, there's a lot of potential for cliché, from damsels in distress to dangerous supernatural boyfriends. But how often do complaints about the place of romance in SFF come down to a fear of girl cooties?'
4:00pm – Charlaine Harris will take part in the FanFiction panel – 'The Fan, the Pro and the Publishing Industry Writers on both sides of the fan/pro divide and writers who straddle it discuss fanfiction. After the success of E.L James, should publishers be searching for more hit writers on AO3 and Fanfic.net? What keeps talented writers away from traditional publishing?'
5:00pm – Stephen Volk will take part in the 'Horror on the Small Screen' panel – 'TV is getting darker, and with the recent success of American Horror Story, Black Mirror and Being Human, are we entering a new golden age of terrifying TV?'
9:00pm – Edward Cox will give a reading from THE RELIC GUILD at the 'Super Relaxed Fantasy Club'
On Sunday 7th, the British Fantasy Awards will be held at approximately 2:30pm. The full list of nominees can be found here.
Edward Cox is the author of THE RELIC GUILD, due to be published mid-September 2014 by Gollancz in the UK.
Anne Lyle is the author of the Nights Masque trilogy – THE ALCHEMIST OF SOULS, THE MERCHANT OF DREAMS, and THE PRINCE OF LIES – published by Angry Robot Books.
Kari Sperring is the author of LIVING WITH GHOSTS and THE GRASS KING'S CONCUBINE, both published by DAW Books.
Unlisted in the events, above, Simon Kurt Unsworth will also be in attendance, and may give a reading from his upcoming novel, THE DEVIL'S DETECTIVE, due to be published in 2015 by Del Rey (UK) and Doubleday (US) – check back later this week and also next week for more news about this exciting upcoming title.
Stephen Volk is a prolific author of horror short fiction, and two of his works are up for British Fantasy Awards this year – WHISTABLE is nominated for Best Novella, and is published by Spectral Press; and MONSTERS IN THE HEART, published by Gray Friar Press, is nominated for Best Collection.
Zeno represents Charlaine Harris in the UK and Commonwealth, on behalf of the JABberwocky Literary Agency in New York.