We're very happy to report that Amazon US has selected the next novels by Aliette de Bodard and Ian McDonald to be among their Spring Editors' Picks!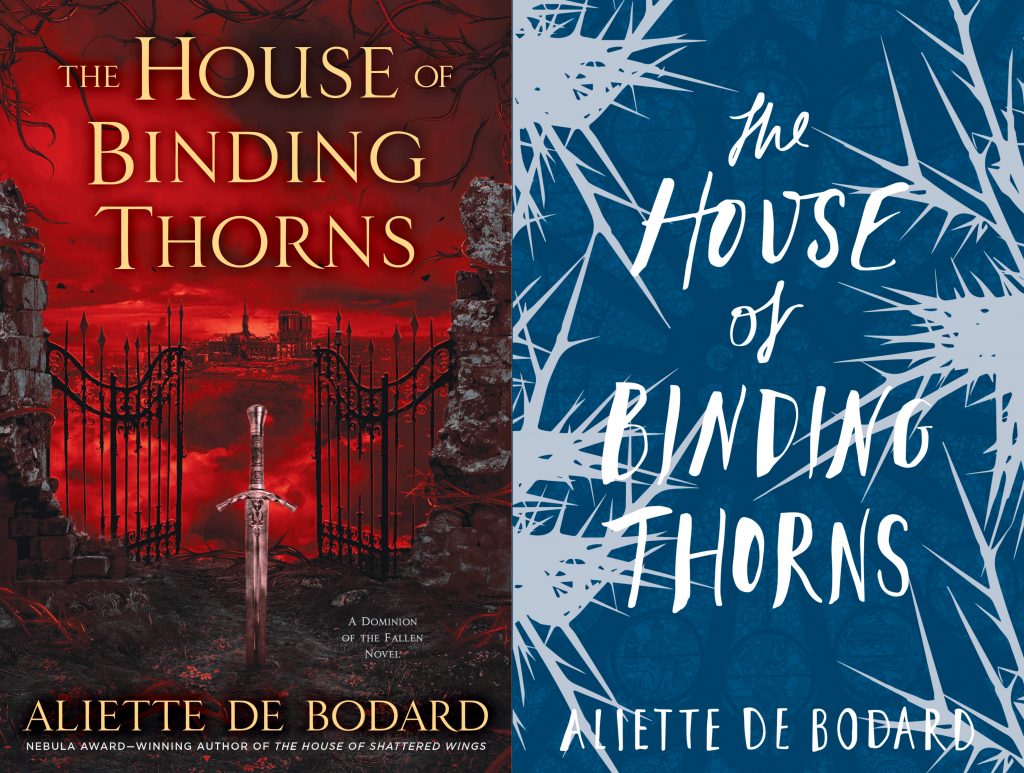 Aliette's THE HOUSE OF BINDING THORNS is the second novel in her Dominion of the Fallen series, and is due to be published by Roc Books in the US on April 4th, 2017. Here's the synopsis…
Paris endures the aftermath of a devastating arcane war…
As the city rebuilds from the onslaught of sorcery that nearly destroyed it, the great Houses of Paris, ruled by Fallen angels, still contest one another for control over the capital.
House Silverspires was once the most powerful, but just as it sought to rise again, an ancient evil brought it low. Phillippe, an immortal who escaped the carnage, has a singular goal — to resurrect someone he lost. But the cost of such magic might be more than he can bear.
In House Hawthorn, Madeleine the alchemist has had her addiction to angel essence savagely broken. Struggling to live on, she is forced on a perilous diplomatic mission to the underwater dragon kingdom — and finds herself in the midst of intrigues that have already caused one previous emissary to mysteriously disappear…
As the Houses seek a peace more devastating than war, those caught between new fears and old hatreds must find strength — or fall prey to a magic that seeks to bind all to its will.
Both novels in the series are published in the UK by Gollancz. The series has been praised far and wide. Here is just a small selection from the reviews the novels have received…
'Meddling gleefully in the affairs of devils and dragons, this affective sequel to 2015's THE HOUSE OF SHATTERED WINGS touches the heart as often as it cuts throats… Having fully crafted her world, de Bodard is now completely in control: she can move swiftly from gentle poetic touches to bloody Grand Guignol gestures, and she sure-handedly holds the reader…' — Publishers Weekly (Starred Review) on THE HOUSE OF BINDING THORNS
'de Bodard's people feel real to me… There is hope even in the darkest of places, and there is a desire for love, for trust, for harbor, that takes root no matter how often it's destroyed. This is a stronger, more certain novel than THE HOUSE OF SHATTERED WINGS, and if reading it is sometimes walking the unfenced edge of a cliff, the vista is dizzying and beautiful. It is well worth the wait, and if you haven't read the first novel, I urge you to do so. But have THE HOUSE OF BINDING THORNS in hand before you reach the end.' — Fantasy & Science Fiction (Mar/Apr 2017)
'Amazing writing and the phenomenal characters. de Bodard will sweep you up into the dark and dirty world Paris has become… The writing style rendered the characters' feelings and emotional turmoil beautifully… There's so much going on, and every character has their own past, their own tragic history. It's a whirlwind, it's heartbreaking and it's one of the best fantasy novels of 2015.' — RT Book Reviews (Top Pick August 2015) on THE HOUSE OF SHATTERED WINGS
'De Bodard… has spun a fascinating Paris of decay and cruelty. ­Phillippe is a marvel of a character, unreliable as a narrator but compelling in his flaws and his deep well of homesickness.' — Library Journal (Starred Review) on THE HOUSE OF SHATTERED WINGS
'A beautifully crafted novel full of complex characters, set in a post apocalyptic Paris – the image of which is truly haunting… vivid and fast-paced battles and intense political manoeuvrings… with carefully crafted characters both with layers and depth, De Bodard reflects the best and worst of human nature in her novel… an intriguing mystery, elegantly written… Something any avid fantasy reader with an open mind will devour!' — Guardian on THE HOUSE OF SHATTERED WINGS
Ian's LUNA: WOLF MOON is the sequel to LUNA: NEW MOON, and is due to be published in the US by Tor Books, on March 28th, 2017. Here's the synopsis…
A Dragon is dead.
Corta Helio, one of the five family corporations that rule the Moon, has fallen. Its riches are divided up among its many enemies, its survivors scattered. Eighteen months have passed .
The remaining Helio children, Lucasinho and Luna, are under the protection of the powerful Asamoahs, while Robson, still reeling from witnessing his parent's violent deaths, is now a ward — virtually a hostage — of Mackenzie Metals. And the last appointed heir, Lucas, has vanished of the surface of the moon.
Only Lady Sun, dowager of Taiyang, suspects that Lucas Corta is not dead, and more to the point — that he is still a major player in the game. After all, Lucas always was the Schemer, and even in death, he would go to any lengths to take back everything and build a new Corta Helio, more powerful than before. But Corta Helio needs allies, and to find them, the fleeing son undertakes an audacious, impossible journey — to Earth.
In an unstable lunar environment, the shifting loyalties and political machinations of each family reach the zenith of their most fertile plots as outright war erupts.
Both of the Luna novels are published in the UK by Gollancz. Here are a few reviews the series has received so far…
'Powerful sequel… compelling throughout. Each of McDonald's viewpoint characters is made human in fascinating and occasionally disturbing detail, and the solar system of the 22nd century is wonderfully delineated. Fans of the first volume will love this one and eagerly look forward to the next.' — Publishers Weekly on LUNA: WOLF MOON
'Smart, funny, passionate and at times quite dark, McDonald brings the touch we've seen in RIVER OF GODS and DERVISH HOUSE to an entirely new culture as it evolves in a distant hostile place where business or family rules all… it's terrific. My only complaint: it leaves you wanting the second book right now!' — Jonathan Strahan on LUNA: NEW MOON
'No one writes like Ian McDonald, and no one's Moon is nearly so beautiful and terrible… Ian McDonald's never written a bad novel, but this is a great Ian McDonald novel… McDonald's moon is omnisexual, kinky, violent, passionate, beautiful, awful, vibrant and crushing… I'm all a-quiver for the next one.' — BoingBoing on LUNA: NEW MOON
'Fans of cerebral, high-concept science fiction will love this exploration of society on the moon many decades after it has been colonized. The focus is more on concept and plot than on character, but the former are compelling enough to make this an addictive page-turner. Including the stories of many characters gives the reader important insights into different facets of society, and although the book starts at a slow pace, it accelerates into a mesmerizing political thriller.' — RT Book Reviews on LUNA: NEW MOON
'LUNA: NEW MOON is the best moon novel I've seen in many years… Inasmuch as it challenges one of the cherished master narratives of SF, in which the moon is only a stepping-stone, and despite what it owes to the tropes of '70s-era social melodrama, McDon­ald's novel has some formidable SF stingers not far beneath its densely textured surface.' — Locus