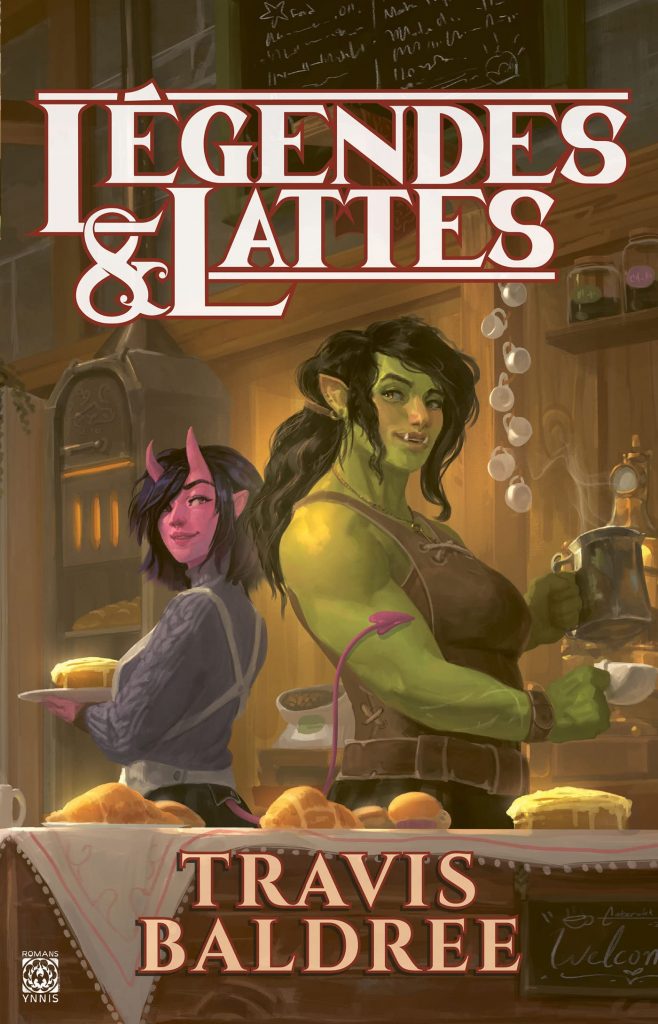 The French edition of LEGENDS & LATTES, Travis Baldree's acclaimed, best-selling debut novel is out now! Published by Ynnis Editions, as LÉGENDES & LATTES, and translated by Stéphanie Chaptal, here's the synopsis…
Une tasse de fantasy, des tranches de vie savoureuses et un zeste de romance !
Viv, une orc mercenaire au passé sanglant, décide de changer de vie. À l'aide d'une légendaire pierre censée lui apporter la bonne fortune, elle se lance dans une entreprise audacieuse  : la création d'un café. Un pari risqué, car dans la ville de Tuine, les elfes, lutins et autres ratelins ignorent tout de ce breuvage peu ragoûtant. Et lorsque les hommes de main du Madrigal, la mafia locale, viennent s'en mêler, et que l'un de ses anciens compagnons d'armes rôde alentour, Viv sait d'expérience que son aventure ne se déroulera pas sans embûches…
Aux côtés d'une succube très perspicace, d'un hobgobelin mutique et de divers alliés improbables, Viv devra réussir à se tailler une place dans un monde qui lui est inconnu, tout en protégeant coûte que coûte ce qui compte le plus pour elle.
LEGENDS & LATTES is published by Tor Books in the UK and North America; the novel is also available in Hungary, Spain, Germany, and Poland (with more translations on the way!). Here's the English-language synopsis…
After a lifetime of bounties and bloodshed, Viv is hanging up her sword for the last time.
The battle-weary orc aims to start fresh, opening the first ever coffee shop in the city of Thune. But old and new rivals stand in the way of success — not to mention the fact that no one has the faintest idea what coffee actually is.
If Viv wants to put the blade behind her and make her plans a reality, she won't be able to go it alone.
But the true rewards of the uncharted path are the travelers you meet along the way. And whether drawn together by ancient magic, flaky pastry, or a freshly brewed cup, they may become partners, family, and something deeper than she ever could have dreamed.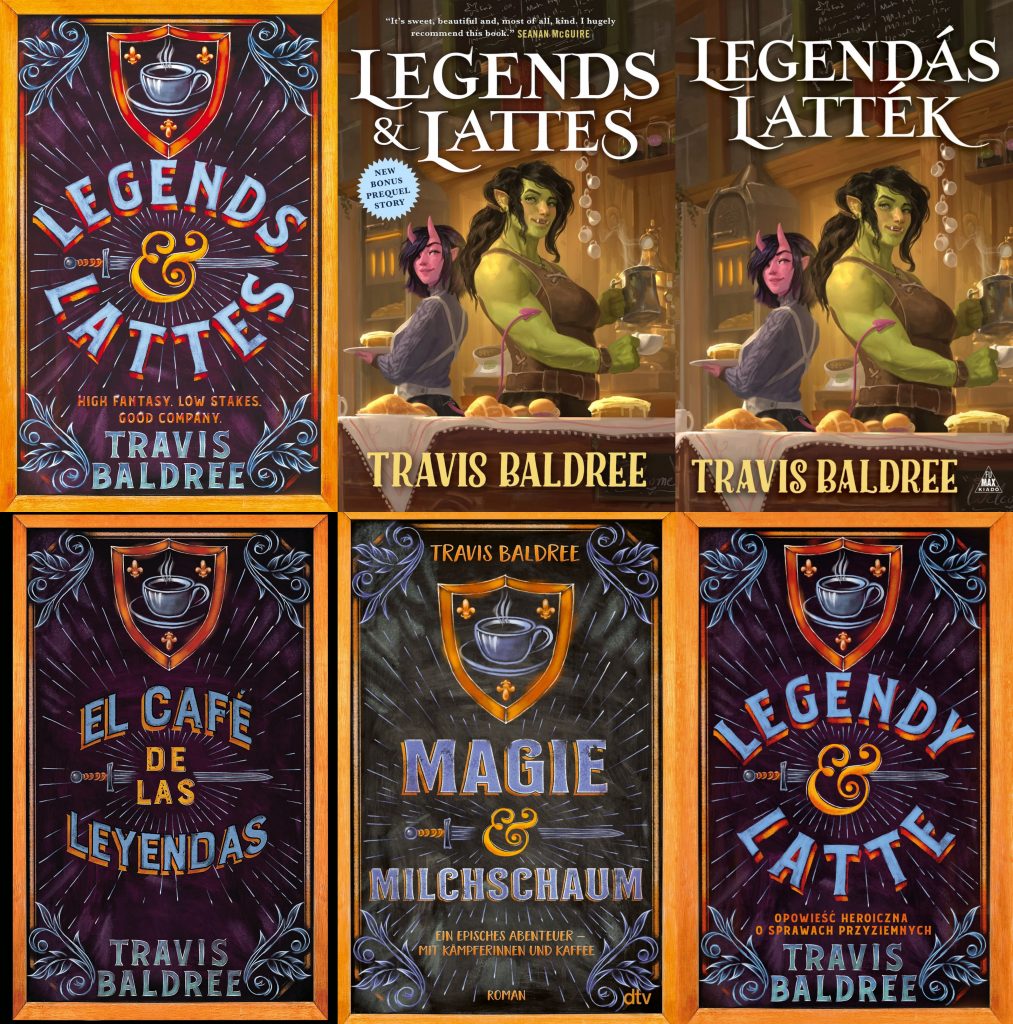 Baldree's next novel is BOOKSHOPS & BONEDUST, a prequel novel in the series — it is due to be published by Tor Books in the UK and North America, in November 2023.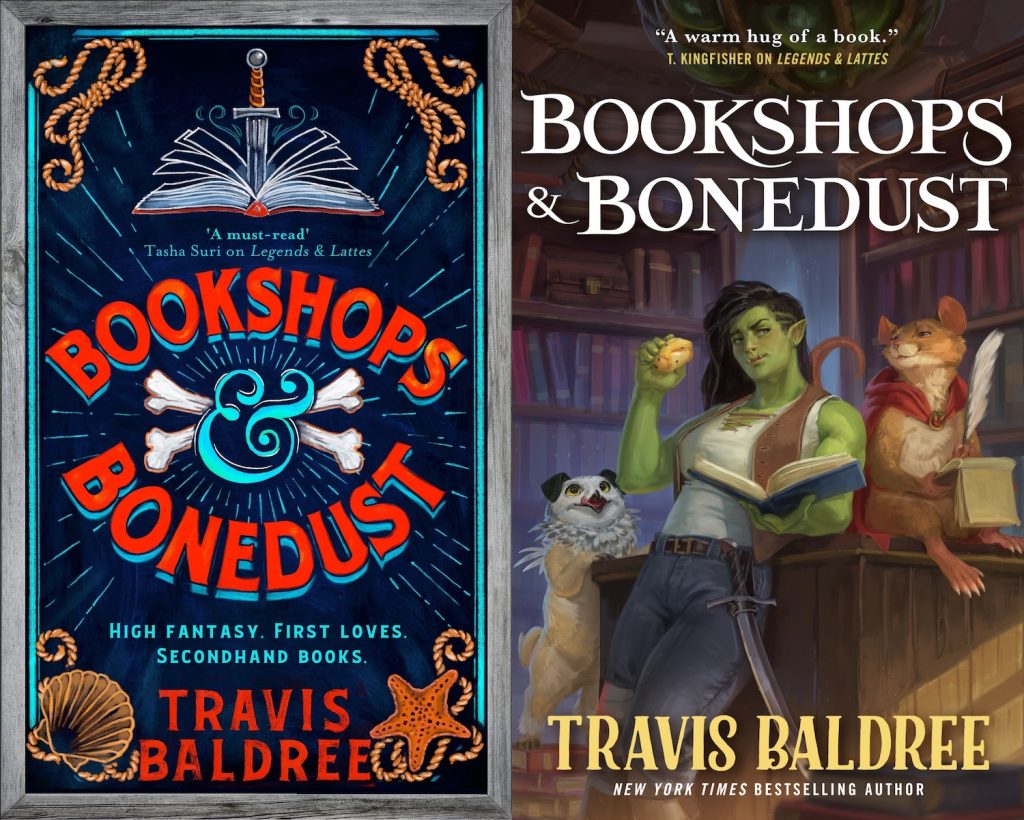 Here are just a few of the great reviews LEGENDS & LATTES has received so far…
'This is a story about following your dreams, even when they take you away from who you thought you had to be. It's sweet, beautiful and, most of all, kind. I hugely recommend this book.' — Seanan McGuire, New York Times bestselling author of Every Heart A Doorway
'The most fun I've ever had in a coffee shop.' — Ben Aaronovitch, bestselling author of Rivers of London
'A gentle little cozy set against an epic fantasy backdrop… This charming outing will please anyone who's ever wished to spend time in a fantasy world without all the quests and battles.' — Publishers Weekly
'This slice-of-life cozy fantasy novel has everything you've been searching for.' — Buzzfeed
'An orc retires from adventuring to start a fantasy city's very first coffee shop. This setup combined with the positive messages of defying societal stereotypes, letting go of violence to build peace, and trusting in your friends feels like a premise from Terry Pratchett's Discworld… LEGENDS & LATTES is a novel, and shop, that will delight anyone who enjoys coffee-shop alternate universes, slow-burn romances, and the vindication of friendship.' — Booklist, starred review
'A stunningly-well done story at every level' — Fantasy Faction
'If you like fantasy but you're tired of reading about wars and general intensity, this is the book for you… Cozy fantasy at its best.' — Literary Hub
'LEGENDS & LATTES isn't just a cosy, slice-of-life fantasy, it is a hug after a long day, it's that first bite of chocolate you've been desperately craving or that first sip of coffee, it's pyjamas and blankets and everything else which brings comfort and warmth. This is a tale so simple yet so wholesome and adorable, it has made me see just how versatile the fantasy genre can be… Believe the hype… this book deserves all the praise… Baldree delivers a tale to soothe the soul, a tale which had me smiling and crying with happiness from beginning to end.' — Fantasy Hive