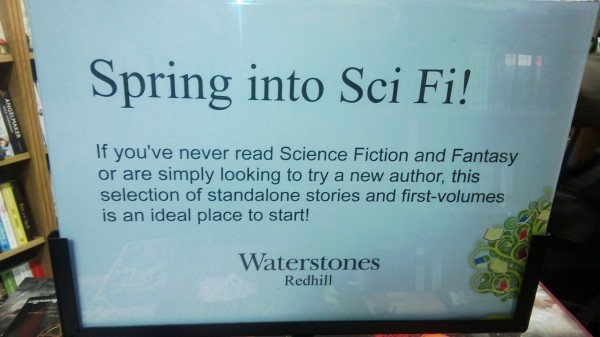 During one of my (too) frequent trips to Waterstone's, I came across a table displaying books that have been selected as 'ideal' starting points. And, lo and behold, among these gateway titles were four Zeno titles! 'Quite right, too,' I thought. Here they are, for your perusal…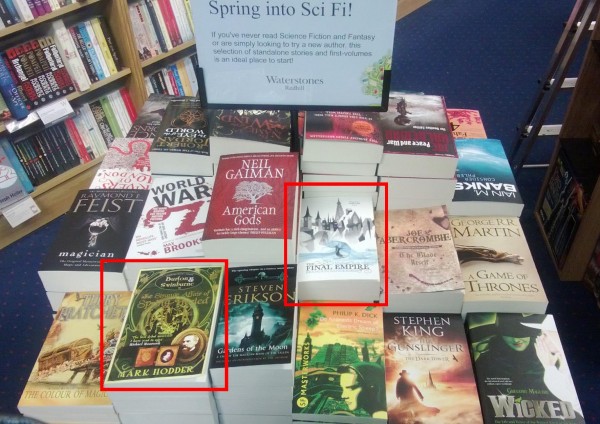 Now that we're in a new year, why not make it a resolution (one you'll keep, of course) to check out these series openers…?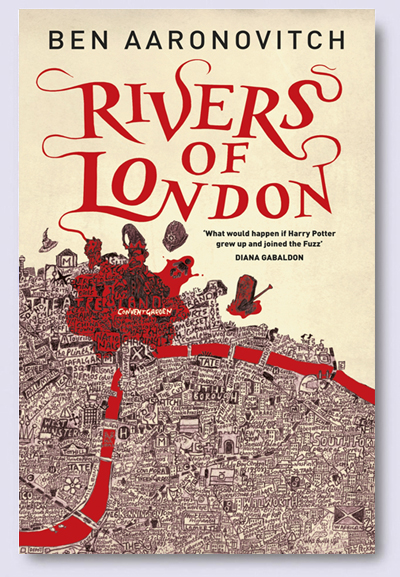 Ben Aaronovitch's RIVERS OF LONDON…
My name is Peter Grant and until January I was just probationary constable in that mighty army for justice known to all right-thinking people as the Metropolitan Police Service (as the Filth to everybody else). My only concerns in life were how to avoid a transfer to the Case Progression Unit – we do paperwork so real coppers don't have to – and finding a way to climb into the panties of the outrageously perky WPC Leslie May. Then one night, in pursuance of a murder inquiry, I tried to take a witness statement from someone who was dead but disturbingly voluable, and that brought me to the attention of Inspector Nightingale, the last wizard in England.
Now I'm a Detective Constable and a trainee wizard, the first apprentice in fifty years, and my world has become somewhat more complicated: nests of vampires in Purley, negotiating a truce between the warring god and goddess of the Thames, and digging up graves in Covent Garden… and there's something festering at the heart of the city I love, a malicious vengeful spirit that takes ordinary Londoners and twists them into grotesque mannequins to act out its drama of violence and despair.
The spirit of riot and rebellion has awakened in the city, and it's falling to me to bring order out of chaos – or die trying.
Ben's novels hardly need an introduction, but this is the first in his best-selling urban fantasy series starring Peter Grant. The fourth book in the series, BROKEN HOMES, was published by Gollancz in the summer of 2013. The fifth book in the series, FOXGLOVE SUMMER, is due later this year. The series is published by Gollancz in the UK, and Del Rey (RIVERS OF LONDON, MOON OVER SOHO and WHISPERS UNDER GROUND) and DAW Books (BROKEN HOMES onwards) in the US.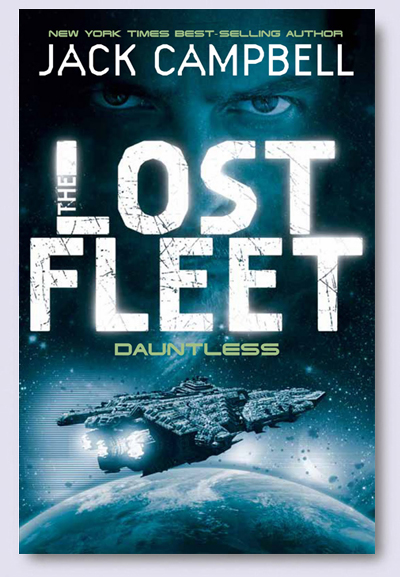 Jack Campbell's DAUNTLESS, first in his Lost Fleet series (published in the UK by Titan Books)…
After a hundred years of brutal war against the Syndics, the Alliance fleet is marooned deep in enemy territory, weakened and demoralised and desperate to make it home.
Their fate rests in the hands of Captain "Black Jack" Geary, a man who had been presumed dead but then emerged from a century of survival hibernation to find his name had become legend. Forced by a cruel twist of fate into taking command of the fleet, Geary must find a way to inspire the battle-hardened and exhausted men and women of the fleet or face certain annihilation by their enemies.
Campbell's Lost Fleet series has been a bestseller in the UK, and now comprises six novels and two spin-off series (Beyond the Frontier and The Lost Stars). All of his novels are published in the UK by Titan Books, including his next – STEADFAST (part of the Beyond the Frontier series) – which is due out in the UK in May 2014.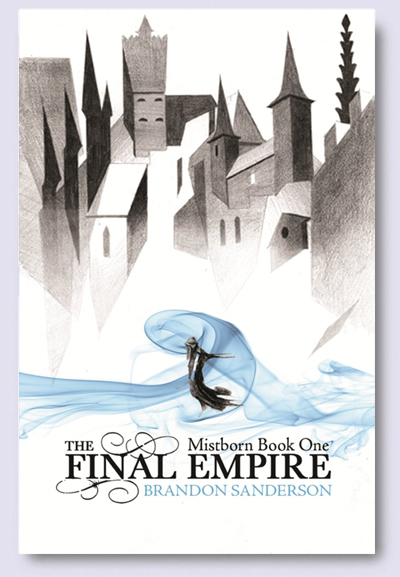 Brandon Sanderson's THE FINAL EMPIRE, first in his bestselling Mistborn series…
What if the Dark Lord won? The start of an epic fantasy trilogy that overturns the expectations of readers and then goes on to tell the epic story of evil overturned in a richly imagined world.
A thousand years ago evil came to the land and has ruled with an iron hand ever since. The sun shines fitfully under clouds of ash that float down endlessly from the constant eruption of volcanoes. A dark lord rules through the aristocratic families and ordinary folk are condemned to lives in servitude, sold as goods, labouring in the ash fields.
But now a troublemaker has arrived and there is rumour of revolt. A revolt that depends on criminal that no-one can trust and a young girl who must master Allomancy – the magic that lies in all metals.
Brandon's Mistborn series is published in the UK by Gollancz, and also includes THE WELL OF ASCENSION, THE HERO OF AGES and THE ALLOY OF LAW. His next novel is WORDS OF RADIANCE, due to be published in March 2014, also by Gollancz.
Mark Hodder's first Burton & Swinburn novel, THE STRANGE AFFAIR OF SPRING-HEELED JACK (published by Snowbooks)…
It is 1861, and Albertian Britain is in the grip of conflicting forces. Engineers transform the landscape with bigger, faster, noisier and dirtier technological wonders; Eugenicists develop specialist animals to provide unpaid labour; Libertines oppose restrictive and unjust laws and flood the country with propaganda demanding a society based on beauty and creativity; while The Rakes push the boundaries of human behaviour to the limits with magic, sexuality, drugs and anarchy.
Returning from his failed expedition to find the source of the Nile, explorer, linguist, scholar and swordsman Sir Richard Francis Burton finds himself sucked into the perilous depths of this moral and ethical vacuum when the Prime Minister, Lord Palmerston, employs him as "King's Spy." His first mission: to investigate the sexual assaults committed by a weird apparition known as Spring Heeled Jack; to find out why chimney sweeps are being kidnapped by half-man, half-dog creatures; and to discover the whereabouts of his badly injured former friend, John Hanning Speke.
Accompanied by the diminutive and pain-loving poet, Algernon Swinburne, Burton's investigations lead him back to one of the defining events of the age: the brutal assassination of Queen Victoria in 1840; and the terrifying possibility that the world he inhabits shouldn't exist at all.
Mark Hodder's most recent novels – THE SECRET OF ABDU EL YEZDI and A RED SUN ALSO RISES – have been published in the UK by Del Rey.
Zeno represents Jack Campbell, Brandon Sanderson and Mark Hodder in the UK and Commonwealth on behalf of the JABberwocky Literary Agency in New York.