Lavie Tidhar's critically-acclaimed THE VIOLENT CENTURY is due to be re-issued on July 23rd in North America! To be published by Tachyon Publications with a stunning new cover by Sarah Anne Langton (above), here's the synopsis…
A bold experiment has mutated a small fraction of humanity. Nations race to harness the gifted, putting them to increasingly dark ends. At the dawn of global war, flashy American superheroes square off against sinister Germans and dissolute Russians. Increasingly depraved scientists conduct despicable research in the name of victory.
British agents Fogg and Oblivion, recalled to the Retirement Bureau, have kept a treacherous secret for over forty years. But all heroes must choose when to join the fray, and to whom their allegiance is owed — even for just one perfect summer's day.
THE VIOLENT CENTURY is published in the UK by Hodder.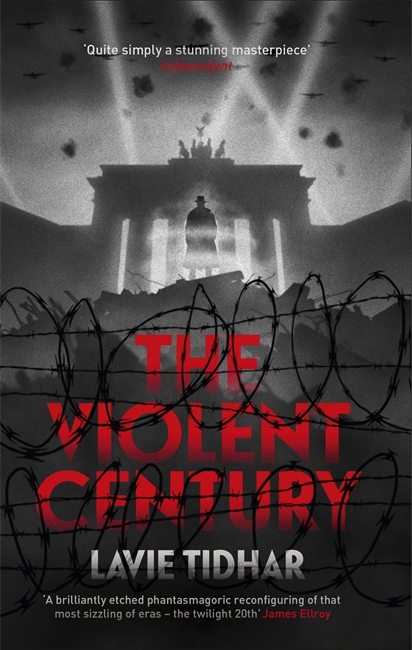 Here's some of that aforementioned critical acclaim…
'A brilliantly etched phantasmagoric reconfiguring of that most sizzling of eras—the twilight 20th.' — James Ellroy, author of L.A. Confidential and Blood's a Rover
'THE VIOLENT CENTURY is a brilliant story of superheroes and spies and secret histories. It stands with Alan Moore's Watchmen as an examination of the myths that we made in the 20th Century and the ways they still haunt us now. it's as dramatic and vital as the best comic books and as beautifully written and evocative as any literary novel today. Read it. You'll see.' — Christopher Farnsworth, author of Blood Oath and Flashmob
'Like Watchmen on crack.' — io9
'If Nietzche had written an X-Men storyline whilst high on mescaline, it might have read something like THE VIOLENT CENTURY.' — Adam Roberts, author of Jack Glass
'An alternative history tour-de-force. Epic, intense and authentic. Lavie Tidhar reboots the 20th century with spies and superheroes battling for mastery—and the results are electric.' — Tom Harper, author of The Lost Temple
'A stunning masterpiece.' — The Independent
'Tidhar synthesises the geeky and the political in a vision of world events that breaks new superhero ground.' — Guardian
'It's hard, but not impossible as Alan Moore, Neil Gaiman, Mike Carey and others have shown, to create a morally complex, artistically ambitious story based on characters whose origins are not that far removed from the simplicity of Superman, Spiderman, and their ilk. Tidhar has succeeded brilliantly in this task.' — LA Review of Books
'A sophisticated, moving and gripping take on 20th century conflicts and our capacity for love and hate, honour and betrayal.' — Daily Mail
'It's the X-Men as written by John le Carré… A love story and meditation on heroism, this is an elegiac espionage adventure that demands a second reading.' — Metro
'Could keep anyone, regardless of the types of stories they regularly enjoy, interested and engaged. Tidhar has created a book that oozes excellence in both characterisation and storytelling.' — Huffington Post
'A new masterpiece… a tremendous, unforgettable read.' — Library Journal (Starred Review)