In case you missed the news yesterday, we wanted to share the exciting news that Gollancz will release three novellas set in the best-selling, acclaimed Skyward universe! Written by Brandon Sanderson and Janci Patterson, the books are due to be published by Gollancz between September and December.
We don't have covers, just yet, but the books will be available as eBooks and audiobooks (the first two of which will be read by Suzy Jackson). As you may also be aware, Brandon's third full-length novel in the series, CYTONIC, is also due out this year. Here is the publishing schedule for the four books, which also reflects the chronological order of the story…
To further whet your appetite, here's the synopsis for SUNREACH…
When a planet-destroying Delver suddenly appears in the sky of Detritus and vanishes just as suddenly, FM knows that the last free human society got lucky. Her Skyward Flight companion Spensa figured out how to draw this Delver away, but it won't be so easy next time.
The forces of the Galactic Superiority will be back-and if the Defiant Defense Force can't figure out a way to escape the planet, humanity's destruction is only a matter of time. Spensa's mission to infiltrate the Superiority unveiled the secret to their hyperdrives-a cytonic slug species called the Taynix. Now FM's flightleader Jorgen has found a large group of Taynix hiding in the caverns far below Detritus's surface.
FM and Jorgen must work together with the engineer Rig to awaken the mysterious alien Alanik and unlock the powers of the Taynix, or humanity will be trapped. With Spensa's friend Minister Cuna of the Superiority stranded at the outpost of Sunreach, they need to figure out how to rescue her-before her foes in the Superiority government can prepare a new weapon to wipe out Detritus once and for all.
The first two novels in the series, SKYWARD and STARSIGHT are out now, published by Gollancz in the UK.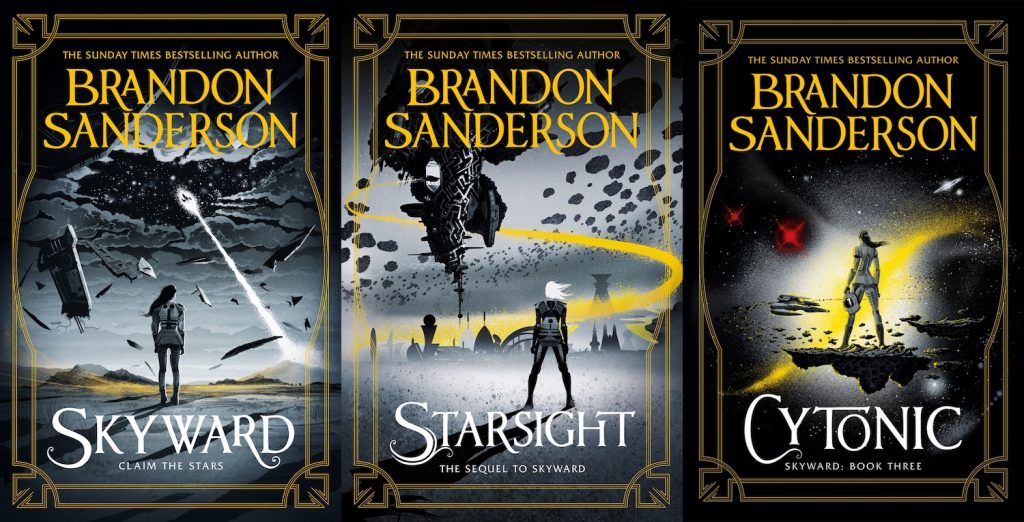 'Sanderson plainly had a ball with this nonstop, highflying opener, and readers will too.' — Kirkus (Starred Review) on SKYWARD
'With this action-packed trilogy opener, Sanderson offers up a resourceful, fearless heroine and a memorable cast—including a strangely humorous, mushroom-obsessed robot—set against the backdrop of a desperate conflict. As the pulse-pounding story intensifies and reveals its secrets, a cliffhanger ending sets things up for the next installment.' — Publishers Weekly (Starred Review) on SKYWARD
'Readers will enjoy his hallmark cinematic writing style, with plenty of strong visuals throughout the story, along with humor that some will love, and others will love to hate […] we say SKYWARD is an adventure and a half that you won't want to miss. Even hardcore Cosmere fans will enjoy the special mix of fantasy and sci-fi that unfolds as you watch Spensa learn what it means to be truly brave.' — Tor.com
'Sanderson is very good at action […] the breathless rush of the dogfights is what lingers longest in the mind.' — SFX Magazine on SKYWARD
'SKYWARD contains a lot of heart that teaches us to never back down in the face of adversity.' — Fantasy Faction
'Spensa's habitual over-the-top recklessness adds a rousing spark, and the author folds in plenty of banter as well as a colorful supporting cast.' — Kirkus on STARSIGHT
'STARSIGHT offers fun times just as Skyward did, with more worldbuilding, some favorite returning characters from Skyward, some amazing new characters and settings, and a ramped-up storyline.' — Tor.com
'The worldbuilding is of the standard I've come to expect from Brandon Sanderson, which is to say that it's excellent.' — The Fantasy Hive on STARSIGHT
Zeno represents Brandon Sanderson in the UK and Commonwealth, on behalf of the JABberwocky Literary Agency in New York.