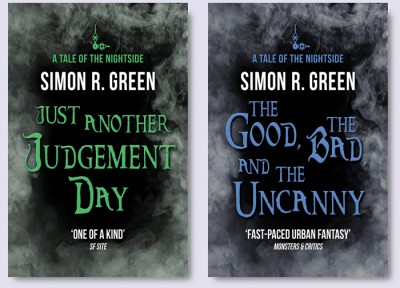 We reported a little while back that Jo Fletcher Books is re-issuing a number of Simon R. Green's novels in the UK as eBooks (hurray!). This Thursday, two more Tales of the Nightside novels will be available: JUST ANOTHER JUDGEMENT DAY and THE GOOD, THE BAD, AND THE UNCANNY (books nine and ten in the series). Here's the synopsis for the former…
Judgement Day has arrived for the inhabitants of the Nightside, and here to cast the first stone is God's very own agent of righteousness, the Walking Man.
The sole mission of the Walking Man is to eradicate sin and corruption from the Nightside. The trouble is that's exactly what the city was built on; it's a place where depravity rules, and where every dark desire can be fulfilled. If the Walking Man is allowed to carry out his indiscriminate purge, there'll soon be nothing – and no one – left.
So the Authorities have hired private detective John Taylor to stop him. Easier said than done; it is believed that the Walking Man can't be killed. But surely he must have a weakness? John Taylor certainly hopes so; but if he doesn't find it soon, he – along with the entire Nightside – must face God's wrath.
Here's some of the praise the novels have received…
'In this ninth Nightside novel, Green takes readers into the very seediest, most disturbing parts of John Taylor's world and casts a harsh light on human depravity. Although scenes containing graphic depictions of child abuse may put some readers off, Taylor is an amiable protagonist who is, increasingly, the moral center of the Nightside, and his slowly growing relationship with the damaged Suzie Shooter is one of this book's highlights.' — RT Book Reviews on JUST ANOTHER JUDGEMENT DAY
'Bloody, brutal, stylized, extremely over-the-top, wildly inventive and always entertaining, the Nightside series has become a guilty pleasure, the sort of series that hits a great many of my Awesome Buttons. The Nightside is one of a kind.' — SF Site on JUST ANOTHER JUDGEMENT DAY
'The ripping, suspenseful and wry 10th tale in the Nightside series proves every bit the equal of Jim Butcher's better known Harry Dresden books… Longtime fans and first timers alike will applaud Green's blend of fantasy, mystery, and humor.' — Publishers Weekly on THE GOOD, THE BAD, AND THE UNCANNY
'Taylor's snappy wit and quick thinking make for another exciting Nightside volume.' — Booklist on THE GOOD, THE BAD, AND THE UNCANNY
Zeno represents Simon R. Green in the UK and Commonwealth, on behalf of the JABberwocky Literary Agency in New York.