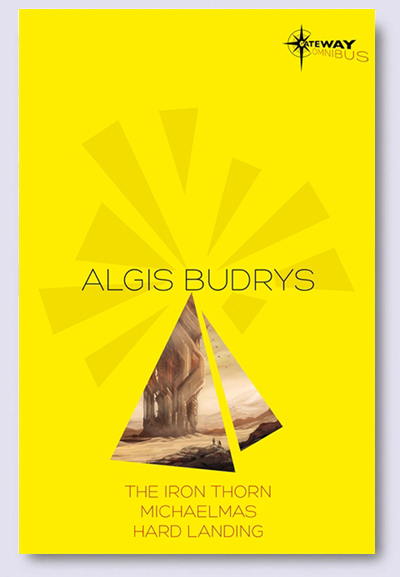 Today marks the publication of the first omnibus of the late, great Algis Budrys re-issues from Gollancz's SF Gateway project. The omnibus collects three of Budrys's novels: THE IRON THORN, MICHAELMAS, and HARD LANDING.
Algis Budrys (1931-2008) is one of the golden age Grand Masters of Science Fiction. Between 1954 and 1993, he published eight novels, and multiple collections of short stories and essays. For a short period in the middle of his writing career, he stepped back to focus on a career in advertising and also mentoring – he developed an excellent reputation as one of the best manuscript doctors of the time. His work ranged from science fiction of all stripes – from hard science-fiction, to dystopian future novels. Perhaps his best-known novels are ROGUE MOON (1960) and MICHAELMAS (1977). His writing is widely available as eBooks, and ROGUE MOON is available in print as part of Gollancz's SF Masterworks series.
Here are the synopses for the novels contained within the omnibus. First, THE IRON THORN (sometimes also known as THE AMSIRS AND THE IRON THORN)…
Honor White Jackson was a human being. But his planet was not Earth, nor his time Now. His world was dominated by a giant Iron Thorn. Beyond the reach of this tower there was supposedly nothing – except a frozen, airless desert where huge winged beasts called Amsirs roamed.
MICHAELMAS…
Michaelmas and Domino, man and computer, were linked to each other, and to the complete database of Earth. There they virtually ruled the world. For by making the right subtle manipulations, they had the power to change the course of human destiny.
And last, but by no means least, HARD LANDING…
The body was found dead on the tracks, electrocuted. The autopsy confirmed what some had always feared, that we are not alone in the universe – and that even now, some visitors are still at large.
Here's what critics have said about MICHAELMAS in the past (reviews of his other novels are a little hard to come by online)…
'Budrys is incapable of writing anything less than a deeply thoughtful book. This one is sometimes a bit aridly written, sometimes fiercely charged, always full of fine invention. One of the season's more important offerings.'  —  Kirkus on MICHAELMAS (Starred Review)
'… his three major novels [including] MICHAELMAS — are an achievement of central importance to the SF field, all the more because each tries to do something different, with an approach and structure reshaped each time.'  —  Locus
'… a tight, taught thriller packed full with wonderful ideas and it's beautifully written… a great plot and a sense of wonder…'  —  SF Reviews on MICHAELMAS