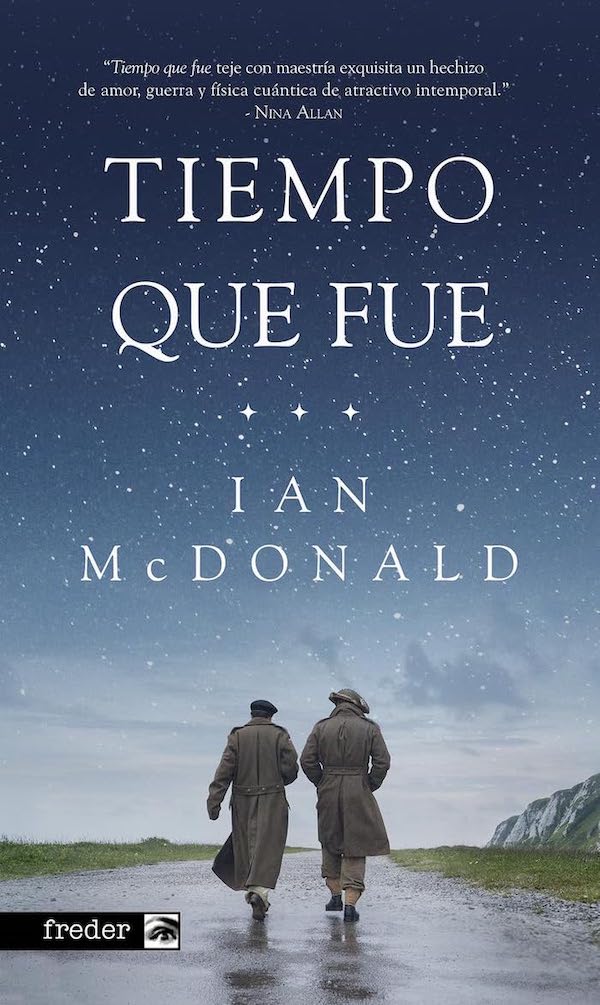 The Spanish edition of Ian McDonald's acclaimed and BSFA Award-winning TIME WAS is out today! Published by Dolmen Editorial as TIEMPO QUE FUE, here's the synopsis…
Novela de ciencia ficción sobre una historia de amor en tiempos de guerra que atraviesa los límites marcados por el tiempo.
Una historia de amor cosida a través del tiempo y la guerra, moldeada por el poder de los libros, y finalmente destruida por ella. En el corazón de la Segunda Guerra Mundial, Tom y Ben se convirtieron en amantes. Reunidos por un proyecto secreto diseñado para ocultar objetivos británicos del radar alemán, los dos consolidaron un amor que no podía ser revelado. Cuando el proyecto salió mal, Tom y Ben desaparecieron en la nada, presuntamente muertos. Sus cuerpos nunca fueron encontrados.
TIME WAS is published in the UK and North America by Tor.com; it is also available in France (LE TEMPS FUT — Bélial') and Japan (時ありて — 早川書房/Hayakawa).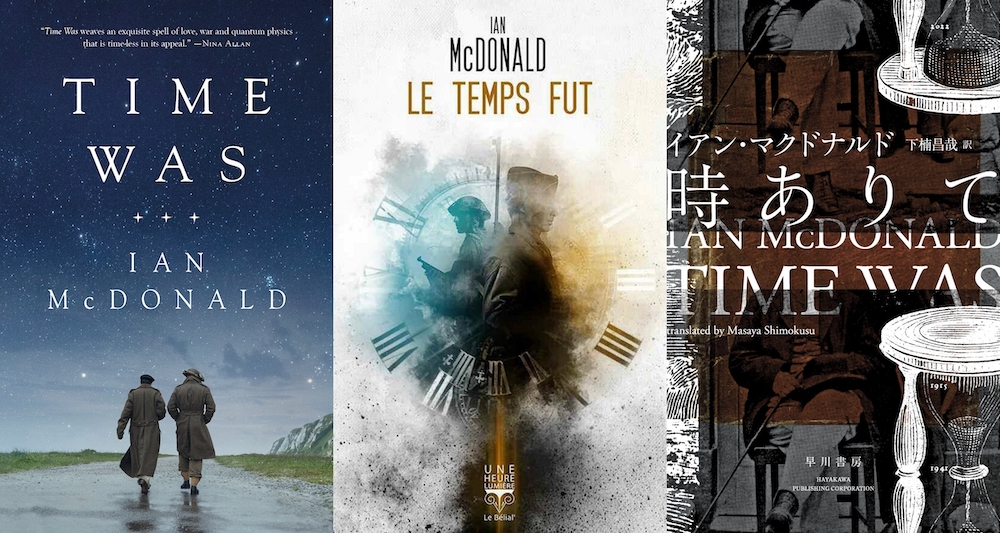 Here's the English-language synopsis…
A love story stitched across time and war, shaped by the power of books, and ultimately destroyed by it.
In the heart of World War II, Tom and Ben became lovers. Brought together by a secret project designed to hide British targets from German radar, the two founded a love that could not be revealed. When the project went wrong, Tom and Ben vanished into nothingness, presumed dead. Their bodies were never found.
Now the two are lost in time, hunting each other across decades, leaving clues in books of poetry and trying to make their desperate timelines overlap.
Here are just a few of the great reviews the novella has received…
'[E]ntrances readers with this multigenerational novella of two time-crossed lovers who can only meet for brief moments separated by several years… beautiful writing… Fans of science fiction who enjoy a dash of history and legend will savor this tender story.' — Publishers Weekly
'With echoes of H. G. Wells's The Time Machine and replete with the inimitable scent of used bookstores, TIME WAS weaves an exquisite spell of love, war and quantum physics that is timeless in its appeal. A scientific romance in the most evocative sense of the word.' — Nina Allan
'Throughout his career, Ian McDonald has demon­strated a remarkable versatility of style and language. His recent fiction has ranged from the YA sense-of-wonder exuberance of his parallel-world Everness series to the efficient social melodrama narration of the Luna novels, but he's always been equally capable of great lyricism, and his new novella, TIME WAS, is a persuasive and gorgeous example of it. Essentially a timeslip romance in which the romance is evoked not by dramatic clinches but by a heightened sensuality, an acute awareness of nature, and a haunting sense of imminent loss, it nevertheless introduces enough chatter about quan­tum indeterminacy to work as SF. In a fascinating way, the two "time-crossed lovers," Ben and Tom, come to represent the dual aesthetic of any good SF romance: Ben is a physicist working on a complex new experiment with his "Uncertainty Squad," while Tom is a poet and part-time amateur actor who, when we meet him, is working for the Signal Corps. Early on, Ben confesses that he doesn't have the soul of a poet, and Tom admits he doesn't "have the soul of a scientist," but, as McDonald well knows, you need both to tell a story like this… one of the most purely beautiful pieces of writing McDonald has given us in years.' — Gary K. Wolfe (Locus)
'This slender, poignant queer romance incorporates time travel and hints of hard science into a story as devastatingly sad—which isn't to say bleak—as anything you'll read this year.' — B&N Sci-Fi & Fantasy Blog (Best SFF Books of the Year So Far, 2018, Honourable Mention)
'TIME WAS… a peculiar story of time, mystery, books, love, and war, compact as a parable, layered like a complex metaphor… and in some ways, strikingly unsettling… very well put together, and gorgeously written.' — Tor.com