These early months of 2013 see a number of big releases for Zeno clients. Plenty of coverage, including reviews and author interviews has been cropping up all over the internet, and so over the next few days and weeks we'll be sharing the best of that coverage here on the Zeno site.
First up we have steampunk author extraordinaire (I've been proudly using the hashtag on twitter #steampunklegend, but it's yet to catch on), James P. Blaylock.In January Titan Books released Blaylock's first full length steampunk novel in twenty years, THE AYLESFORD SKULL – a brand new,  full-on, mad-cap adventure featuring Blaylock hero, Professor Langdon St. Ives.
Blaylock's two other St. Ives novels – HOMUNCULUS (which won the prestigious Philip K. Dick award) and LORD KELVIN'S MACHINE – are to be reissued by Titan Books, making for a a very smart looking trio of classic steampunk titles. And these novels, especially the first, have been met with a slew of good reviews…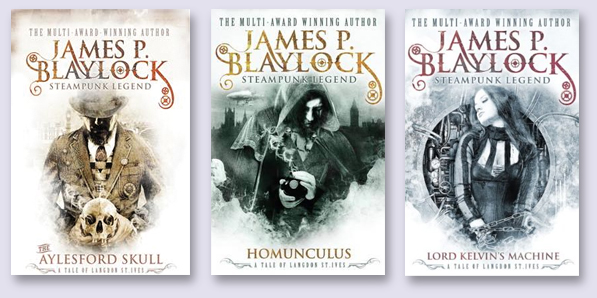 SFX was particularly impressed with the finale of THE AYLESFORD SKULL, 'which involves an airship, a thunderstorm, an unusually creative science experiment and… is real white-knuckled, edge of the seat stuff. This is steampunk at full power and it's a heady, thrilling read as a result.' Their review continues, summing up the novel as…
'Packed with high adventure, mad science and derring do, The Aylesford Skull is a perfect place to start the Langdon St Ives books and, with Titan re-releasing the other books in the series, there's plenty to keep you and St Ives busy. Which is, I suspect, just how he likes it.'
SF Book Reviews also enjoyed THE AYLESFORD SKULL:
'The more you read the more you come to appreciate this subtle Steampunk setting, including the well described juxtaposition of the class system that played a large part in Victorian era London. The gentile and elegant lives contrast sharply with the filthy streets and savage inhabitants of the grimy Spitalfields area creating a realistic edge that helps to ground the story… it's a fast, rich and thoughtful thriller that is as different as it is clever and as bold as it is beautiful.'
To celebrate the release of these novels, Titan Books has sent Blaylock an extensive blog-tour. The tour has included a number of fascinating and fun interviews, including those at  SciFi-FX, ReaderDad, Borg.com, HorrorTalk, and this one here at Alastair Stuart's Blog. And there are  further reviews of THE AYLESFORD SKULL on Nerd Cabinet, Geek Native, Curiosity of a Social Misfit, Revolution SF, Tattooed Book, and here.
And if all that fails to wet your appetite, visit the Daily Dead site where you'll find an excerpt from the novel. What? Still here? Click the link, already!!!