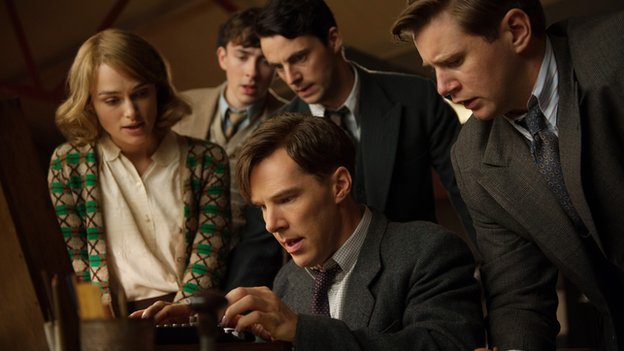 We're delighted to report that THE IMITATION GAME, a movie inspired by Andrew Hodges's ALAN TURING: THE ENIGMA biography of Alan Turing, has been receiving some well-deserved early Oscar buzz! The movie stars Benedict Cumberbatch as Alan Turing, as well as Keira Knightley, Mark Strong and many other great British actors. The buzz has grown, as have the number of great responses, since the film's screening at the Telluride Film Festival.
Variety reported that the movie is 'clearly an awards contender: Complex, impeccably executed and unique. The film's offbeat approach to an oddball character will be its greatest strength…'
Meanwhile, the Hollywood Reporter wrote that that movie 'is already being called a cross between A Beautiful Mind (2001) and The King's Speech (2010), two films that won the best picture Oscar.' The HR continues, 'Cumberbatch is perfect… [and]  is surrounded in the film by an excellent supporting ensemble… the overall product is interesting, enjoyable and, my gut tells me, the stuff happy Oscar seasons are made of.' In a separate review, the Hollywood Reporter called the movie 'Engrossing, nicely textured and sadly tragic… dominating it all is Cumberbatch, whose charisma, tellingly modulated and naturalistic array of eccentricities, Sherlockian talent at indicating a mind never at rest and knack for simultaneously portraying physical oddness and attractiveness combine to create an entirely credible portrait of genius at work.'
Deadline Hollywood's review, likewise, declared that THE IMITATION GAME 'just has Academy Award nominations written all over it', and in particular singled out the 'stunning lead actor performance of new Emmy winner Benedict Cumberbatch as Turing.'
Andrew Hodges's ALAN TURING: THE ENIGMA is published in the UK by Vintage and in the US by Princeton University Press. It has also been published in translation in select other markets (please inquire for details of available rights).