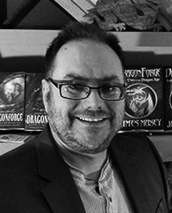 The Orange County Arts Commission has named Zeno client James Maxey as the region's 2015 Piedmont Laureate. The Piedmont Laureate program aims 'to promote awareness and heighten appreciation for excellence in the literary arts in the Piedmont region', and 'is dedicated to building a literary bridge for residents to come together and celebrate the art of writing, enriching the lives of all our citizens.'
James Maxey is the author of, among others, the critically-acclaimed Dragon Apocalypse trilogy – GREATSHADOW, HUSH and WITCHBREAKER – which was published by Solaris Books (individually and as an eBook omnibus in the US).
As Laureate, James will appear at workshops, reading programs and speaking engagements throughout Durham, Orange and Wake counties, giving the public an opportunity to meet him and learn more about his body of work.
'He writes fast-paced, action-driven pulp fiction with strong emphasis on character growth and world building, dealing with larger-than-life characters adventuring in exotic worlds… Readers who delve past the dragons and superheroes on the covers of Maxey's books will discover stories that explore the deeper aspects of the human condition. In the course of introducing imaginary worlds, Maxey hopes to provoke readers into thinking more deeply about our own world and our shared responsibility to improve it.'
Here's the synopsis…
The warrior known as Infidel (Princess Innocent Brightmoon, to a very, very few) is legendary – as much among the drunkards of Commonground as among heroes and bards – for her superhuman strength and skin tough as mail. Stagger, her long-time friend and closest companion, is a wastrel and a sot, but a gifted scholar. Sorrow, a powerful and possibly deranged witch, will stop at nothing – including mutilating her own body – in her pursuit of a fairer, more just world.
Once, dragons covered this world, warring with each other for dominance over great territories. In aeons past, however, their numbers dwindled, and the few that remained withdrew from mundane affairs, claiming the very primal forces of the world – fire, cold, storms, plants, the sun, wild beasts, even the principle of decay itself – as their own. Now the powerful Church of the Book has set its sights on destroying the primal dragons and freeing humanity of their supposed 'tyrrany' forever. Wearying of the mercenary life after Stagger's death, Infidel – with an eye on the dragons' celebrated wealth – agrees to take part in their first expedition.
But the primal dragons are not to be tackled lightly. In the most hectic, touching romp since The Princess Bride, Infidel, Stagger (or his ghost) and Sorrow will find their lives, and the world around them, changing beyond their grasp as the Church's hubris reaps its rewards…
Here is just a small selection of reviews his novels have received…
'A magnificently entertaining romp bursting with charm.' — SFX
'GREATSHADOW is a clever, funny, goofy read… This isn't your bog-standard intro quest: GREATSHADOW is a skip-to-the-back-of-the-book epic-level adventure … level 30+ adventure is charming, not po-faced, with a group of flawed, sarcastic, quick-witted and oddball adventurers that are equally comfortable with set-piece battle and rapid fire sarcasm.' — Pornokitsch
'A fun, well-thought out fantasy romp which is packed with clever one-liners and plenty of action… Maxey proves that fantasy doesn't have to be po-faced and serious in order to be fun, whilst at the same time tells a story with depth and emotion… intelligent fantasy that doesn't waste it's time trying to prove how smart it is… feeds the reader with plenty of fuel for the imagination whilst delivering on its promise of action and fun…  it's an exceptionally well done example of its genre, and a breath of fresh air for anyone sick of swords and sorcery stories covered in mud, blood and misery.' — Starburst
'The good news is that WITCHBREAKER is just as fun as the other books… a great book and a wonderful continuation of the story.' — Fantastical Librarian