You may have seen these books announced on Twitter, but we're happy to report that the new, deluxe UK editions of Brandon Sanderson's first four Stormlight Archive are out now! Published by Gollancz, each book has sprayed edges and embossed hardcovers.
THE WAY OF KINGS
WORDS OF RADIANCE
OATHBRINGER
RHYTHM OF WAR
In case you are new to the series, here's the synopsis for this new edition of THE WAY OF KINGS…
The Gollancz Emporium exclusive edition of The Way of Kings by fantasy superstar Brandon Sanderson. Available in a single volume and featuring an array of special finishes, this is the premium way to enter one of the most imaginative fantasy worlds ever conceived.
The Way of Kings, Book One of the Stormlight Archive, begins an incredible saga of epic proportion. Set in a high fantasy world like no other, the magic, history and scope of imagination will take your breath away.
Roshar is a world of stone and storms. Uncanny tempests of incredible power sweep across the rocky terrain so frequently that they have shaped ecology and civilization alike. Animals hide in shells, trees pull in branches, and grass retracts into the soilless ground. Cities are built only where the topography offers shelter.
It has been centuries since the fall of the ten consecrated orders known as the Knights Radiant, but their Shardblades and Shardplate remain: mystical swords and suits of armor that transform ordinary men into near-invincible warriors. Men trade kingdoms for Shardblades. Wars were fought for them, and won by them.
One such war rages on a ruined landscape called the Shattered Plains. There, Kaladin, who traded his medical apprenticeship for a spear to protect his little brother, has been reduced to slavery. In a war that makes no sense, where ten armies fight separately against a single foe, he struggles to save his men and to fathom the leaders who consider them expendable.
Brightlord Dalinar Kholin commands one of those other armies. Like his brother, the late king, he is fascinated by an ancient text called The Way of Kings. Troubled by over-powering visions of ancient times and the Knights Radiant, he has begun to doubt his own sanity.
Across the ocean, an untried young woman named Shallan seeks to train under an eminent scholar and notorious heretic, Dalinar's niece, Jasnah. Though she genuinely loves learning, Shallan's motives are less than pure. As she plans a daring theft, her research for Jasnah hints at secrets of the Knights Radiant and the true cause of the war.
The result of over ten years of planning, writing, and world-building, The Way of Kings is but the opening movement of the Stormlight Archive, a bold masterpiece in the making.
Speak again the ancient oaths:
Life before death.
Strength before weakness.
Journey before Destination.
… and return to men the Shards they once bore.
The Knights Radiant must stand again.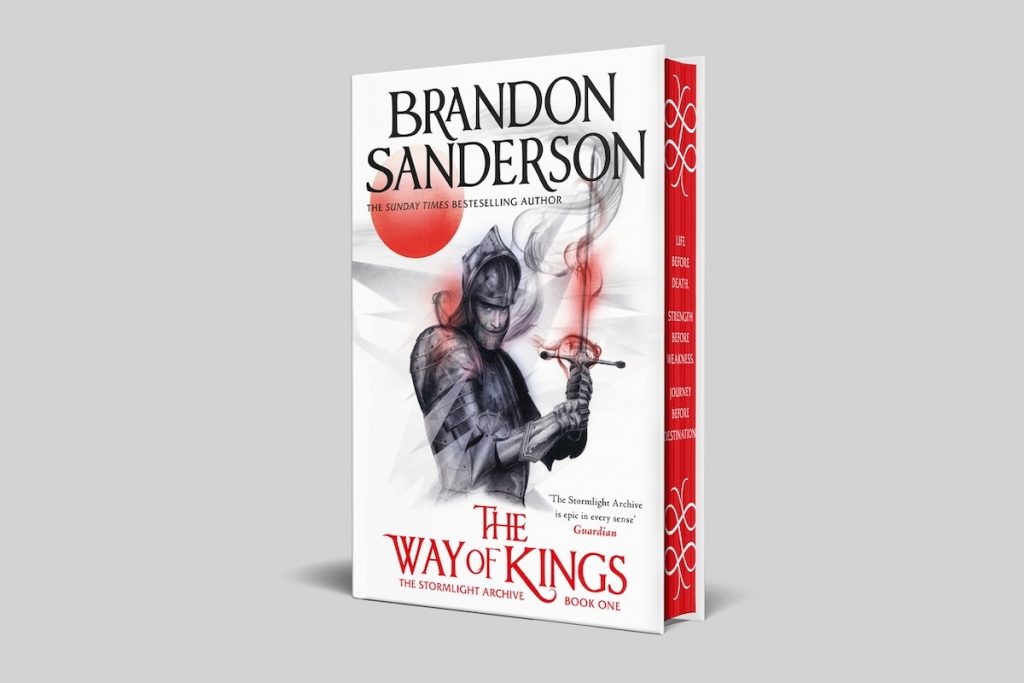 Here are some reviews of each of the four novels, as well as close-ups of the new editions…
'Sanderson is a master […] Fans and lovers of epic fantasy will find the ending satisfying, yet will eagerly await the next volume.' — Library Journal on THE WAY OF KINGS
'Sanderson is […] absolutely amazing at worldbuilding. The level of detail is just astonishing […] Kaladin and Shallan's stories are compelling and readable.' — RT Book Reviews on THE WAY OF KINGS
'A classic story of intrigue, magic and war, with a large cast of characters and multiple settings lovingly detailed in a way only possible in volumes of this size […] There's wit, magic and erudition […] Readers will plunge into it.' — Booklist on THE WAY OF KINGS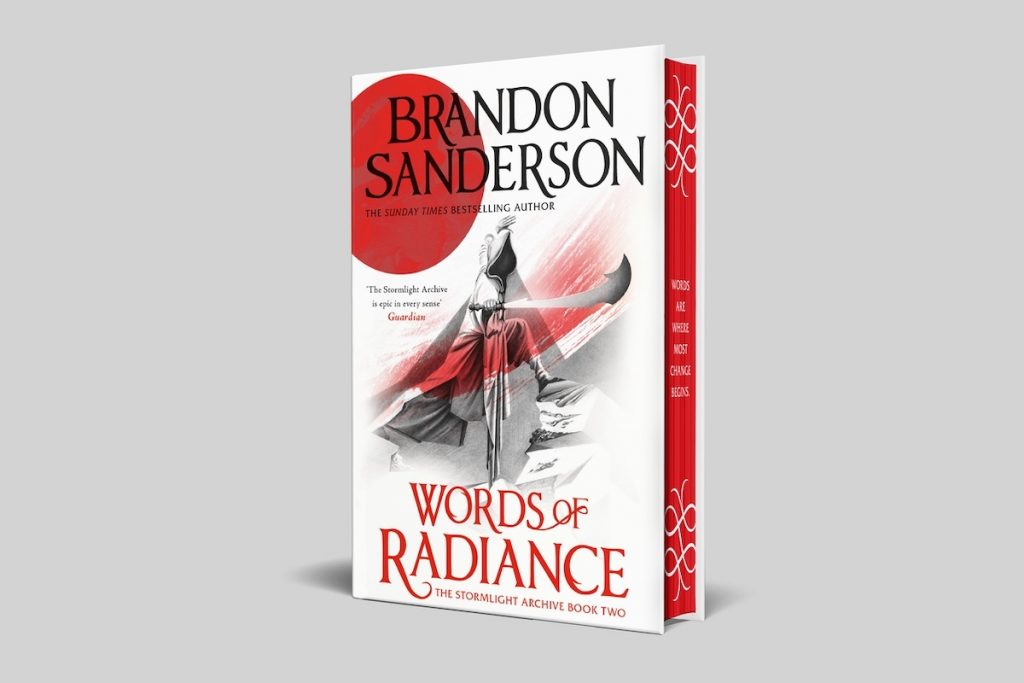 'Balancing fascinating worldbuilding with a page-turner of a plot, this is a series fantasy fans won't want to miss.' — Kirkus (Starred Review) on WORDS OF RADIANCE
'Brandon Sanderson's reputation is finally as big as his novels.' — New York Times on WORDS OF RADIANCE
'Sanderson has used the room afforded by a book of this size to build it in loving detail […] the characterization is on the whole as as meticulous as the world-building. A very impressive continuation.' — Booklist on WORDS OF RADIANCE
'Sanderson's skill at world building is unmatched, and in the Stormlight Archive series he has developed an innovative magical system and combined it with rich, complex characters to create a compelling story. His eagerly awaited sequel to The Way of Kings exceeds expectations. This developing epic series is a must-read for all fantasy fans.' — Library Journal on WORDS OF RADIANCE
'Fans of the Stormlight Archive series will enjoy this book, which brings back favorite characters and deepens a well-drawn fantasy world.' — Kirkus on OATHBRINGER
'The much-anticipated third Stormlight Archive epic fantasy installment is classic Sanderson, with multiple story lines and unexpected twists and turns […] Sanderson successfully balances introducing new elements and satisfactorily resolving some threads, leaving fans to eagerly await the next in the series.' — Publishers Weekly on OATHBRINGER
'OATHBRINGER is everything I expected it to be. Not only does it make good on the promises of the first two volumes, it elevates the Stormlight Archive to new heights of epic magic, exceptional worldbuilding, and satisfying action. With each new novel, Sanderson proves himself to be the true heir to Robert Jordan's throne. He's writing big, meaty, contemplative epic fantasy, and showing no signs of slowing down.' — B&N Sci-Fi and Fantasy Blog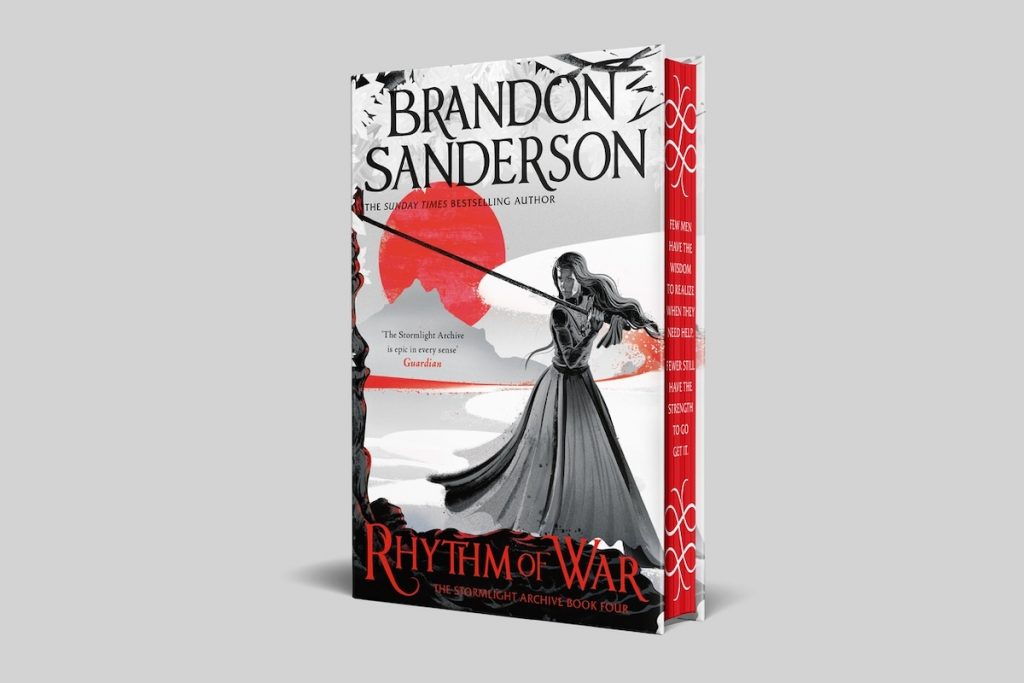 '[RHYTHM OF WAR] certainly delivers the dense fantasy epic long-time readers will expect.' — Booklist
'It is the sign of a skilled author if they can draw laughter and tears from you in the space of a few chapters or even a few lines, and well Sanderson [is] the master of emotions.' — Fantasy Hive on RHYTHM OF WAR
'Storms, this was a fantastic book. Highs and lows, laughter and tears, joy and grief—it was all there.' — Tor.com on RHYTHM OF WAR
Zeno represents Brandon Sanderson in the UK and Commonwealth, on behalf of the JABberwocky Literary Agency in New York.