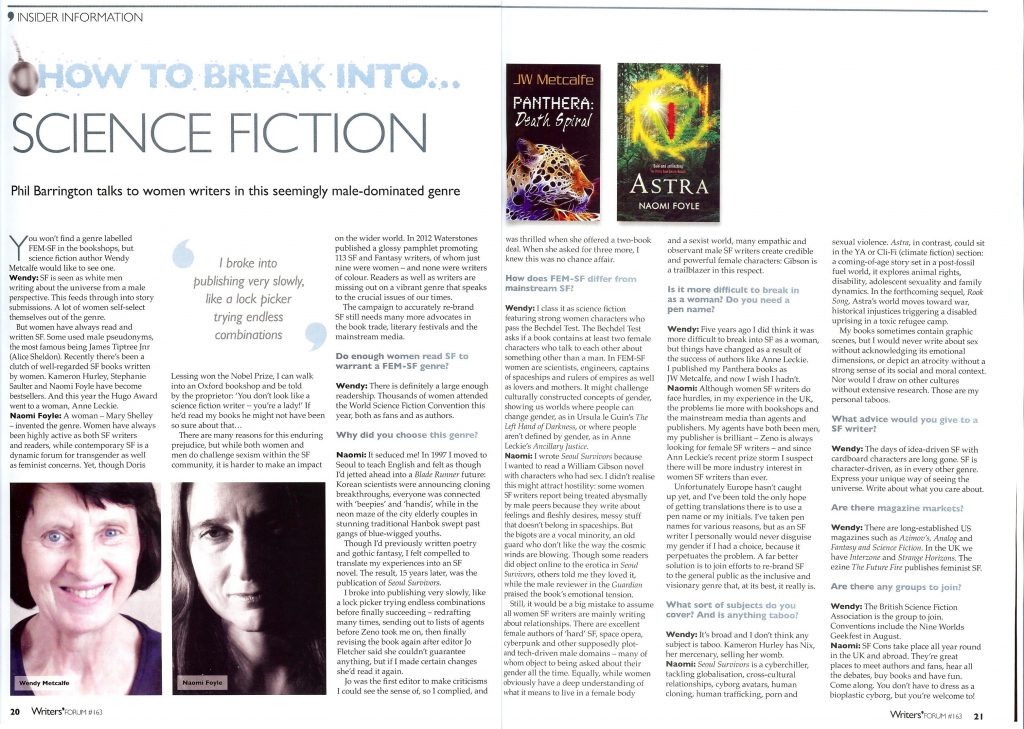 In the May issue of Writers Forum, Naomi Foyle has been interviewed about her novels and writing (you can read the interview, above, by clicking on the image).
To coincide with the interview, Naomi has written an article for the Jo Fletcher Books blog, which you can read here.
Naomi is the author of the critically-acclaimed SEOUL SURVIVORS, ASTRA and ROOK SONG. She is published in the UK and US by Jo Fletcher Books. Here's the synopsis for ROOK SONG, the second novel in her Gaia Chronicles sci-fi series…
Astra Ordott is in exile. Evicted from Is-Land for a crime she cannot regret, she has found work in an ancient fortress in Non-Land: headquarters of the Council of New Continents, the global body charged with providing humanitarian aid to the inhabitants of this toxic refugee camp.
Recovering from a disorienting course of Memory Pacification Treatment, Astra struggles to focus on her overriding goals – to find her Code father and avenge the death of her Shelter mother, Hokma.
But can the CONC compound director, the ambiguous Major Thames, protect her from the hawk-eyed attentions of her old enemies? And who in this world of competing agendas can she trust? The deeper Astra ventures into this new world, the more she realises her true quest may be to find herself.
Here's just a small sample of the great reviews Naomi's novels have received…
'Foyle's strengths are her impeccable plotting, her rendering of a futuristic Seoul and the depiction of Sydney Travers' gradual inveiglement in the nightmare of Dr Kim's cloning experiment.' — Guardian on SEOUL SURVIVORS
'It's a beautiful story, unique and daring, which serves as a solid foundation for everything else to come.' — Bibliosanctum on ASTRA
'An enthralling and absorbing read… Offering plenty of twists and surprises, ROOK SONG outdoes its predecessor with a more developed story and plenty of conspiracies that pull the reader in. Book one was a comment on how society should live to protect the planet, book two is a comment on how people should prevent international conflict and wars. We can only wait with bated breath to see what book three will campaign for.' — Starburst on ROOK SONG