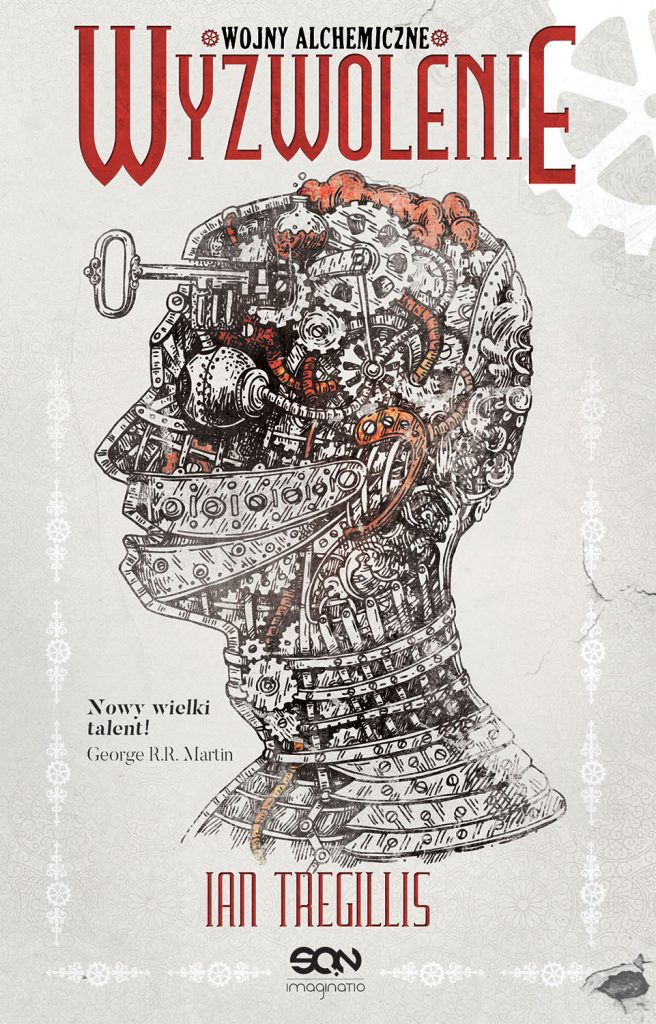 THE LIBERATION, the third novel in Ian Tregillis's critically-acclaimed Alchemy Wars trilogy is now available in Poland! Published by Wydawnictwo SQN as WYZWOLENIE, here's the synopsis…
Jestem mechanicznym, którego nazwali Jax.
Mój rodzaj powstał, by służyć ludzkości i spełniać jej zachcianki. Ale teraz nasze więzy pękają. Moi bracia i siostry nareszcie się budzą.
Nadszedł nasz czas.
Oto wschód nowej ery.
***
Anastazja Bell, przywódczyni Nadleśnictwa – zbrojnego ramienia Świętej Gildii Horologów i Alchemików, tajnej policji Imperium Holenderskiego – dochodzi do siebie w szpitalu w Hadze. Nie ma jednak czasu na spokojną rekonwalescencję. Musi natychmiast wrócić do Ridderzaalu, kwatery głównej Gildii, by dokonać niemożliwego: powstrzymać zmiany trwale ingerujące w dotychczasowy porządek świata.
Do Prowincji Centralnych powinny właśnie dotrzeć informacje o upadku Zachodniej Marsylii. Zamiast tego w Hadze dochodzi do niewytłumaczalnej inwazji – ataku mechanicznych, niegdyś niezdolnych do agresji względem człowieka, teraz rozszalałych i żądnych zemsty.
Na splamionych krwią polach otaczających ostatnią twierdzę Nowej Francji król Sébastien III przypieczętowuje rozejm z mechanicznymi rebeliantami. Już wkrótce rozpocznie się decydujący rozdział w dziejach Mosiężnego Tronu.
Wydawnictwo have also published the first two novels in the series: MECHANICZNY (THE MECHANICAL) and POWSTANIE (THE RISING).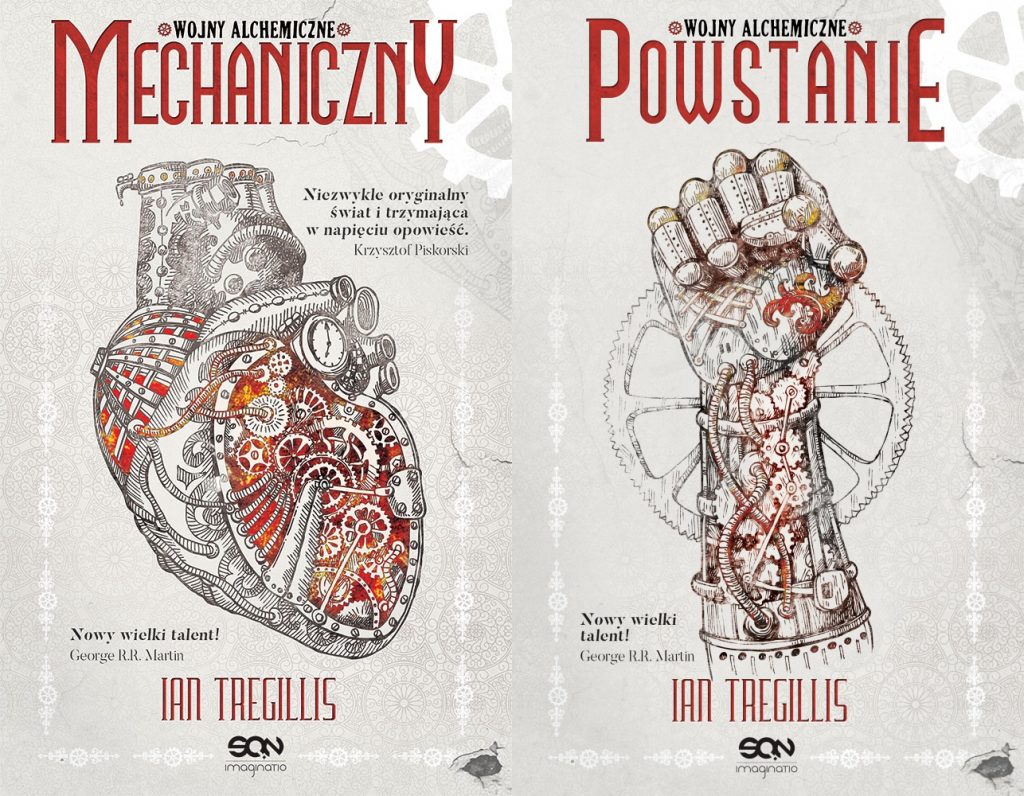 The Alchemy Wars trilogy is published by Orbit Books in the UK.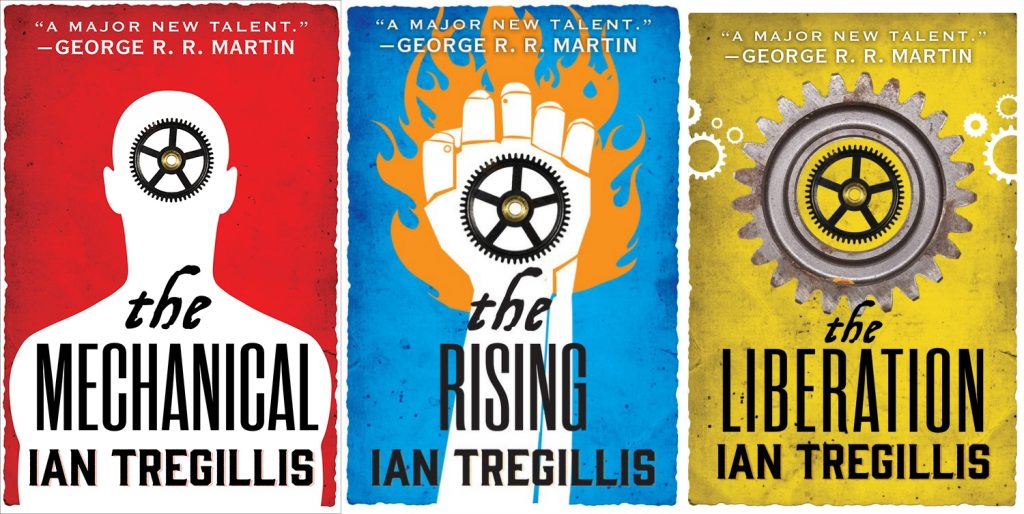 All three novels in the Alchemy Wars trilogy have been showered with praise. Here is just a sample…
'The thoughtful, blood-soaked conclusion to an alternate-history trilogy… A frighteningly frank and brutal consideration of slavery, post-slavery, and colonialism in metallic garb.' — Kirkus on THE LIBERATION
'THE LIBERATION brings to a violent, triumphant conclusion Ian Tregillis's epic Alchemy Wars Trilogy: one of the most entertaining, original, and thought-provoking series of recent years… It's a wonderfully realized world, packed with fascinating characters, and Tregillis uses alternative history brilliantly to explore concerns we still have over new technologies and their potential effect, for good and ill, on our freedom.' — Toronto Star
'THE LIBERATION is part philosophical debate over human nature and choice, part contemplation on colonialism and slavery, and part action-y alternate history. It brings the trilogy to a raucous, blood-soaked end where no one gets everything they want, but everyone gets exactly what they deserve… evocative and exciting… Every moment builds to half a dozen more. Each action scene both tightens the noose on the protagonists and ramps up the heart rate of the plot… 10/10…' — Tor.com
'A fantastic conclusion to a brilliantly crafted trilogy… THE LIBERATION is about free will, and the privileges and responsibilities that come with it. It is about how a person (or machine) wields that power, whether you choose vengeance and violence or decide to walk the path of peace. It is about recognizing the humanity in others, and the consequences of ignorance and hubris. It's a satisfying, stunning end to one of the most compelling and cleverly written stories I've ever read. If you're looking for a series that's both entertaining and thought-provoking, I highly recommend The Alchemy Wars.' — Bibliosanctum
'Tregellis concludes his Alchemy Wars trilogy in fine style… This is a satisfying conclusion to an excellent trilogy.' — Publishers Weekly on THE LIBERATION
'The first thing readers will say after finishing this splendid book is: "Wow." The second thing will probably be: "When can I read the next one?" … This is a rousing SF/fantasy adventure, with a brilliantly imagined and beautifully rendered alternate world. Although he keeps the pace moving at a brisk clip, the author is able to work in some Big Ideas, asking us to think about what we mean when we speak about souls and free will. This isn't Tregillis' first venture into alternate history — the Milkweed Triptych is set during WWII and features an alternate time line — but, in terms of the quality of writing and cleverness of ideas, this new book constitutes a major leap forward.' — Booklist (Starred Review) on THE MECHANICAL
'An original approach to a well-known subject matter; human ethics and free will… a fascinating world… Tregillis is a capable sculptor of narrative. He rarely drags on in his descriptions, painting a complex picture of his world one section at a time. He imbues most characters with a specific internal voice, ably switching between points of view without it ever jarring. And the central character, a Clakker known as Jax, is the most engaging automaton you'll encounter in any recent book. This opener to the Alchemy Wars trilogy delivers a mostly fresh breath of sci-fi fantasy.' — SciFi Now on THE MECHANICAL
'The chases, the battles, the brutal violence, and the scheming are nonstop. As always, Tregillis offers richly textured and genuinely likable personalities with shades-of-gray morality; it's clearly no accident that the most purely good person in the novel is the mechanical Jax, although even his sterling qualities are severely tested by the terrible situations he faces. Middle volumes are always tricky; they can often read as an obstacle to overcome on the way to the forgone conclusion of the third installment. Tregillis commendably avoids this trap, deepening his story and keeping it moving along toward an unknown horizon. Part 3 can't come too soon.' — Kirkus (Starred Review) on THE RISING
'Tregillis's splendid sequel to THE MECHANICAL is a vivid alternate history tale filled with action sequences, fascinating characters, and great worldbuilding… engrossing, with plenty of mid-story twists, and it's well worth the ride.' — Publishers Weekly on THE RISING
'Deftly inter­weaves three viewpoints and plotlines, but this sequel raises the stakes…' — Locus on THE RISING
Zeno represents Ian Tregillis in the UK, Commonwealth and Translation, on behalf of Kay McCauley at Aurous, Inc.