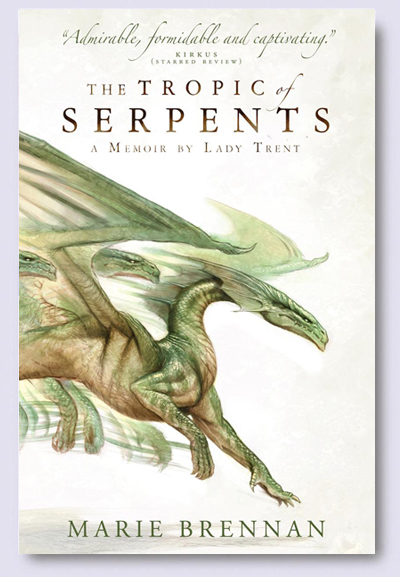 Marie Brennan's highly-anticipated THE TROPIC OF SERPENTS has a cover for the UK!
Due to be published by Titan Books on June 20th 2014, THE TROPIC OF SERPENTS is the sequel to THE NATURAL HISTORY OF DRAGONS, the first in Brennan's Memoirs of Lady Trent series. Here's the synopsis for the second novel…
Three years after her fateful journeys through the forbidding mountains of Vystrana, in which she lost her husband, the widowed Mrs. Camherst defies family and convention to embark on an expedition to the savage, war-torn continent of Eriga, home of such exotic draconian species as the grass-dwelling snakes of the savannah, arboreal tree snakes, and, most elusive of all, the legendary swamp-wyrms of the tropics.
The expedition is not an easy one. Accompanied by both an old associate and a runaway heiress, Isabella must brave oppressive heat, merciless fevers, palace intrigues, gossip, and other hazards in order to satisfy her boundless fascination with all things draconian, even if it means venturing deep into the forbidden jungle known as the Green Hell – where her courage, resourcefulness, and scientific curiosity will be tested as never before.
Both novels are (or will be) published in the US by Tor Books.
Zeno represents Marie Brennan in the UK and Commonwealth, on behalf of the JABberwocky Literary Agency in New York.