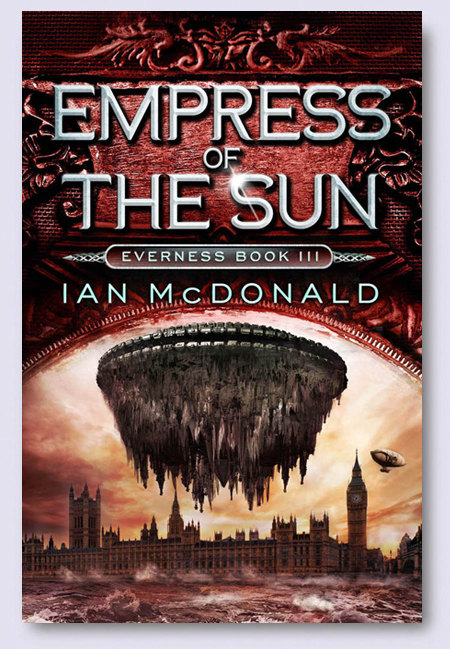 The wait is over! The third novel in Ian McDonald's critically-acclaimed Everness YA science fiction series is out today in eBook! Just in the nick of time for Christmas. EMPRESS OF THE SUN is published by Jo Fletcher Books in the UK – the hardcover edition will follow on January 2nd, 2014. The book is due to be published next month by Pyr in the US. Here's the synopsis…
When Everett Singh's dad was randomly sent to one of the many parallel worlds in the multiverse, Everett discovered a way to find him on the quarantined planet E1, home of the terrifying Nahn.
Now he, along with the crew of the airship Everness, has followed a trail to the next world and his father.
But this is a world where dinosaurs have had sixty-five million years to evolve, where death is the key to the throne and where the Empress of the Sun has a plan to wipe out every other creature on her planet… and then take her conquest to Earth.
All she needs is Everett's infundibulum…
Here is just a taste of the praise Ian's Everness novels have received to-date…
'This is vintage McDonald, with beautifully drawn settings, complex characters and deft plotting. When Everett Singh's scientist father is kidnapped, Everett's investigations lead him to discover that his father was working to open portals between multiple worlds. Everett finds a map linking the worlds, which various sinister organisations desire – and the thrilling chase is on.'  —  Guardian on PLANESRUNNER
'Snappy, inventive language, lively characters and world-building on an epic scale.'  —  Sci-Fi Now on PLANESRUNNER
'McDonald writes with scientific and literary sophistication, as well as a wicked sense of humor. Add nonstop action, eccentric characters, and expert universe building, and this first volume of the Everness series is a winner.'  —  Publishers Weekly on PLANESRUNNER
'Ian McDonald has spent the past two decades blowing the lid off of science fiction with his poetic, dense, lavish novels that span the universe from Mars to Africa, from the future to the past, from Brazil to India to Turkey. Now McDonald has begun a second career as a young adult novelist with his Everness series… PLANESRUNNER is smashing adventure fiction that spans the multiverse without ever losing its cool or its sense of style. Ian McDonald is one of the greats of science fiction and his young adult debut is everything you could hope for: romantic, action-packed, wildly imaginative and full of heart.'  —  BoingBoing

'Stuffed with science, this series has the potential to fascinate young readers as William Sleator's books did, tackling concepts on the slippery edge of current understanding. Science causes danger, but it's also the weapon that combats those terrors. Smart, clever and abundantly original, with suspense that grabs your eyeballs, this is real science fiction for all ages. More! More!'  —  Kirkus on BE MY ENEMY
'If you loved PLANESRUNNER as much as I did, you won't need my recommendation to pick up this sequel… a blast from start to finish. As far as I'm concerned, Ian McDonald could write another dozen or so of these Everness novels, and I'd happily read them all.'  —  Tor.com on BE MY ENEMY