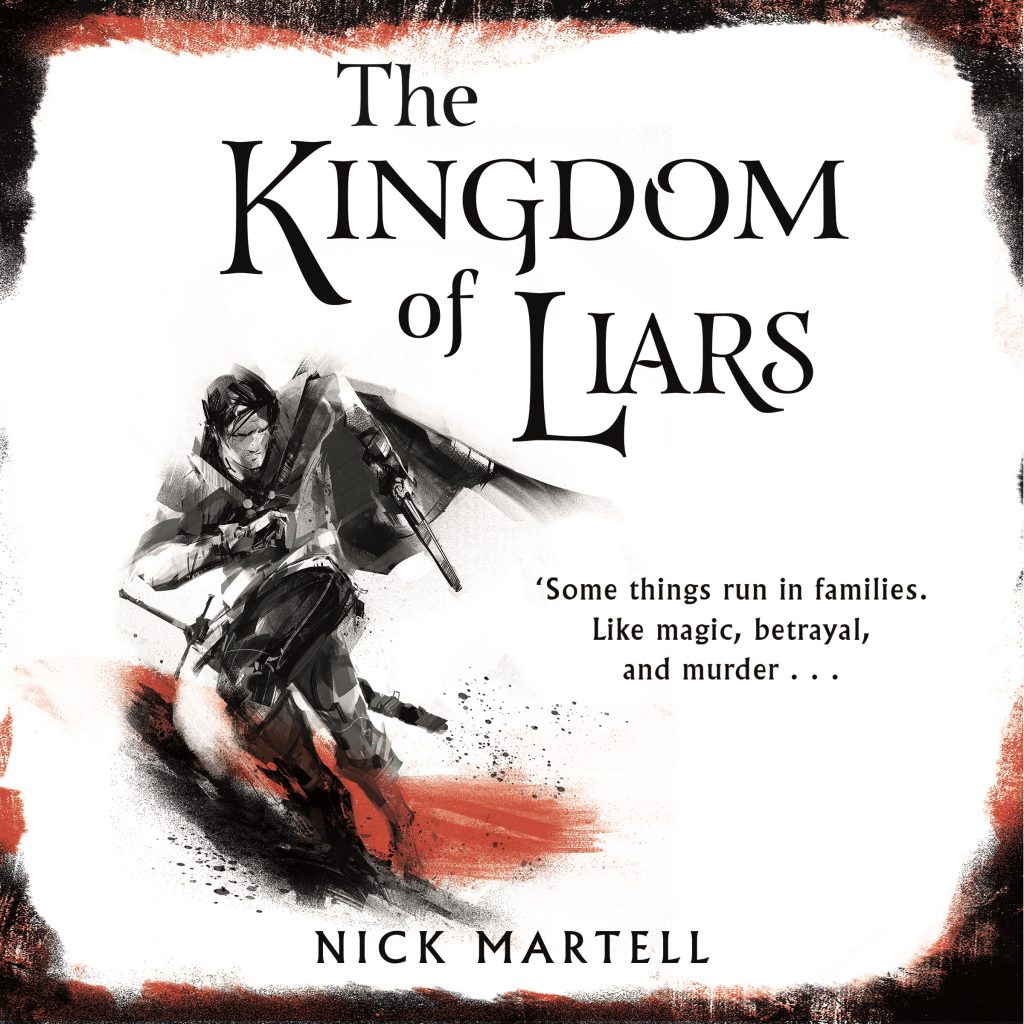 Today, we just wanted to draw your attention to the audiobook editions of Nick Martell's first two acclaimed novels, THE KINGDOM OF LIARS and THE TWO-FACED QUEEN. Both novels are published in the UK by Gollancz, and the audiobooks are narrated by Joe Jameson. Here's the synopsis for the first novel…
Michael Kingman has been an outsider for as long as he remembers. The court which executed his father also exiled him and his family. They branded him a traitor, and the nobles who had been his friends turned their backs, prepared to let the legendary Kingman family die on Hollow's city streets.
Only they survived.
And it should come as no surprise to Hollow Court, or the King, that they've been searching for the truth ever since.
History is written by the winners, truth buried beneath lies until it's Forgotten. Justice seems impossible in a city where the price of magic is a memory. But Michael Kingman is determined to make everyone remember…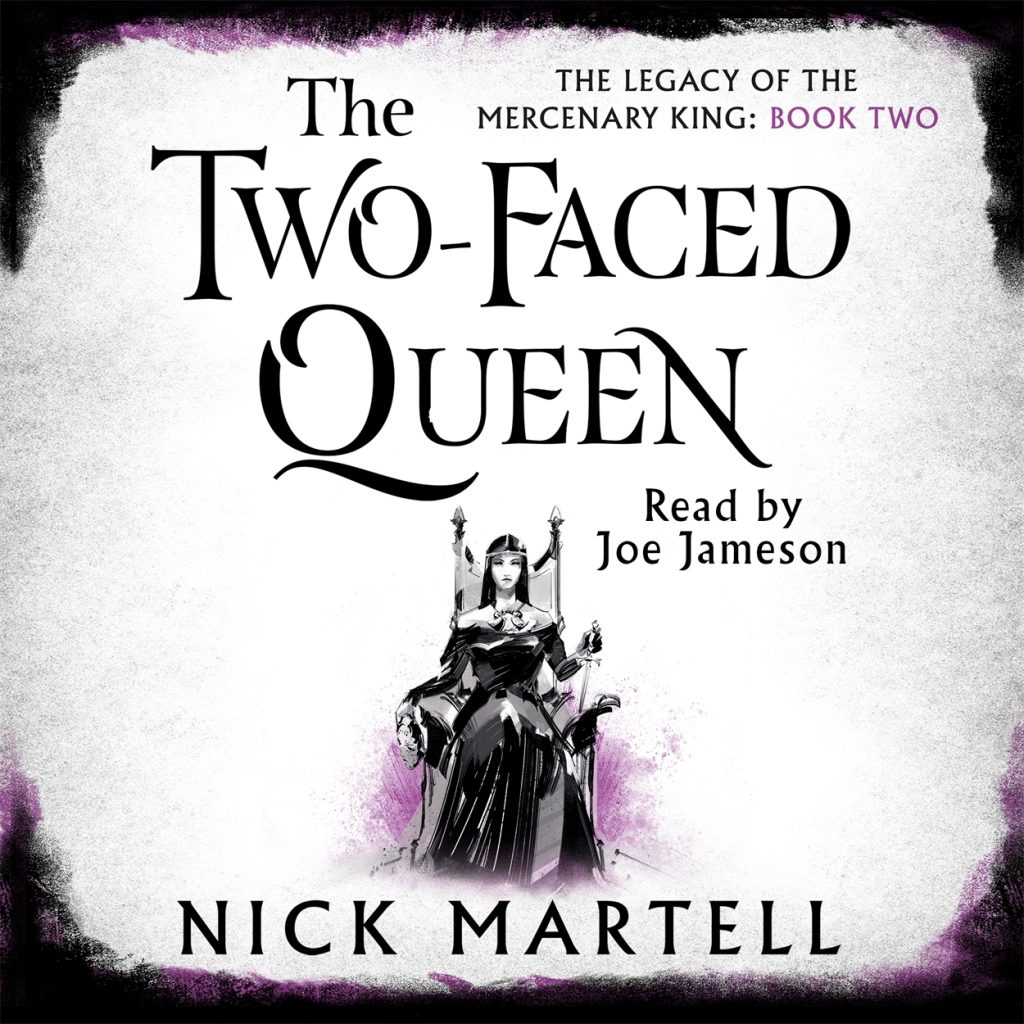 The second novel was published earlier in 2021. Here's the synopsis…
Michael Kingman thought he was going to die by the executioner's axe, forever labelled as a traitor.
Still alive, and under the protection of the Orbis Mercenary company, Michael and his family and friends are deeply involved in the seemingly rival conspiracies that are tearing The Hollows apart.
With the death of the King, both the Corrupt Prince and his sister Serena are vying for the throne, while the Rebel Emperor is spreading lies amongst the people, and all of them want Michael dead. This is a story of betrayal, murder, and rebellion, and in this direct sequel to the debut novel The Kingdom of Liars, also some hope for justice.
Finally, here are just some of the great reviews the series has received so far…
'An excellent fantasy debut, with engaging worldbuilding and a good mix between action and character. I thoroughly enjoyed the novel, and look forward to following Nick's sure-to-be lengthy writing career.' — Brandon Sanderson on THE KINGDOM OF LIARS
'A symphony of loyalty, greed, family, and betrayal set in an innovative culture!' — Tamora Pierce on THE KINGDOM OF LIARS
'… impressive and highly ambitious epic fantasy debut… Martell's portrayal of his protagonist's growth, from a cocksure chancer to a mature adult sobered by his discoveries, is just as impressive as the twisty plot.' — Guardian on THE KINGDOM OF LIARS
'THE KINGDOM OF LIARS is a tale of family, loyalty and leaving a legacy that none shall forget. This is certainly a book that you won't be able to put down, and will linger with you long after you've read the last page.' — Fantasy Hive
'Martell's taut, clever debut tells of rebellion and regicide in a world where the use of magic comes at the cost of one's memories… Though the abundance of characters becomes overwhelming at times, their political maneuvers and varied motivations form a satisfying web. This smart, briskly told high fantasy entertains all the way until the unexpected end.' — Publishers Weekly on THE KINGDOM OF LIARS
'An obvious strength of this novel is Martell's worldbuilding prowess as well as his utilization of magic, which is subtle but powerful… a knotty mystery… keeps the pages turning… a story full of relentless action and more than a few jaw-dropping plot twists… An impressive fantasy debut that creates a solid foundation for (hopefully) a much larger narrative to come.' — Kirkus on THE KINGDOM OF LIARS
'Simply put, this series is a masterclass in grand-scale storytelling. The future of epic fantasy is here—and this saga is it.' — Kirkus on THE TWO-FACED QUEEN
'In an ominous start to THE TWO-FACED QUEEN, Michael Kingman is presumed guilty of murdering the king, and is only alive because the Orbis Mercenary company claimed him as one of their own at the conclusion of The Kingdom of Liars (2020). Michael has information but is desperately seeking evidence regarding Prince Davey's death a decade earlier to prove his family's innocence. He's also reconnecting with his mother after her stay in an asylum, and is dealing with recovered memories he had lost to a dark fabrication, learning how his nullification fabrications work. There are complications, though: the sudden appearance of his grandfather with a band of refugees; the return of a serial killer whom Michael's mentor, Dark, had defeated years before; a hired assassin with an unclear target; and a Recorder who is convinced that the Kingman family's history of protecting Hollow and the royal family is overstated. As Michael's own knowledge expands, Martell weaves in hints about the broader world, offering the possibility of future books in this inventive fantasy setting.' — Booklist
'For readers who love the intrigue and widening scope of epic fantasy like Sanderson's Mistborn and Week's The Black Prism, this is your next must-read fantasy series.' — Broken Binding on THE TWO-FACED QUEEN
Zeno represents Nick Martell in the UK and Commonwealth, on behalf of the JABberwocky Literary Agency in New York.