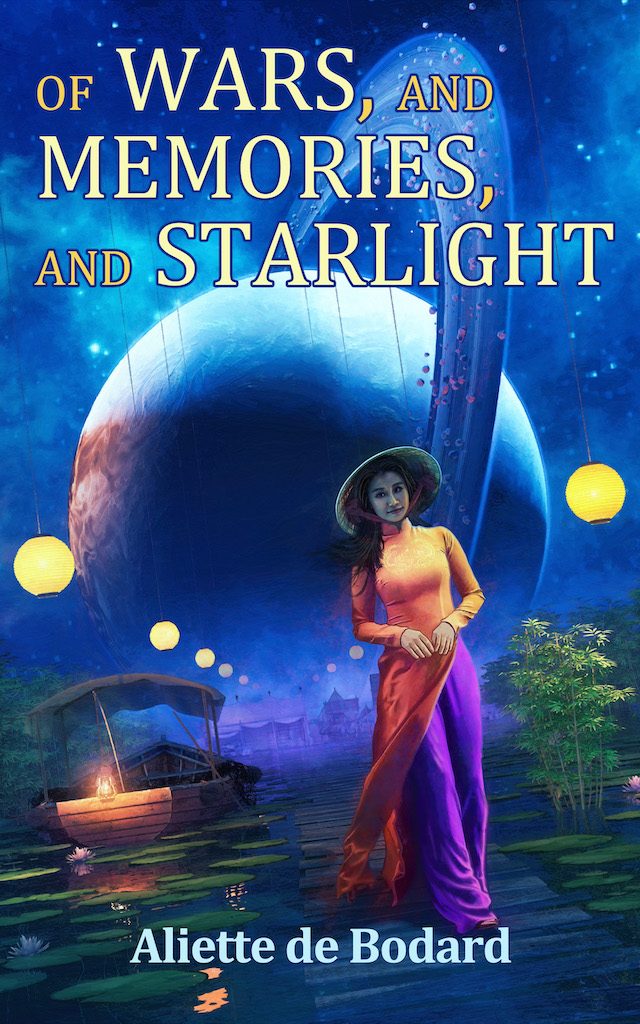 Fans of Aliette de Bodard in the UK and Europe need not wait any longer! The author's acclaimed and Locus Award-nominated collection, OF WARS, AND MEMORIES, AND STARLIGHT is out now! The new edition is published by JABberwocky, with a cover by Dirk Berger. Here's the synopsis…
A stunning and vibrant collection from a rising star of the genre.
This collection of fourteen tales showcase the range and talent that garnered Aliette de Bodard multiple awards, from Nebulas to the Locus Award. From a dark Gothic Paris devastated by a magical war, where Fallen angels, dragons and magicians intrigue in the drawing rooms of ruined mansions; to the Vietnamese-tinged space opera universe of Xuya, where sentient spaceships become the heart and living memory of families and scholar-officials travel from planets to space stations.
In the Nebula award and Locus award winning "Immersion", two women on a colonised space station grapple with loss of identity and culture. In the Hugo finalist "Children of Thorns, Children of Water", a shapeshifting dragon on an infiltration mission to a ruined mansion must rescue his partner from creepy, child-like creatures. And in "A Salvaging of Ghosts," a diver-scavenger cast off into deep spaces faces a dying midship and the ghost of her daughter. Unique to this collection is a new novella, "Of Birthdays, and Fungus, and Kindness", set in Bodard's alternative dark Paris.
Here are just a couple of great reviews the collection has received…
'This stunning collection showcases de Bodard's lush worldbuilding, meticulous research, and emotional prose.' — Library Journal (starred review)
'De Bodard… proves, again and again, that space opera can be intensely personal against its galactic backdrop…. The collection covers the consequences of war, survival in colonial culture, motherhood, mindships and space-travel, and aspects of grief.' — Booklist
OF WARS, AND MEMORIES, AND STARLIGHT is also out now in North America, published by the Subterranean Press.