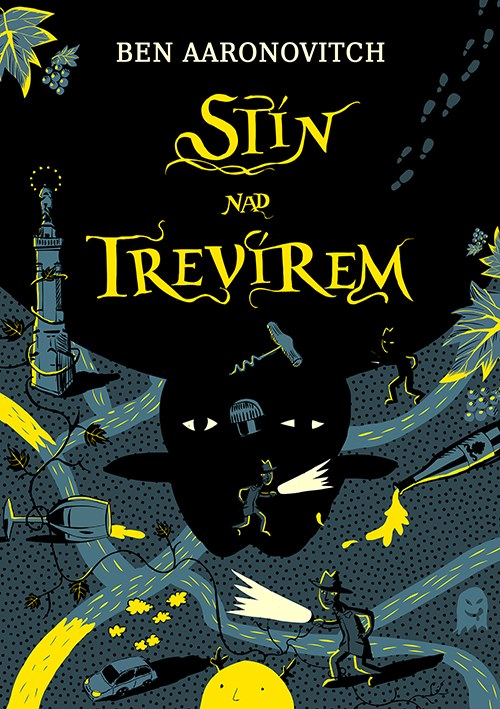 We're very happy to share the news that the Czech edition of Ben Aaronovitch's THE OCTOBER MAN is out now! Published by Argo as STÍN NAD TREVÍREM, it's the first set in Germany and starring Tobias Winter. Here's the synopsis…
První případ, který se neodehrává v Londýně a který neřeší Peter Grant. Svižné dobrodružství, které si v ničem nezadá s eskapádami slavné partičky z Rozmaru a anglických říčních božstev. Tajnosti tentokrát obestírají řeku Moselu a jihoněmecké město Trevír, proslavené vínem a starověkými Římany. Právě zde je na vinici nalezena mrtvola muže pokrytého plísní. Místní policie s něčím takovým nemá zkušenosti, kolem případu se navíc vznáší aura nadpřirozena, a proto je na scénu pozván vyšetřovatel Tobias Winter, německá obdoba Petera Granta, který s pomocí trevírské policistky Vanessy Sommerové záhy odhalí propojení oběti se skupinkou místních mužů a čímsi, co město a jeho okolí prorůstá už pěkně dlouhou dobu. Případ se větví a nejde v něm pouze o plíseň a vraždu, nýbrž i o vlákna minulosti, sahající do dávné historie Trevíru.
Knižní řada Řeky Londýna se vydává do Německa!
Argo has also published Ben's first seven Peter Grant novels, the novella THE FURTHEST STATION, and also the first two Rivers of London comic collections (co-authored by Andrew Cartmel).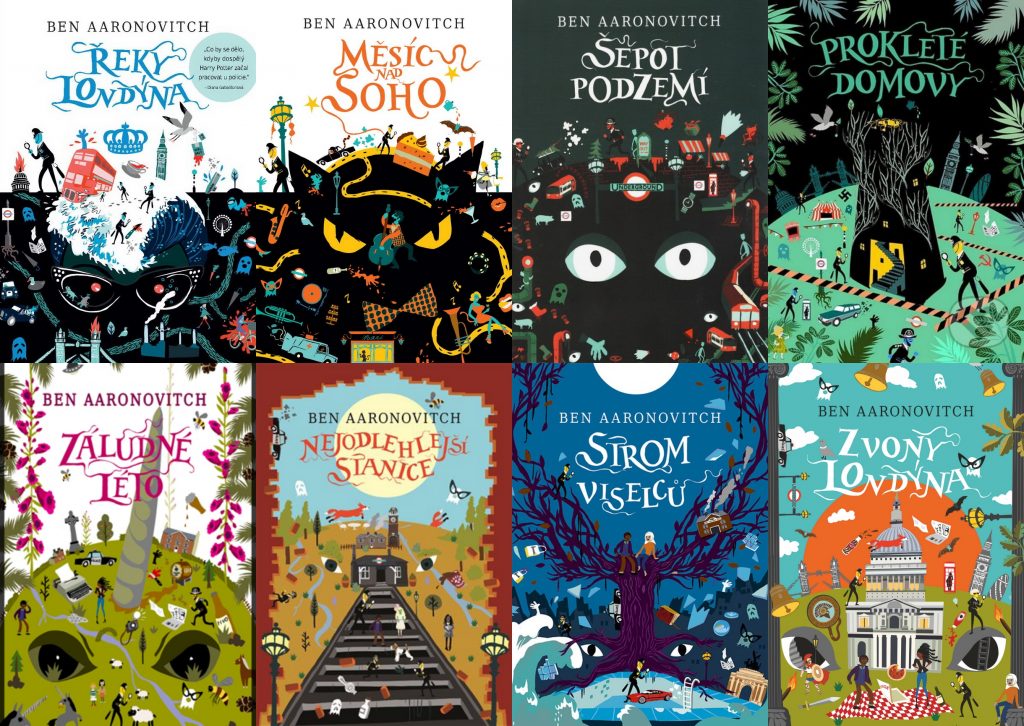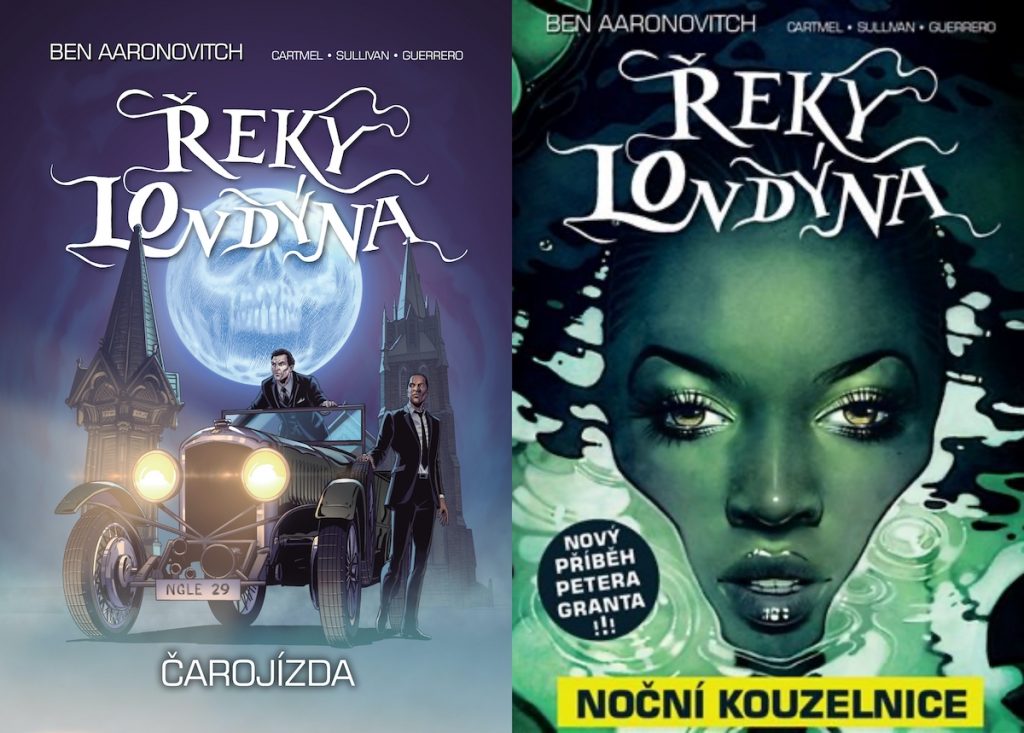 THE OCTOBER MAN is published by Gollancz in the UK, Subterranean Press in North America, and DTV in Germany. Here's the English-language synopsis…
Trier is famous for wine, Romans and for being Germany's oldest city. So when a man is found dead with, his body impossibly covered in a fungal rot, the local authorities know they are out of their depth.
Fortunately this is Germany, where there are procedures for everything.
Enter Investigator Tobias Winter, whose aim is to get in, deal with the problem, and get out with the minimum of fuss, personal danger and paperwork. With the help of frighteningly enthusiastic local cop, Vanessa Sommer, he's quick to link the first victim to a group of ordinary middle aged men – and to realise they may have accidentally reawakened a bloody conflict from a previous century. But the rot is still spreading, literally and with the suspect list extending to people born before Frederick the Great solving the case may mean unearthing the city's secret magical history.
… so long as that history doesn't kill them first.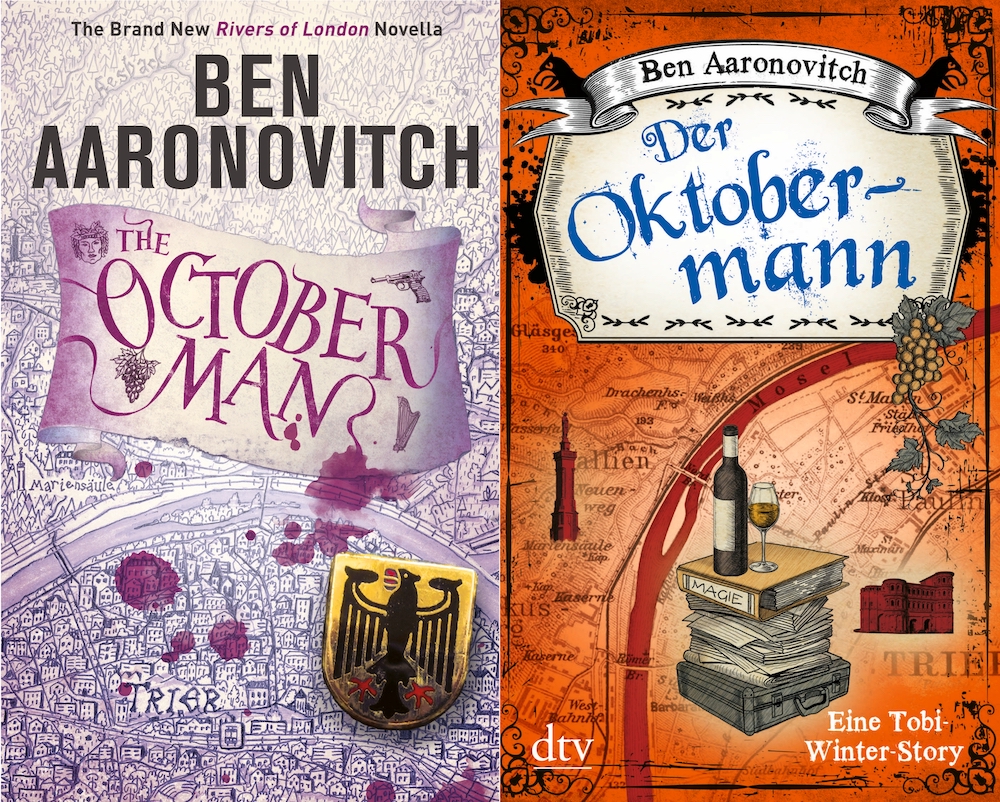 Finally, check out some of the reviews the novella has received so far…
'In this enjoyable spin-off from the Rivers of London urban fantasy series, Aaronovitch successfully transfers his blend of the supernatural and humor from England to the Continent as he introduces Tobias Winter, a German police officer who practices magic… Supernatural mystery fans who enjoy more whimsical takes on the paranormal will hope for more of Winter and Sommer.' — Publishers Weekly
'Winter's stolidness is a feature rather than a bug. While there are moments of adventure and daring, the story of this crime is both a satisfying whodunit and a primer on how magic works in Deutschland. THE OCTOBER MAN would be an interesting place to enter the Rivers of London world. Rather than fae, a new reader would anticipate werewolves, perhaps — and still greatly enjoy Aaronovitch's work. Those who know the Folly will appreciate this outsider's view of Grant and Nightingale, as well as learn a bit about how the latter spent the war, while still greatly enjoying Aaronovitch's work, even if it is set someplace new.' — Locus (Adrienne Martini)
'Sommer and Winter are an interesting team, the latter especially being a fascinating take of the "ordinary copper" style trope that these books do so well… THE OCTOBER MAN is a must for any fan of the series so far and, unusually, a good introduction to the series. It only marginally connects to the big plot of the main books, but does introduce all the core ideas and distinctive style. More please, and soon.' — Starburst
'There is a joyous familiarity to Aaronovitch's writing, meaning that fans of the series will delight in seeing how unexplainable events are dealt with in the Rhineland, without ever feeling like they left Grant or London behind… Aaronovitch continues to develop his well-crafted magical alternate/fantasy history backdrop with his usual level of attention to detail. Familiar geographical and historical touchstones are cleverly rolled away, leaving you with a non-fiction reading list that will keep you curious long after you've closed the last page… The characters are at once likeable and engaging… an enjoyable jaunt to the Continent that leaves you hoping that the Rivers Of London series will be packing its bags to take us on another outing to a new destination around the globe soon.' — SciFi Now
'Aaronovitch is well on his way to becoming this country's standout voice of urban fantasy, with a sprinkling of humour… a tasty little mystery… Set in Germany, with all the usual murder and mayhem the author is famed for, it's about as enjoyable as a tease can be from a writer on top form.' — The Sun (UK)
'Aaronovitch expands the universe of his Rivers of London series (Broken Homes, 2014) to include new characters operating in different countries with ties to supernatural crimes and detective work. THE OCTOBER MAN introduces Tobias Winter, a sanctioned magic practitioner who investigates the supernatural angles of crimes for the Abteilung KDA (which fans will recognize as the German extension of the British Folly)… Aaronovitch delivers yet another classic detective novel rich with the magical world building accomplished in his previous work.' — Booklist