Calling all fans of Aliette de Bodard's award-nominated, critically-acclaimed Xuya Universe: the author's latest novella in the setting, SEVEN OF INFINITIES is now available as an eBook outside of North America! Available from most major e-retailers, it's published by JABberwocky. Here's the synopsis…
On a string of orbitals called the Scattered Pearls Belt lives Sunless Woods — sentient spaceship, master of disguise, and master thief who chafes against the obscurity that comes with her retirement. There, too, lives Vân, a poor scholar with little confidence but plenty of heart, and whose income comes from tutoring a wealthy student.
Their lives are turned upside down when Vân finds a corpse in her student's quarters and Sunless Woods, intrigued by Vân's sense of justice, offers her help. Scholar and spaceship must chase the mystery around the empire's forgotten edge: from rundown teahouses to ascetic havens, and even in the wreck of a spaceship — and all the while, they begin to fall for each other in earnest. But the secrets they've kept from each other are large and devastating — will they and their love survive the revelations?
The novella was originally published by Subterranean Press, who released it as a limited edition hardcover and an eBook in the US. Subterranean Press has also published THE TEA MASTER AND THE DETECTIVE (a Xuya novella) and OF WARS, AND MEMORIES, AND STARLIGHT (a collection featuring some Xuya stories) in North America.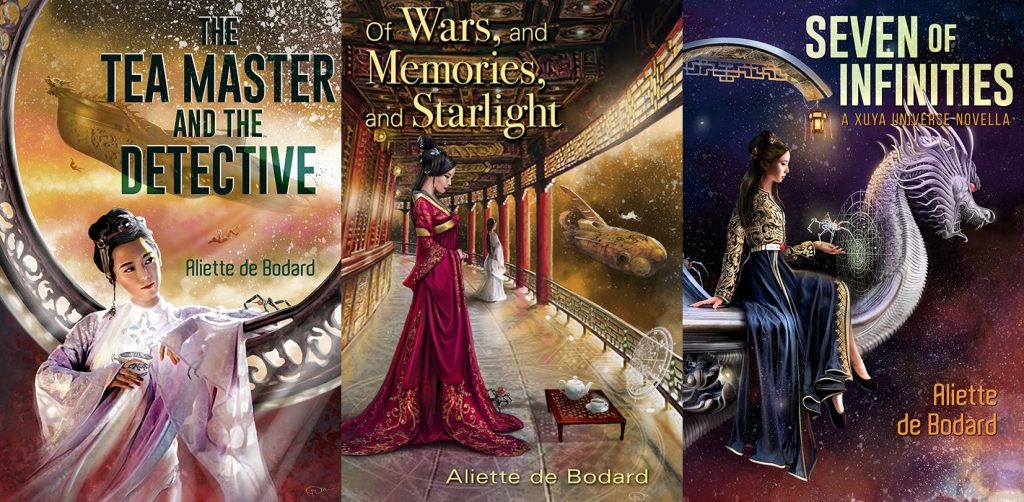 Both THE TEA MASTER AND THE DETECTIVE and OF WARS, AND MEMORIES, AND STARLIGHT have also been published by JABberwocky outside of the US.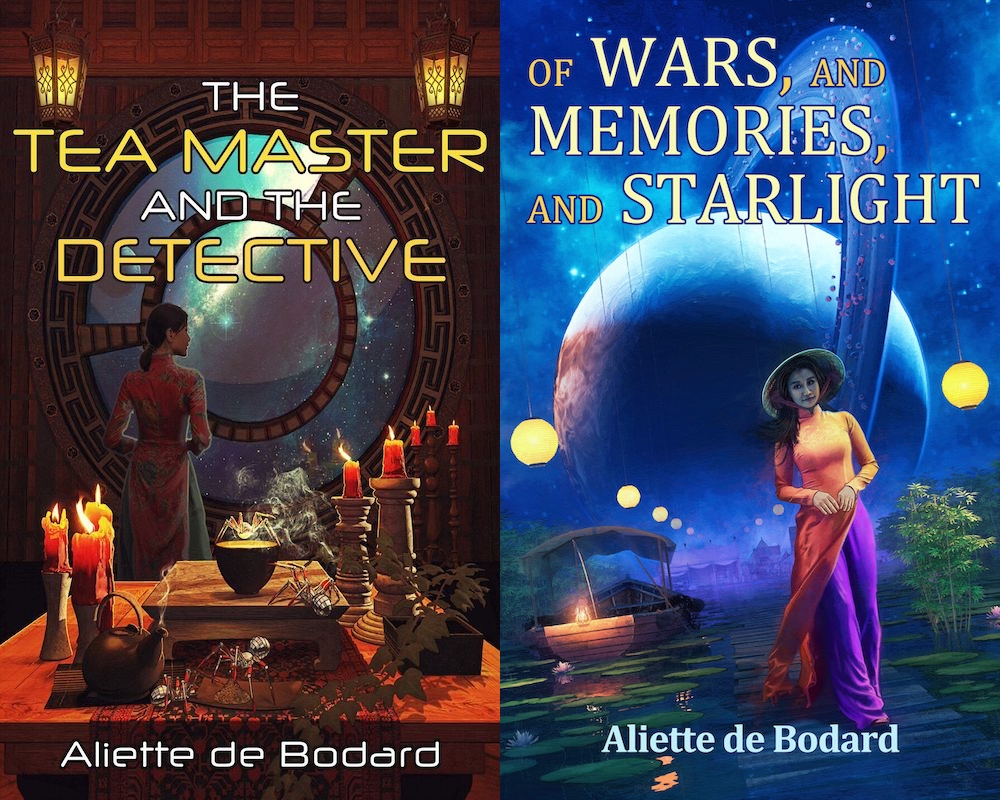 Here are just a few reviews that SEVEN OF INFINITIES has received so far…
'With this lush, immersive sci-fi tale, de Bodard (The House of Sundering Flames) delves into a world as gritty as it is ethereal… [R]eaders will be swept away by the vivid prose, intrigue, and romance of this intricate tale. This fascinating, unusual story is sure to entrance.' — Publishers Weekly
'SEVEN OF INFINITIES is a novella concerned with forgiveness, deserved or not, about cages, self-made or otherwise. It concerns itself with growth, with grace, with ruthlessness and its costs and consequences. It's a tightly written jewel of a story, intense and full of feeling, and I recommend it highly.' — Locus (Liz Bourke)
'A magnificent sf mystery, nuanced, intense, and romantic, with a complex, clever plot nested inside de Bodard's rich, evocative, and vivid Xuya universe.' — Kate Elliott, author of Unconquerable Sun and Cold Magic