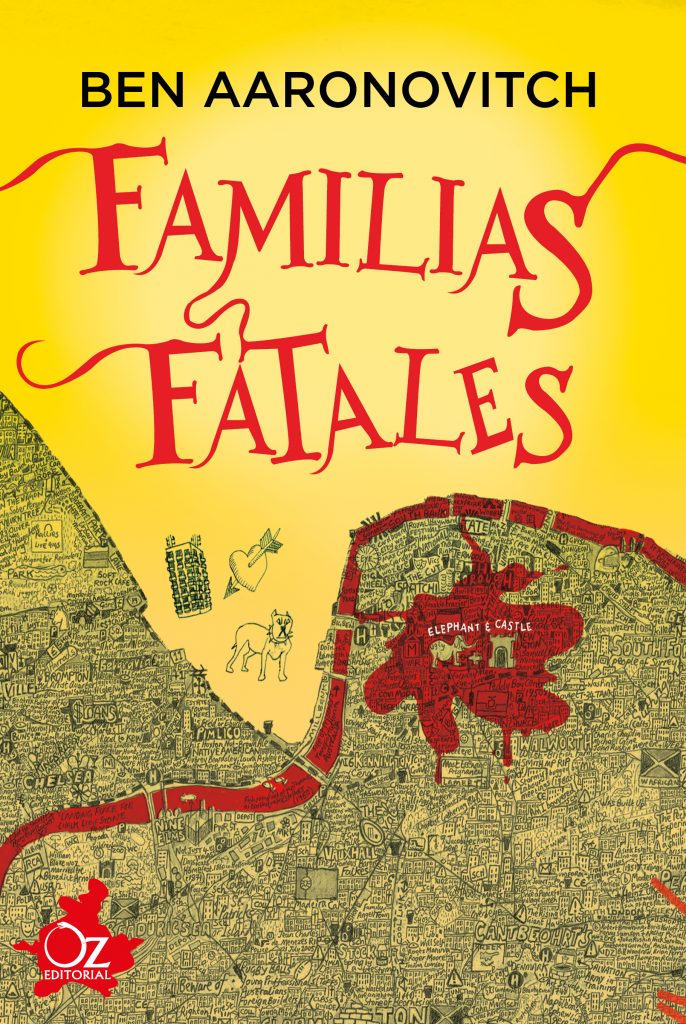 The fourth novel in Ben Aaronovitch's Peter Grant/Rivers of London series, BROKEN HOMES, is out now in Spain! Published by Oz Editorial as FAMILIAS FATALES, and translated by Marina Rodil Parra, here's the synopsis…
¿Podrá el agente Peter Grant detener al mago más peligroso de Londres? El cuerpo mutilado de una mujer y ni rastro de magia: eso es lo único que el agente Peter Grant encuentra en la escena del crimen. Pero tiene razones para creer que el asesino practica la magia… Todas las pistas apuntan al mismo lugar: el Skygarden, una torre diseñada por un loco y habitada por personas desesperadas. Dispuestos a resolver el misterio, Peter Grant y su mentor, el inspector Nightingale, se adentrarán en las tinieblas más allá del Támesis, donde se esconden los secretos más oscuros de Londres.
Oz Editorial has also published the first three novels in the series: RIVERS OF LONDON, MOON OVER SOHO, and WHISPERS UNDERGROUND — as RÍOS DE LONDRES, LA LUNA SOBRE EL SOHO, and SUSURROS SUBTERRÁNEOS.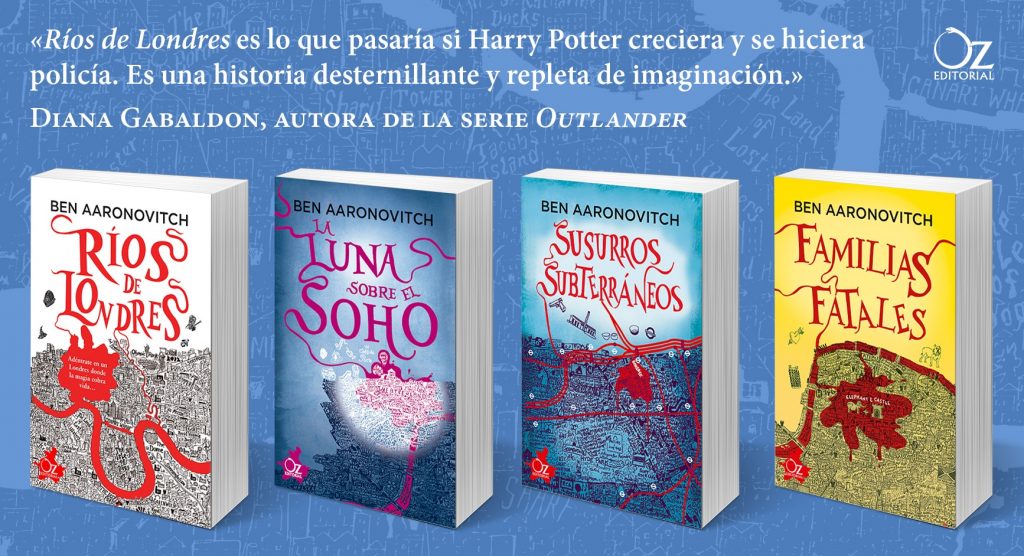 BROKEN HOMES and the rest of the series are published in the UK by Gollancz. The series is published in North America by Del Rey (1-3) and DAW Books (4-). Here's the English-language synopsis for BROKEN HOMES…
A unique blend of police procedural, loving detail about the greatest character of all, London, and a dash of the supernatural.
A mutilated body in Crawley. Another killer on the loose. The prime suspect is one Robert Weil – an associate of the twisted magician known as the Faceless Man? Or just a common garden serial killer?
Before PC Peter Grant can get his head round the case, a town planner going under a tube train and a stolen grimoire are adding to his case-load.
So far so London.
But then Peter gets word of something very odd happening in Elephant and Castle, on a housing estate designed by a nutter, built by charlatans and inhabited by the truly desperate.
Is there a connection?
And if there is, why oh why did it have to be South of the River?
Full of warmth, sly humour and a rich cornucopia of things you never knew about London, Aaronovitch's series has swiftly added Grant's magical London to Rebus' Edinburgh and Morse's Oxford as a destination of choice for those who love their crime with something a little extra.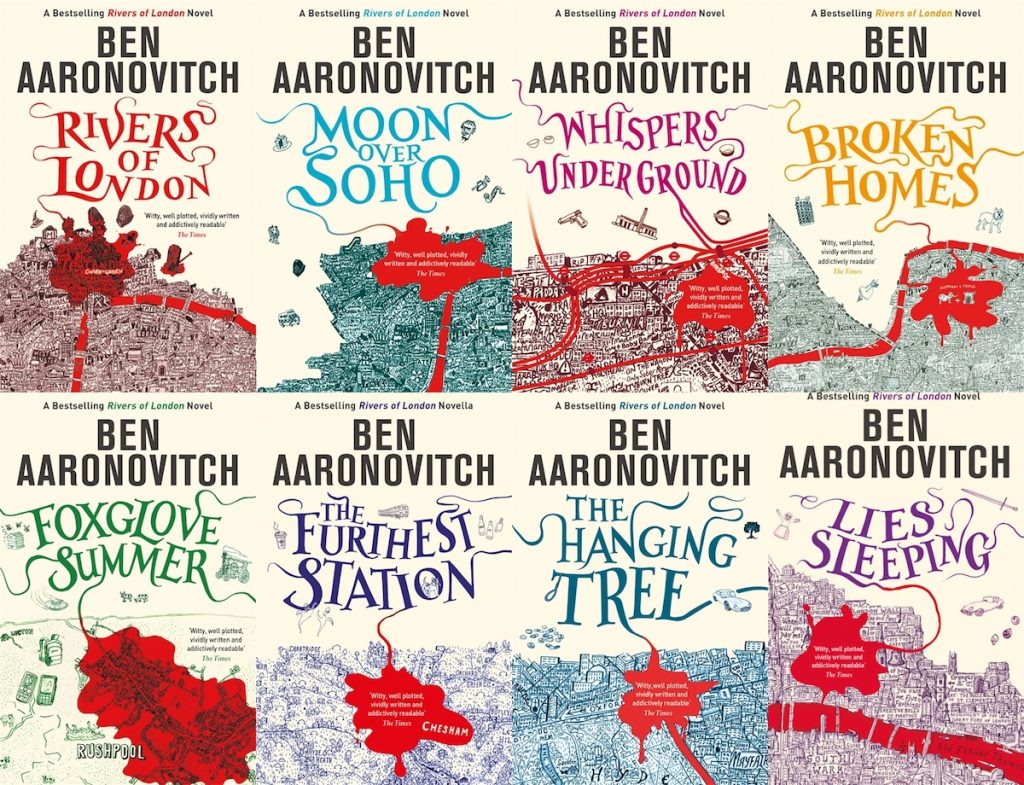 The novellas set in the same world — THE FURTHEST STATION and THE OCTOBER MAN — are published in the UK by Gollancz, and in North America by Subterranean Press.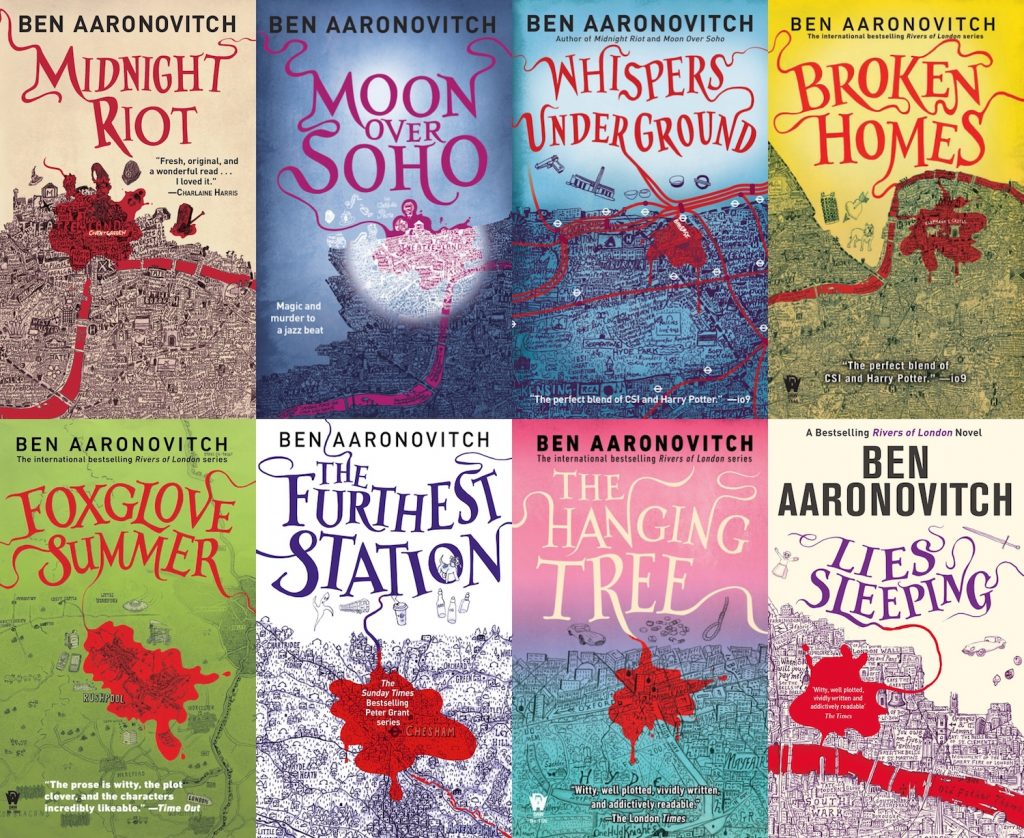 Here are just a few of the reviews BROKEN HOMES has received since it was first published…
'Smart, edgy and dramatic, BROKEN HOMES is a fine addition to a fascinating series.' — LOCUS (Feb.2014, p.19)
'Aaronovitch's writing is often laugh out loud funny, filled with gripping action, well thought out magical theory and fascinating tidbits about London, the jazz music scene, or even the Sierra Leone expats (which includes PC Grant's family) living in London… a gripping, humorous series of books that are compelling reading and well worth picking up…' — British Fantasy Society
'Aaronovitch has a very witty, casual voice, with a tendency toward sarcasm and humor, which is threaded throughout BROKEN HOMES. And a few crazy plot twists will devastate and delight fans in equal measure.' — RT Book Reviews
'PC Peter Grant and his co-worker Lesley, two of the few policemen in London who can practice magic, are still working under Nightingale, who must be the oldest police officer in England . . . not that he looks it. A low-income housing tower gone awry, an old enemy with a bone to pick . . . and a shocker of an ending – BROKEN HOMES is a delight.' — Charlaine Harris
'… a totally convincing Sorcerer's Modern Apprenticeship. Focusing on the career of magically-gifted Constable Peter Grant of the Metropolitan Police, Aaronovitch breathes vivid life into a London where old-fashioned hocus-pocus happens, but where wizard cops may also require the very real firepower of the Tactical Support Unit… [the] conjunction of local government planning departments, shady security firms, and willowy tree spirits that makes the Peter Grant concept so enjoyable. One minute Aaronovitch is describing the deployment of Major Incident Procedure, the next describing how the gods and goddesses of London's rivers have divided up their territory… Peter Grant as a hero nicely represents modern London – his father a white jazz player, his mum a serial over-doer of food preparation from Sierra Leone – and the books deliver a charming, witty and exciting romp through a magical world not all that far from our own, offering a delightfully escapist sidetrack for summer holiday reading.' — The Independent (Emma Townsend)