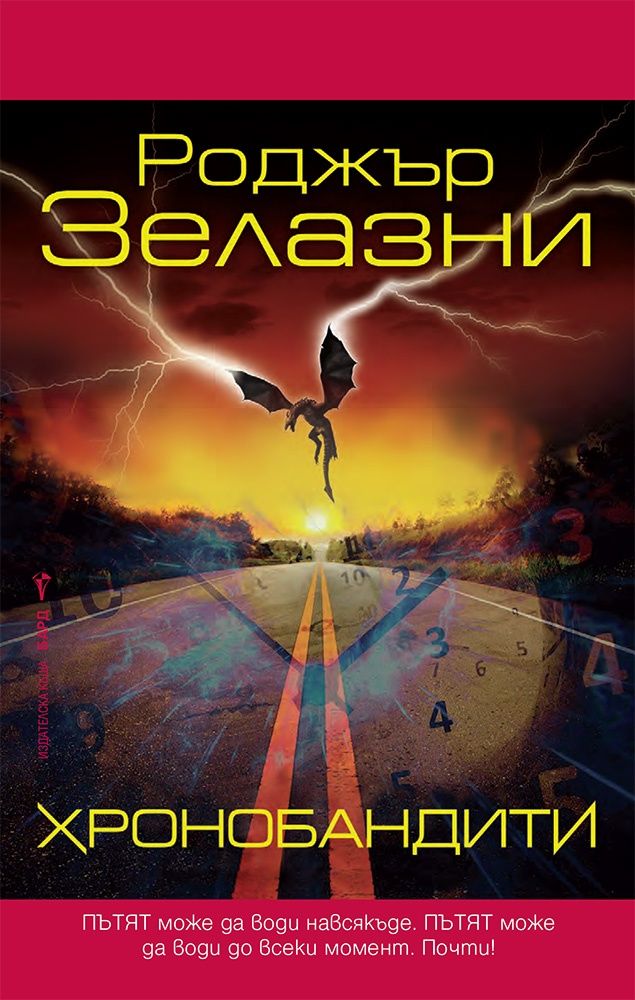 The Bulgarian edition of Roger Zelazny's ROADMARKS is out now! Published by Бард as Хронобандити, here's the synopsis…
ПЪТЯТ може да води навсякъде. ПЪТЯТ може да води до всеки момент. Почти!
Ред Доракийн отдавна кръстосва Пътя, построен от драконите на Бел'куинит. Път, който се простира безкрай от миналото към далечното бъдеще, с изходи, които водят навсякъде и до всякога.
Но Ред все не може да намери мястото, където иска да бъде.
И не е единственият, който пътува по Пътя, а хората, които идват и си отиват, могат да променят миналото или бъдещето както им хрумне. Изходите се затварят, обрастват и да измислиш какво да промениш, за да се върнеш в някой предишен момент, отнема, ами… цяла вечност.
За щастие, Ред разполага с цялото време на света.
ХРОНОБАНДИТИ е главозамайващ фантастичен роман от един от най-значимите автори в жанра. Той заплита линейни и нелинейни сюжети в един завладяващ разказ, пълен с мистерия и магия!
ROADMARKS is available in the UK as part of the SF Masterworks series, published by Gollancz. Here's the English-language synopsis…
The Road can go Anywhere.
The Road can go Anywhen.
Almost.
Red Dorakeen has been on the Road for a very long time. For all of time, in fact. It stretches infinitely into the future and past, with exits that take him wherever, or whenever, he wants to go.
But he can't find the place he wants to be.
He's not the only one who can travel the Road, and as people join and leave, they can alter the past, or the future, to suit their whims. Exits close off, become overgrown, and working out what to change back to return to old timelines could take, well . . . forever.
Fortunately, Red has all the time he could ever need.
Roadmarks is a fantastically mind-bending novel from one of SFF's most influential authors. It weaves together linear and non-linear narratives in a compelling tale full of mystery and magic.