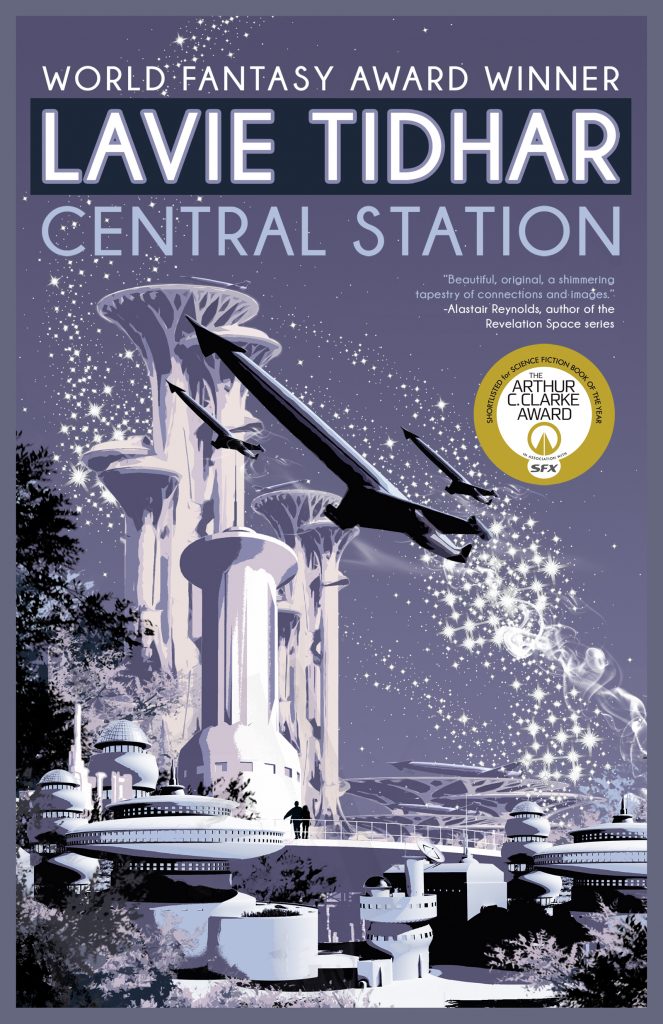 We are delighted to share the news that Lavie Tidhar's critically-acclaimed CENTRAL STATION has won an inaugural Neukom Award! You can read the full press release here.
Dan Rockmore, director of the Neukom Institute, said of the winners, 'We are proud to have a list of award winners that features such thoughtful artistic visions of the future, both near and far… We all wrestle with the uncertainty of the future, that is what makes speculative fiction such an important and necessary genre, and that is what makes each of these works so special.'
Here's what Lavie had to say about winning the award…
'Writing CENTRAL STATION, I was finally able to put into form many of the ideas on the future – of people, of machines, of communication – that occupied me since first loading a command line prompt, and since the first time I heard the siren call of a modem. I'm honored to be among the inaugural recipients of the Neukom Institute Literary Arts Awards.'
CENTRAL STATION is published by Tachyon Publications in English, and is available in a growing number of translated editions — with more to come (check his author page for more information). Here's the synopsis…
A worldwide diaspora has left a quarter of a million people at the foot of a space station. Cultures collide in real life and virtual reality. Life is cheap, and data is cheaper.
When Boris Chong returns to Tel Aviv from Mars, much has changed. Boris's ex-lover is raising a strangely familiar child who can tap into the datastream of a mind with the touch of a finger. His cousin is infatuated with a robotnik — a damaged cyborg soldier who might as well be begging for parts. His father is terminally-ill with a multigenerational mind-plague. And a hunted data-vampire has followed Boris to where she is forbidden to return.
Rising above them is Central Station, the interplanetary hub between all things: the constantly shifting Tel Aviv; a powerful virtual arena, and the space colonies where humanity has gone to escape the ravages of poverty and war. Everything is connected by the Others, powerful alien entities who, through the Conversation — a shifting, flowing stream of consciousness — are just the beginning of irrevocable change.
At Central Station, humans and machines continue to adapt, thrive… and even evolve.
Many congratulations, Lavie, on this latest very-well-deserved honour!
Last week, we shared the stunning cover for Lavie's next novel, UNHOLY LAND, which will also be published by Tachyon Publications.