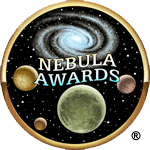 We're delighted to announce that Zeno client Aliette de Bodard has won a coveted  Nebula Award, for her short story 'Immersion'!
We announced a little while ago that Aliette's the story had been nominated for a Nebula Award (as well as Hugo and LOCUS nominations). Naturally, we're expecting a hat-trick!
Congratulations Aliette, on this much -deserved accolade!