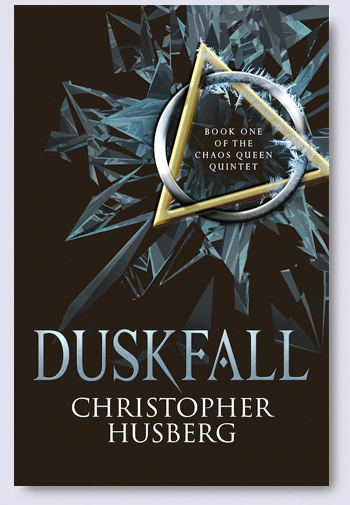 Above is the rather nice cover for DUSKFALL, Christopher Husberg's debut fantasy novel. Due to be published by Titan Books in June 2016, it is the first novel in the author's Chaos Queen Quintet. Here's the synopsis…
Stuck with arrows and close to death, a man is pulled from the icy waters of the Gulf of Nahl. As he is nursed back to health by a local fisherman, two things become very clear: he has no idea who he is, and he can kill a man with terrifying ease.
The fisherman is a tiellan, a race which has long been oppressed and grown wary of humans. His daughter, Winter, is a seemingly quiet young woman, but behind her placid mask she has her demons. She is addicted to frostfire – a substance that both threatens to destroy her and simultaneously gives her phenomenal power.
A young priestess, Cinzia, hears the troubling news of an uprising in her native city of Navone. Absconding from the cloistered life that she has kept for the last seven years, she knows she must make the long journey home. The flames of rebellion threatening her church and all that she believes in are bad enough, but far worse is the knowledge that the heretic who sparked the fire is her own sister.
These three characters may have set out on different paths, but fate will bring them together on one thrilling and perilous adventure.
Titan are also due to publish the following four novels in the series: DARK IMMOLATION, HEART'S NIGHT, FEAR THE STARS and DAWNRISE. We'll share more information as and when it's available.
Zeno represents Christopher Husberg in the UK and Commonwealth, on behalf of the JABberwocky Literary Agency in New York.