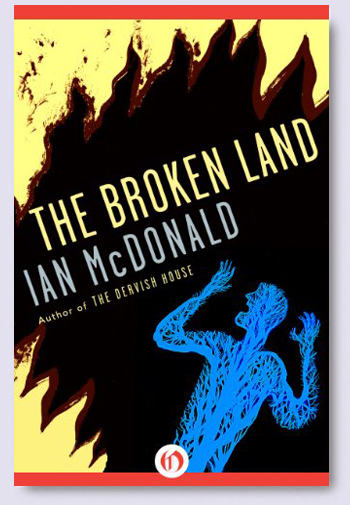 Today, Ian McDonald's THE BROKEN LAND is an Early Bird eBook special deal! For today only, the eBook is only $1.99, available at all major e-tailers.
The eBook of THE BROKEN LAND is published in the US by Open Road Media. Here's the synopsis…
In an instant, Mathembe Fileli's life was burned away… Now, in search of answers, she must traverse a divided nation
Life in the village of Chepsenyt is idyllic. Despite the empire's growing religious tensions, the people of Chepsenyt live together peacefully and ply their trades, growing useful objects through the manipulation of DNA. It was here that Mathembe Fileli grew up, with her father creating tools used in construction and her mother spinning clothes and food.
That all changed in an instant.
The Broken Land mirrors Belfast resident Ian McDonald's upbringing in Northern Ireland by depicting a nation cut in two by a violent religious divide. On one side are the Proclaimers, the ruling group that doesn't believe in life after death, and on the other side are the Confessors, the opposing group whose thoughts are uploaded in the afterlife. When two Confessors take shelter in Chepsenyt, the Emperor's soldiers burn the village to the ground, throwing the whole country into civil war. In this newly perilous world, Mathembe must draw on her resourcefulness and inner strength to find her family and bridge the nation's gaping rift.
Ian McDonald is the multi-award winning, bestselling author of multiple science fiction novels, many of which are published extensively in translation. Most recently, LUNA: NEW MOON, which is published in the US by Tor Books, and in the UK by Gollancz. Open Road publishes a selection of Ian's backlist in eBook in the US — details can be found here.