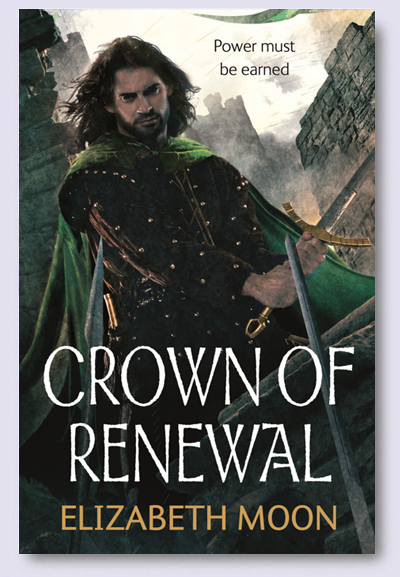 Check out this cover for Elizabeth Moon's upcoming CROWN OF RENEWAL! It is the final installment in her Paladin's Legacy series, a fantasy epic of kingdoms under threat, politics and magic by a true science fiction and fantasy legend! The book is due to be published in the UK by Orbit Books, on May 27 2014. Here is the synopsis…
Eight kingdoms in danger, an enemy that cannot die…
Count Jeddrin has received a grisly message. His son, Filis, is dead, brutally killed by Alured the Black – the first move in his plan to take the eight kingdoms.
But Filis managed to send his own message, telling of the dark forces that control Alured, warning of something more than human behind the man's eyes…
Meanwhile, Dorrin Verrakai, last of a long line of magelords, must forever leave the home she loves in order to protect powerful magic relics created by her ancestors. For their power is desired both by Alured, and by the dark elves infesting the kingdoms. Searching for answers, her friend and King, Kieri, considers waking the magelords from their ancient slumber…
CROWN OF RENEWAL is the fifth and final novel in the series, which also includes: OATH OF FEALTY, KINGS OF THE NORTH, ECHOES OF BETRAYAL, and LIMITS OF POWER – all published in the UK by Orbit.
Zeno represents Elizabeth Moon in the UK and Commonwealth, on behalf of the JABberwocky Literary Agency in New York.