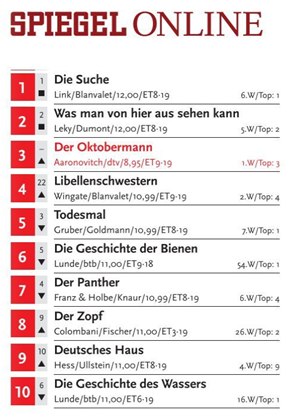 We're delighted to report that Ben Aaronovitch's latest novella, DER OKTOBERMANN entered the book charts in Germany at #3! Published by DTV, here's the synopsis…
›Die Flüsse von London‹ fließen nach Deutschland…
… denn auch hierzulande gibt es magische Vorkommnisse! Das deutsche Pendant zu Peter Grant heißt Tobi Winter und arbeitet beim BKA (Abteilung für komplexe und diffuse Angelegenheiten, sprich: Magie). Tobi bekommt es mit seltsamen Bräuchen in den Weinbergen rund um Trier zu tun – und mit einem übernatürlichen Rätsel, das schon Hunderte von Jahren alt ist. Selbstverständlich hat in dieser Gegend auch die Mosel ein Wörtchen mitzureden, wenn es magisch wird.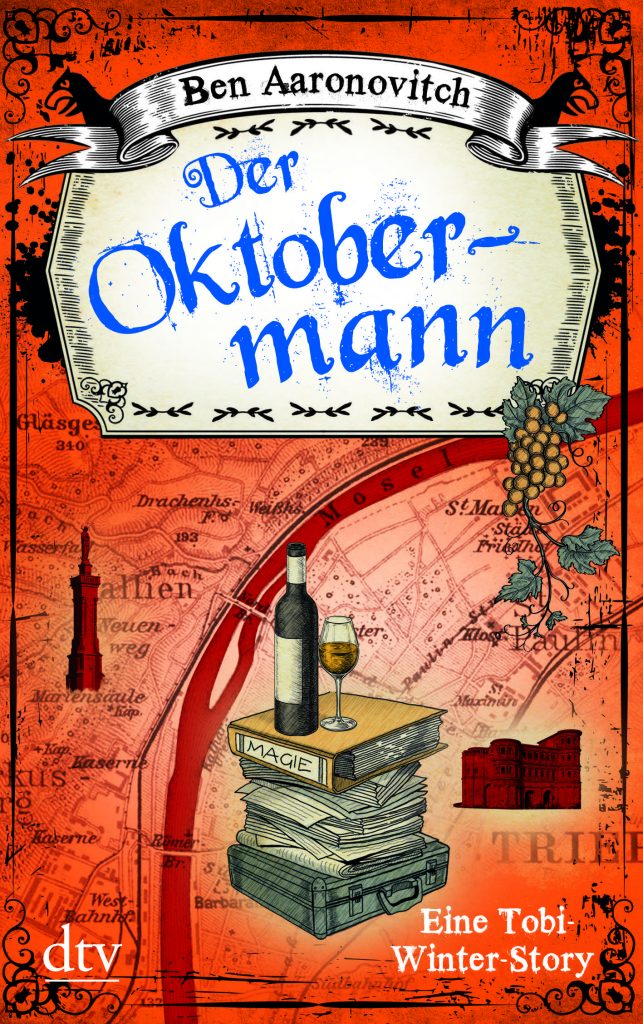 THE OCTOBER MAN is the first set in Germany, and introduces readers to Tobias Winter, a new protagonist in the author's Rivers of London fantasy world. Published by Gollancz (UK) and Subterranean Press (North America), here's the English-language synopsis…
Trier is famous for wine, Romans and for being Germany's oldest city. So when a man is found dead with, his body impossibly covered in a fungal rot, the local authorities know they are out of their depth.
Fortunately this is Germany, where there are procedures for everything.
Enter Investigator Tobias Winter, whose aim is to get in, deal with the problem, and get out with the minimum of fuss, personal danger and paperwork. With the help of frighteningly enthusiastic local cop, Vanessa Sommer, he's quick to link the first victim to a group of ordinary middle aged men – and to realise they may have accidentally reawakened a bloody conflict from a previous century. But the rot is still spreading, literally and with the suspect list extending to people born before Frederick the Great solving the case may mean unearthing the city's secret magical history.
… so long as that history doesn't kill them first.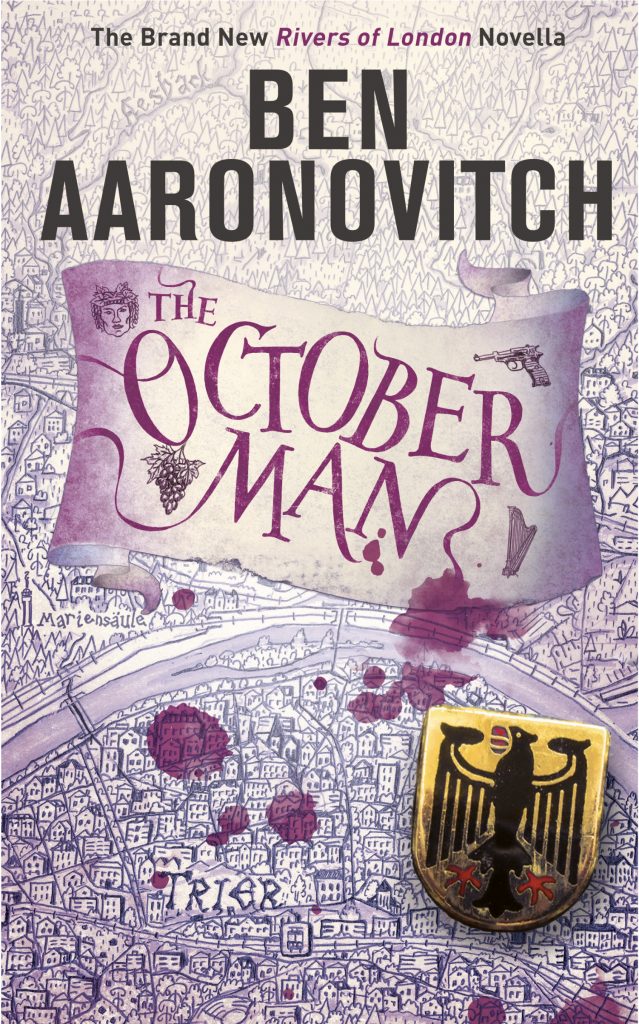 Here are just a handful of the great reviews the novella has received so far…
'In this enjoyable spin-off from the Rivers of London urban fantasy series, Aaronovitch successfully transfers his blend of the supernatural and humor from England to the Continent as he introduces Tobias Winter, a German police officer who practices magic… Supernatural mystery fans who enjoy more whimsical takes on the paranormal will hope for more of Winter and Sommer.' — Publishers Weekly
'Winter's stolidness is a feature rather than a bug. While there are moments of adventure and daring, the story of this crime is both a satisfying whodunit and a primer on how magic works in Deutschland. THE OCTOBER MAN would be an interesting place to enter the Rivers of London world. Rather than fae, a new reader would anticipate werewolves, perhaps — and still greatly enjoy Aaronovitch's work. Those who know the Folly will appreciate this outsider's view of Grant and Nightingale, as well as learn a bit about how the latter spent the war, while still greatly enjoying Aaronovitch's work, even if it is set someplace new.' — Locus (Adrienne Martini)
'Sommer and Winter are an interesting team, the latter especially being a fascinating take of the "ordinary copper" style trope that these books do so well… THE OCTOBER MAN is a must for any fan of the series so far and, unusually, a good introduction to the series. It only marginally connects to the big plot of the main books, but does introduce all the core ideas and distinctive style. More please, and soon.' — Starburst
'Aaronovitch expands the universe of his Rivers of London series (Broken Homes, 2014) to include new characters operating in different countries with ties to supernatural crimes and detective work. THE OCTOBER MAN introduces Tobias Winter, a sanctioned magic practitioner who investigates the supernatural angles of crimes for the Abteilung KDA (which fans will recognize as the German extension of the British Folly)… Aaronovitch delivers yet another classic detective novel rich with the magical world building accomplished in his previous work.' — Booklist
'THE OCTOBER MAN is a very well-constructed detective story, simple enough to be told in the span of a novella (granted, at more than two hundred pages, this one's on the longer side) while still containing plenty of complexity to hold the reader's attention. In addition, its pacing allows for plenty of fast-paced action and police work, but moments of downtime also provide opportunities to get to know our characters better. Despite being in a new setting and following a new protagonist, I was delighted to feel all the familiar attributes and the fine balance of Ben Aaronovitch's writing style… Aaronovitch has delivered another fun and captivating Rivers of London mystery… I loved getting to meet Tobias and Vanessa, and it would thrill me greatly to see this corner of the series expanded with more stories in the future.' — Bibliosanctum