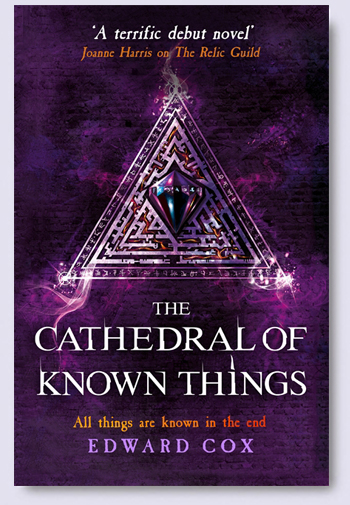 THE CATHEDRAL OF KNOWN THINGS by Edward Cox is out today in paperback! The second novel in Ed's Relic Guild series, it is published by Gollancz. Here's the synopsis…
Divided, hunted and short on resources, the surviving members of the Relic Guild are in real trouble. Their old enemy, the Genii, and their resurrected master have infiltrated Labrys Town and taken over the police force.
So the Relic Guild must flee their home, and set off on a dangerous journey across the worlds of the Aelfir. One that will lead them to a weapon which might destroy the Genii. Or the whole universe…
And forty years before all this, the war which led to the fall of the Genii continues. And what happens to the Relic Guild during that conflict will change the course of their desperate flight.
The first novel in the series, THE RELIC GUILD, is also published by Gollancz. THE WATCHER OF DEAD TIME is due to be published in August, also by Gollancz. The series has been receiving some great reviews. Here's just a handful…
'Tightly woven together… incorporat[es] touches of fantasy, horror and the weird but eschewing many of the regular tropes of the genre: it is quite an achievement to create something so different and so fresh… Every page bursts with magic — in the action, the characters and the plot, and of course the relics and artefacts that are often central to the story… Aside from much high-speed action, many of the book's bravura passages are descriptive, bringing to life the many weird and wonderful worlds with fervid and sensual writing… an impressive sequel, building on its predecessor in its sheer inventiveness, scope and story development. It is hard to call anything 'unique', but perhaps this is as close as fantasy gets.' — British Fantasy Society on THE CATHEDRAL OF KNOWN THINGS
'A blend of horror, fantasy and civilised steampunk adventure. It's also quite a bit more cinematic than the first book… The Guild is part typical fantasy adventuring party and partially a superhero team, and this time round we get to learn more about what makes them tick. Not only do we discover more about the heroes, but the scenery-chewing bad guys also get to have their own backstory as well. Add on top the gentle bringing together of existing storylines and some rather entertaining self-discoveries by the main characters, and what we have here is an excellent middle book… leaves us wanting more…' — Starburst on THE CATHEDRAL OF KNOWN THINGS
'Very enjoyable epic fantasy in a noir-ish dystopian setting, emcompassing two time lines and dashes of vampirism and zombies — all neatly balanced despite it being a debut, with likeable characters and a fresh setting…' — Tom Lloyd (author of Twilight Reign series) on THE RELIC GUILD
'A terrific debut novel, with plenty of scope for expansion and some really good world-building. Most importantly, lots of fun. Looking forward to the next one.' — Joanne Harris on THE RELIC GUILD
'THE RELIC GUILD is a formidable debut from an author with huge potential, and I will be one of the first clamouring for a copy of the sequel.' — Fantasy Faction