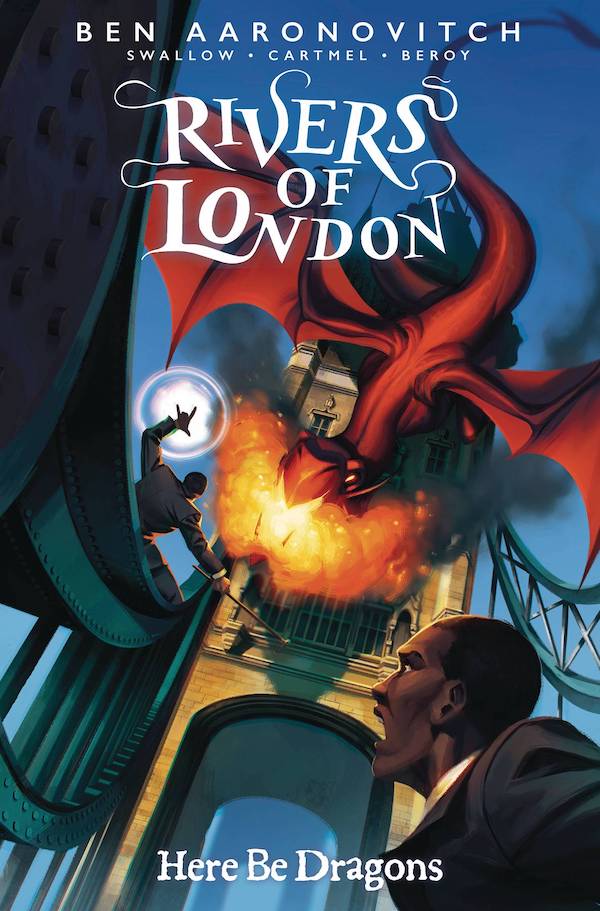 The fourth (and final) issue in the latest Rivers of London comic series, HERE BE DRAGONS is out now! Written by Ben Aaronovitch, Andrew Cartmel, and James Swallow, it's published by Titan Comics in print and digital versions. Here's the brief synopsis…
After a Met Police helicopter on night patrol is attacked by an unidentified aerial phenomena, the Met's only sanctioned wizard, Peter Grant, and his mentor, Thomas Nightingale, are called in to investigate.
Series artwork is by José María Beroy, and the cover for this issue are by Vv Glass.
HERE BE DRAGONS is the eleventh Rivers of London comic series — all of which are published by Titan Comics. The comics fit into the larger chronology and story of Ben's Peter Grant/Rivers of London fiction series. The first 10 series are now available in collected editions, as well as single issues. If you'd like to know how the comics, novels, and novellas all fit together chronologically, check out this handy graphic from Titan Comics…