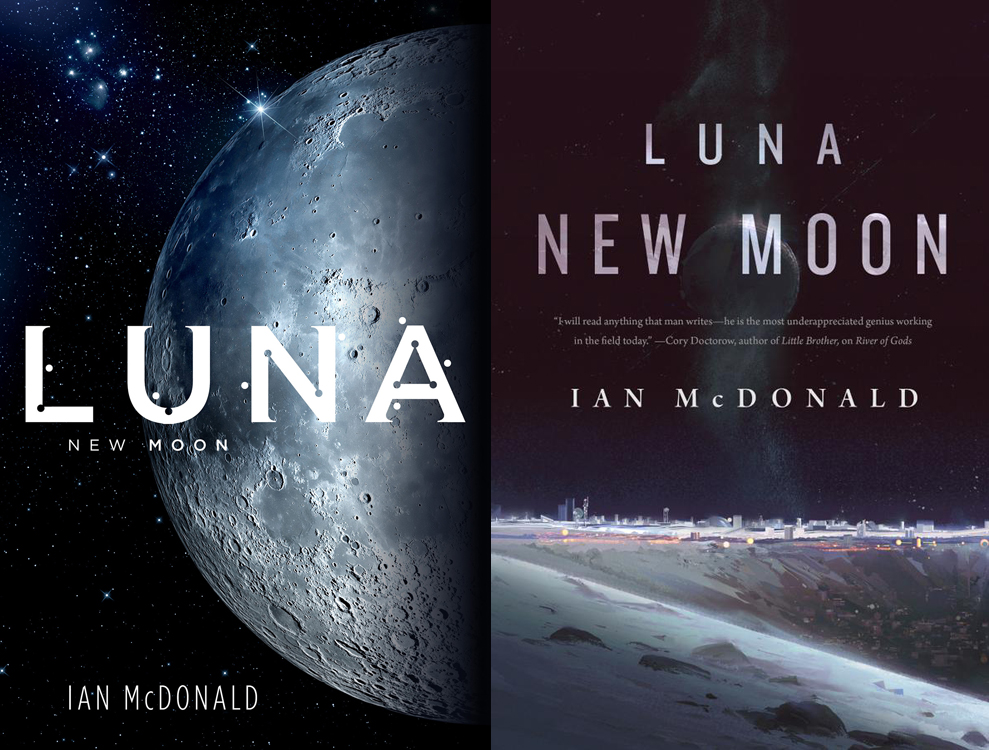 Ian McDonald's latest novel, the critically-acclaimed LUNA: NEW MOON has been nominated for the John W. Campbell Award! The novel, which is published by Gollancz in the UK and Tor Books in the US, is the first in the Luna series. Here's the synopsis…
The Moon wants to kill you. Whether it's being unable to pay your per diem for your allotted food, water, and air, or you just get caught up in a fight between the Moon's ruling corporations, the Five Dragons. You must fight for every inch you want to gain in the Moon's near feudal society. And that is just what Adriana Corta did.
As the leader of the Moon's newest "dragon," Adriana has wrested control of the Moon's Helium-3 industry from the Mackenzie Metal corporation and fought to earn her family's new status. Now, at the twilight of her life, Adriana finds her corporation, Corta Helio, surrounded by the many enemies she made during her meteoric rise. If the Corta family is to survive, Adriana's five children must defend their mother's empire from her many enemies… and each other.
In addition, McDonald's short story BOTANICA VENERIS: THIRTEEN PAPERCUTS BY IDA COUNTESS RATHANGAN has been nominated for the Theodore Sturgeon Memorial Award. The story was included in OLD VENUS, edited by George R.R. Martin and Gardner Dozois.
The winner of both awards will be announced during the Campbell Conference Awards Banquet, part of the 74th WorldCon, on August 18th. The conference will be held between August 17th to 21st, in Kansas City, Missouri. More details can be found here.
Ian's next novel is the sequel, LUNA: WOLF MOON, which is also due to be published by Gollancz in the UK and Tor in the US (covers below). The first novel is also due to be published widely in translation.
'McDonald… begins his superb near-future series… scintillating, violent, and decadent world. McDonald creates a complex and fascinating civilization featuring believable technology, and the characters are fully developed, with individually gripping stories. Watch for this brilliantly constructed family saga on next year's award ballots.' — Publishers Weekly (Starred Review)
'No one writes like Ian McDonald, and no one's Moon is nearly so beautiful and terrible… Ian McDonald's never written a bad novel, but this is a great Ian McDonald novel… McDonald has ten details for every detail proffered by other sf writers. Not gratuitous details, either: gracious ones. The fashion sense of William Gibson, the design sense of Bruce Sterling, the eye for family drama of Connie Willis, the poesie of Bradbury, and the dirty sex of Kathe Koja and Samuel Delany… I'm all a-quiver for the next one.' — BoingBoing
'Fans of cerebral, high-concept science fiction will love this exploration of society on the moon many decades after it has been colonized… an addictive page-turner… a mesmerizing political thriller.' — RT Book Reviews
'LUNA: NEW MOON is the best moon novel I've seen in many years… Possibly the most chilling lines in the book for an SF reader come from Adriana herself, in her own narrative: ''There was no law, no justice,'' she writes, ''only management. The moon was the frontier, but it was the frontier to nothing. There was nowhere to run.'' … McDon­ald's novel has some formidable SF stingers not far beneath its densely textured surface.' — Locus