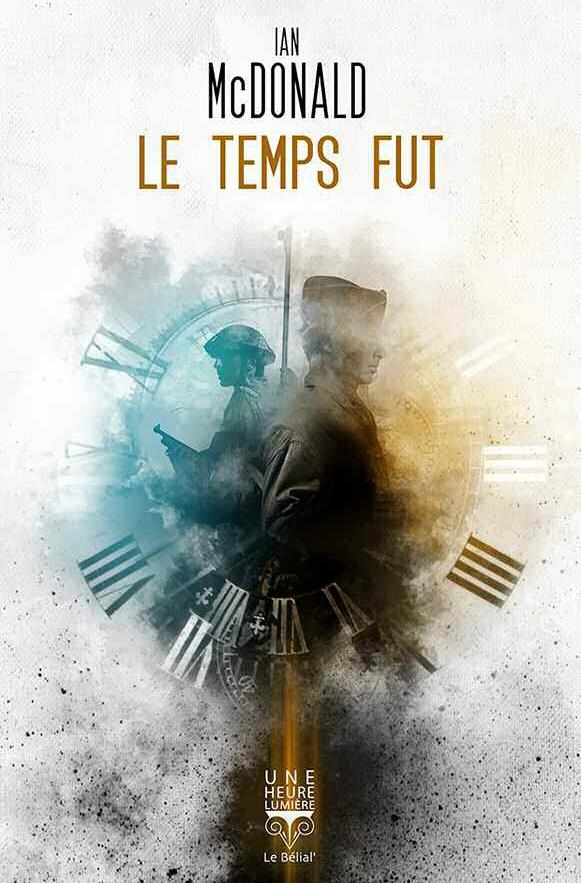 Ian McDonald's acclaimed, award-nominated novella TIME WAS is due out tomorrow in France! LE TEMPS FUT, published by Le Bélial', has been translated by Gilles Goullet, and has that stunning cover, above, by Aurélien Police. Here's the synopsis…
Bouquiniste indépendant, Emmett Leigh déniche un jour un petit recueil de poèmes lors de la liquidation de la librairie d'un confrère. Un recueil, Le Temps fut, qui s'avère vite d'une qualité littéraire au mieux médiocre… En revanche, ce qui intéresse Emmett au plus haut point, c'est la lettre manuscrite qu'il découvre glissée entre les pages de l'ouvrage. Pour le bouquiniste, tout ce qui peut donner un cachet unique et personnel à un livre est bon à prendre. Il se trouve ici en présence d'une lettre d'amour qu'un certain Tom adresse à son amant, Ben, en plein cœur de la Seconde Guerre mondiale. Remuant ciel et terre – et vieux papiers – afin d'identifier les deux soldats, Emmett finit par les retrouver sur diverses photos, prises à différentes époques. Or, la date présumée des photos et l'âge des protagonistes qui y figurent ne correspondent pas… Du tout.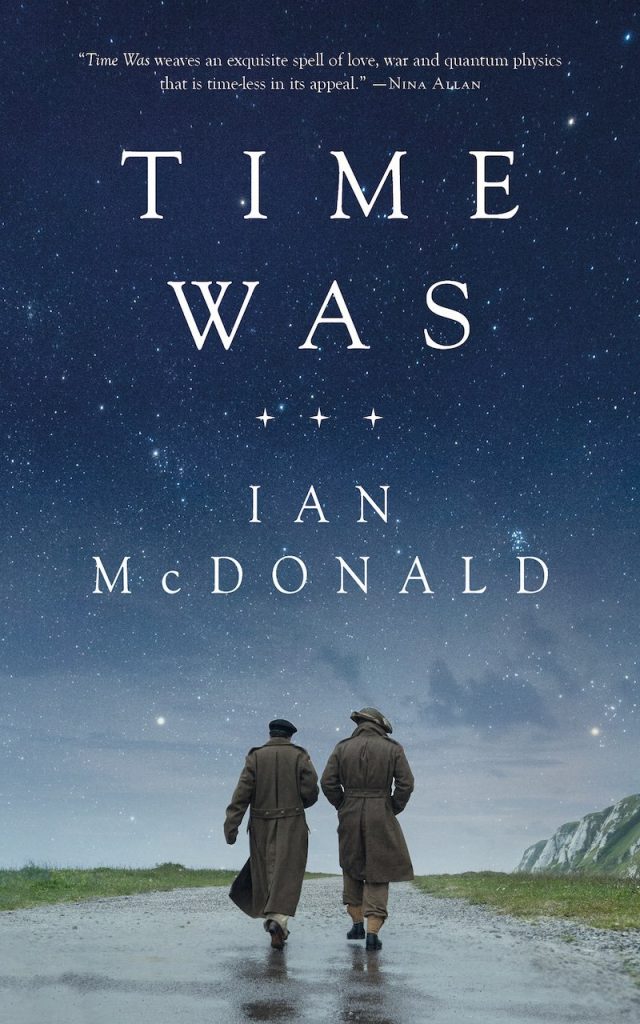 The novella won the BSFA Award for Best Shorter Fiction, and was a finalist for both the John W. Campbell Memorial Award and the Philip K. Dick Award. TIME WAS is published in the UK and North America by Tor.com. Here's the English-language synopsis…
A love story stitched across time and war, shaped by the power of books, and ultimately destroyed by it.
In the heart of World War II, Tom and Ben became lovers. Brought together by a secret project designed to hide British targets from German radar, the two founded a love that could not be revealed. When the project went wrong, Tom and Ben vanished into nothingness, presumed dead. Their bodies were never found.
Now the two are lost in time, hunting each other across decades, leaving clues in books of poetry and trying to make their desperate timelines overlap.
Here are a few reviews the novellas has received so far…
'[E]ntrances readers with this multigenerational novella of two time-crossed lovers who can only meet for brief moments separated by several years… beautiful writing… Fans of science fiction who enjoy a dash of history and legend will savor this tender story.' — Publishers Weekly
'With echoes of H. G. Wells's The Time Machine and replete with the inimitable scent of used bookstores, TIME WAS weaves an exquisite spell of love, war and quantum physics that is timeless in its appeal. A scientific romance in the most evocative sense of the word.' — Nina Allan
'[A] character-based story about the impact of a pair of time travelers on those who discover their existence. A full-length novel might have been consumed with the temporal mechanics and incidents in the lives of time-lost lovers; by eliding those details, this shorter work is, paradoxically, able to slow down and luxuriate in the story's elegiac themes… an impressively challenging book for its length, both in McDonald's use of language, and in its timey-wimey overlapping narratives. A story from the point of view of poets and book lovers would fall flat if the novel's language weren't a match for the inner monologues you'd expect from people whose interior lives are so full of words. McDonald succeeds in doing several seemingly incompatible things at once, and doing them well. TIME WAS is a time travel story that's also, and primarily, a love story. Science fiction is typically plot-driven, occasionally to the exclusion of other elements, but this one luxuriates in characters and language. It's a work that looks to the past, but speaks to the future of science fiction.' — B&N Sci-Fi & Fantasy Blog
'This slender, poignant queer romance incorporates time travel and hints of hard science into a story as devastatingly sad—which isn't to say bleak—as anything you'll read this year.' — B&N Sci-Fi & Fantasy Blog (Best SFF Books of the Year So Far, 2018, Honourable Mention)
'TIME WAS… a peculiar story of time, mystery, books, love, and war, compact as a parable, layered like a complex metaphor… and in some ways, strikingly unsettling… very well put together, and gorgeously written.' — Tor.com
French readers looking for more of Ian's work need look no further than his most recent series, Luna, which is published in France by Denoël (along with a few of Ian's other novels).