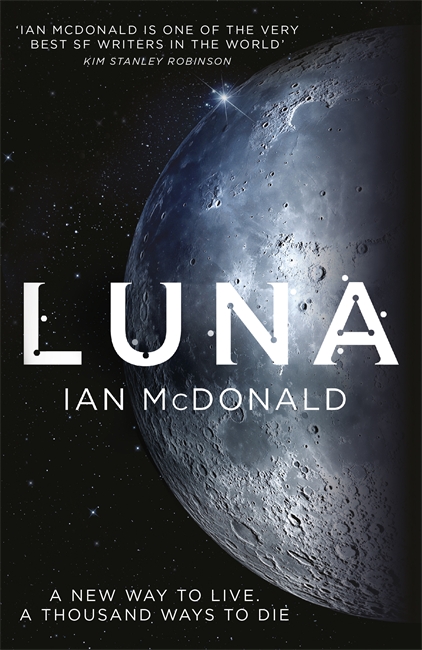 Tomorrow, Ian McDonald's critically-acclaimed LUNA: NEW MOON will be out in paperback in the UK! Published by Gollancz, here's the synopsis…
The new novel from a multi-award-winning writer: a corporate SF thriller and the deepest evocation yet of the terrors and rigours of life on the moon.
Luna is a gripping thriller about five corporate families caught in a bitter battle for supremacy in the harsh environment of the moon. It's very easy to die on the moon, but with its vast mineral wealth it's also easy to make your fortune.
Following the fortunes of a handful of disparate characters, from one of the lowliest workers on the moon to the heads of one of the most powerful families, LUNA provides a vast mosaic of life on this airless and terrifying new home for humanity.
LUNA: NEW MOON is also published in the US by Tor Books — the US paperback edition is due out in September 2016. The sequel, LUNA: WOLF MOON, is forthcoming (also from Gollancz and Tor Books).
Here's just a small selection of the aforementioned critical-acclaim that the novel has enjoyed…
'Heralds the welcome return of one of western science fiction's foremost globally oriented authors. Bristling with the energy and action… LUNA accomplishes much more than simply demonstrating the author's newfound appreciation for snappy plotting and adventure… Nestled within a narrative of lunar colonization driven by STEM developments and a decimated, post-oil Earth economy, LUNA burns with the desperate anxieties of the late-capitalist, financialized age… one of McDonald's greatest strengths: an ability to think through the uneven development and cultural diffusion of global economic and technological change. In a striking fashion, McDonald's worlds are heavily cultural… McDonald's worlds, whether grim, hopeful, or — as is often the case — both, feel lived in rather than culturally depleted or used up… With an action narrative driving this political commentary, LUNA is actually a fantastically fun read as well as an important one.' — LA Review of Books
'McDonald… begins his superb near-future series… scintillating, violent, and decadent world. McDonald creates a complex and fascinating civilization featuring believable technology, and the characters are fully developed, with individually gripping stories. Watch for this brilliantly constructed family saga on next year's award ballots.' — Publishers Weekly (Starred Review)
'Fans of cerebral, high-concept science fiction will love this exploration of society on the moon many decades after it has been colonized. The focus is more on concept and plot than on character, but the former are compelling enough to make this an addictive page-turner. Including the stories of many characters gives the reader important insights into different facets of society, and although the book starts at a slow pace, it accelerates into a mesmerizing political thriller.' — RT Book Reviews
'LUNA: NEW MOON is a world that has been intricately woven together by its author. It's compelling and thought-provoking, and all without relying on overbearing sci-fi clichés. Brilliantly done.' — SciFiNow
'Almost monolithic in its ambition. In its gravitas and tension and, alas, tragedy, it's damn near Shakespearian… a setting so brilliantly built and deftly embellished that buying into it isn't ever an issue; a vast cast of characters as satisfying and sympathetic individually as they are as part of McDonald's elaborate ensemble; and a plot composed of so many threads that you never know where it's going to go — except that when it ends, it's destined to end terribly… a world as wicked as it is convincing… only a matter of time before CBS sets about broadening the appeal of this magnificent bastard of a book.' — Tor.com