This August, Gollancz will be re-issuing William Gibson's classic, critically-acclaimed Neuromancer Series: NEUROMANCER, COUNT ZERO and MONA LISA OVERDRIVE!
Gibson's 1984 debut, NEUROMANCER, widely considered to be one of the great SF novels that revolutionised science fiction, won the Hugo, Nebula and Philip K. Dick Awards. The cover is above, and here is the synopsis…
The sky above the port was the color of television, tuned to a dead channel…
The Matrix is a world within the world, a global consensus — hallucination, the representation of every byte of data in cyberspace…
Case had been the sharpest data-thief in the business, until vengeful former employees crippled his nervous system. But now a new and very mysterious employer recruits him for a last-chance run. The target: an unthinkably powerful artificial intelligence orbiting Earth in service of the sinister Tessier-Ashpool business clan. With a dead man riding shotgun and Molly, mirror-eyed street-samurai, to watch his back, Case embarks on an adventure that ups the ante on an entire genre of fiction.
More than three decades later, Gibson's text is as stylish as ever, his noir narrative still glitters like chrome in the shadows and his depictions of the rise and abuse of corporate power look more prescient every day. Part thriller, part warning, Neuromancer is a timeless classic of modern SF and one of the 20th century's most potent and compelling visions of the future.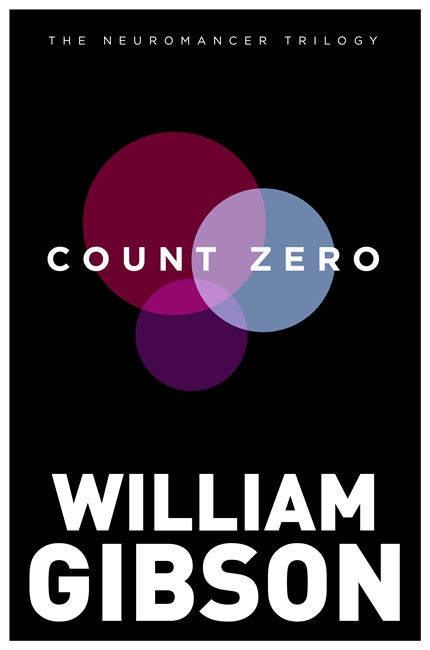 Here's the synopsis for the second novel, COUNT ZERO, which was nominated for the Hugo and Nebula Awards…
Turner, corporate mercenary, wakes in a reconstructed body, a beautiful woman by his side. Then Hosaka Corporation reactivates him for a mission more dangerous than the one he's recovering from: Maas-Neotek's chief of R&D is defecting. Turner is the one assigned to get him out intact, along with the biochip he's perfected. But this proves to be of supreme interest to certain other parties — some of whom aren't remotely human.
Bobby Newmark is entirely human: a rustbelt data-hustler totally unprepared for what comes his way when the defection triggers war in cyberspace. With voodoo on the Net and a price on his head, Newmark thinks he's only trying to get out alive. Until he meets the angel.
A stylish, streetsmart, frighteningly probable parable of the future.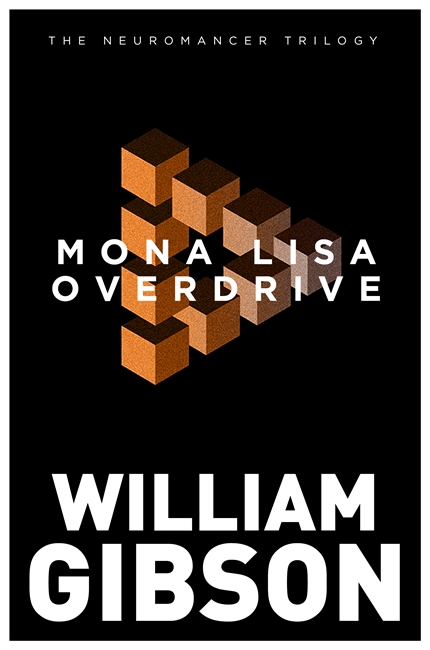 And, the third volume, MONA LISA OVERDRIVE…
Enter Gibson's unique world — lyric and mechanical, erotic and violent, sobering and exciting — where multinational corporations and high tech outlaws vie for power, traveling into the computer-generated universe known as cyberspace.
Into this world comes Mona, a young girl with a murky past and an uncertain future whose life is on a collision course with internationally famous Sense/Net star Angie Mitchell. Since childhood, Angie has been able to tap into cyberspace without a computer. Now, from inside cyberspace, a kidnapping plot is masterminded by a phantom entity who has plans for Mona, Angie, and all humanity, plans that cannot be controlled… or even known. And behind the intrigue lurks the shadowy Yazuka, the powerful Japanese underworld, whose leaders ruthlessly manipulate people and events to suit their own purposes… or so they think.
In the near future, Gollancz are due to publish a hardcover special edition of NEUROMANCER and also Gibson's BURNING CHROME anthology. We'll share the new covers for these as soon as they are available.
William Gibson's most recent new novel, THE PERIPHERAL, is published in the UK by Penguin Books.
Zeno represents William Gibson in the UK and Commonwealth, on behalf of Martha Millard at Sterling Lord Literistic.