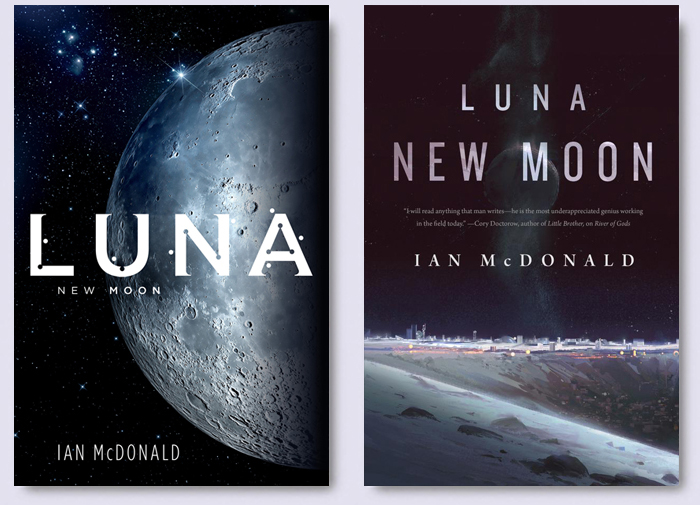 Ian McDonald's hotly-anticipated next novel, LUNA: NEW MOON, is soon to be published. We wanted to take this opportunity to feature all the information we have (to date). The first in a planned duology, the novel is due to be published in the UK on September 17th, 2015 by Gollancz (left), and on September 29th, 2015 by Tor Books in the US. Here's the synopsis…
The Moon wants to kill you. Whether it's being unable to pay your per diem for your allotted food, water, and air, or you just get caught up in a fight between the Moon's ruling corporations, the Five Dragons. You must fight for every inch you want to gain in the Moon's near feudal society. And that is just what Adriana Corta did.
As the leader of the Moon's newest "dragon," Adriana has wrested control of the Moon's Helium-3 industry from the Mackenzie Metal corporation and fought to earn her family's new status. Now, at the twilight of her life, Adriana finds her corporation, Corta Helio, surrounded by the many enemies she made during her meteoric rise. If the Corta family is to survive, Adriana's five children must defend their mother's empire from her many enemies… and each other.
As the novel's UK publisher page states,
'Told over two volumes this will do for the moon what the award winning RIVER OF GODS did for India, the award-winning BRASYL for Brazil and the award winning THE DERVISH HOUSE for Turkey — it will give it a vibrant, extraordinary and believable future.'
All three of those novels are also published in the UK by Gollancz: RIVER OF GODS, BRASYL and THE DERVISH HOUSE. Gollancz also publishes Ian's CYBERABAD DAYS and NECROVILLE.