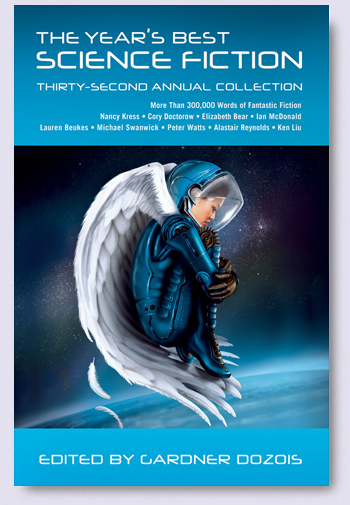 In this latest instalment of Short Fiction Watch, we wanted to draw your attention to the latest YEAR'S BEST SCIENCE FICTION anthology, due to be published by St. Martin's Griffin on July 7th, 2015. Three of our clients' work is featured:
Ian McDonald's THE FIFTH DRAGON (originally in the REACH FOR INFINITY anthology)
Aliette de Bodard's THE DAYS OF THE WAR, AS RED AS BLOOD, AS DARK AS BILE (originally published on Subterranean Online)
Lavie Tidhar's VLADIMIR CHONG CHOOSES TO DIE (originally published by Analog)
A full Table of Contents of the anthology can be found here. It is edited by Gardner Dozois.
Ian McDonald is the critically-acclaimed, best-selling author of multiple award-winning science fiction novels. His latest novel, LUNA: NEW MOON, is due to be published later this year by Gollancz in the UK and Tor Books in the US. (Check back tomorrow for full details.) A selection of Ian McDonald's earlier novels have been published as eBooks by Open Road Media.
Aliette de Bodard is the multi-award winning and nominated author of novellas and short stories. She is also the author of the critically-acclaimed Obsidian & Blood trilogy (Angry Robot Books); and the hotly-anticipated upcoming THE HOUSE OF SHATTERED WINGS, due to be published by Gollancz in the UK and Roc Books in the US.
Lavie Tidhar is the World Fantasy Award-winning author of OSAMA; the critically-acclaimed THE VIOLENT CENTURY (published by Hodder in the UK and Thomas Dunne Books in the US); and most recently the Jerwood Fiction Uncovered Prize-winning A MAN LIES DREAMING (also published by Hodder in the UK).