Ian McDonald's LUNA: NEW MOON continues its steady conquest of the world, and is out today in Bulgaria! Published by Artline Studios as Луна: Новолуние, here's the synopsis…
Луната иска да те убие. И има хиляда начина да го направи. Жестокият студ на вакуума. Смъртоносните дъждове на радиацията. Задушаващият прах, по-стар от Земята. Все по-крехките ти кости. А може и да не ти останат пари за вода. Или въздух. Или просто да застанеш на пътя на един от Петте Дракона – корпорациите, които властват над Луната и управляват изобилието ù от ресурси и възможности. Но ти ще останеш – защото Луната може да те направи по-богат, отколкото някога си си представял. Адриана Корта е на осемдесет години. Семейството ù управлява Корта Хелио. Заедно са оцелели през кървавите корпоративни войни и опасния период на мир, който ги е последвал. Но сега този мир се разпада. Адриана може да умре, но няма да се остави да я убият – нито съперниците ù, нито Луната. И каквото и да се случи с нея, Корта Хелио няма да загине. Новият роман на Иън Макдоналд е един вълнуващ, кървав епос  – фантастика, на чиято сцена мерят сили коварни магнати, влиятелни матриарси и космически Кръстници. Оставете се на тази изпълнена с живот картина да ви пренесе в един опасен свят, където между живота и смъртта винаги има само една крачка.
The first in the Luna series, it is published in the UK by Gollancz and in the US by Tor Books (paperback edition out in September). It has also been acquired for the German, Spanish and Polish markets, with more to come! Here is the English-language synopsis…
The scions of a falling house must navigate a world of corporate warfare to maintain their family's status in the Moon's vicious political atmosphere.
The Moon wants to kill you.
Maybe it will kill you when the per diem for your allotted food, water, and air runs out, just before you hit paydirt. Maybe it will kill you when you are trapped between the reigning corporations-the Five Dragons-in a foolish gamble against a futuristic feudal society. On the Moon, you must fight for every inch you want to gain. And that is just what Adriana Corta did.
As the leader of the Moon's newest "dragon," Adriana has wrested control of the Moon's Helium-3 industry from the Mackenzie Metal corporation and fought to earn her family's new status. Now, in the twilight of her life, Adriana finds her corporation-Corta Helio-confronted by the many enemies she made during her meteoric rise. If the Corta family is to survive, Adriana's five children must defend their mother's empire from her many enemies… and each other.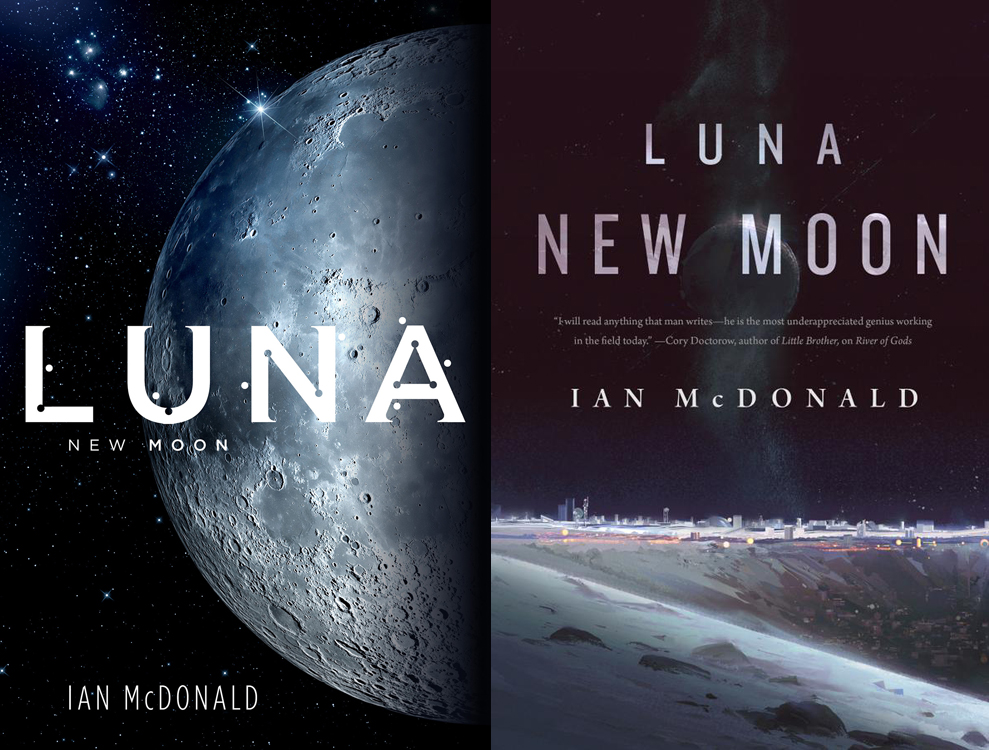 Here's just a small selection from the critical acclaim the novel has received…
'Smart, funny, passionate and at times quite dark, McDonald brings the touch we've seen in RIVER OF GODS and DERVISH HOUSE to an entirely new culture as it evolves in a distant hostile place where business or family rules all… it's terrific. My only complaint: it leaves you wanting the second book right now!' — Jonathan Strahan
'McDonald… begins his superb near-future series… scintillating, violent, and decadent world. McDonald creates a complex and fascinating civilization featuring believable technology, and the characters are fully developed, with individually gripping stories. Watch for this brilliantly constructed family saga on next year's award ballots.' — Publishers Weekly (Starred Review)
'Heralds the welcome return of one of western science fiction's foremost globally oriented authors. Bristling with the energy and action… Nestled within a narrative of lunar colonization driven by STEM developments and a decimated, post-oil Earth economy, LUNA burns with the desperate anxieties of the late-capitalist, financialized age: the universalization of debt, the demand for contingent and flexible labor, and the resulting polarized wealth gap… one of McDonald's greatest strengths: an ability to think through the uneven development and cultural diffusion of global economic and technological change… McDonald's worlds, whether grim, hopeful, or — as is often the case — both, feel lived in rather than culturally depleted or used up… With an action narrative driving this political commentary, LUNA is actually a fantastically fun read as well as an important one.' — LA Review of Books
'Almost monolithic in its ambition. In its gravitas and tension and, alas, tragedy, it's damn near Shakespearian… a setting so brilliantly built and deftly embellished that buying into it isn't ever an issue; a vast cast of characters as satisfying and sympathetic individually as they are as part of McDonald's elaborate ensemble; and a plot composed of so many threads that you never know where it's going to go — except that when it ends, it's destined to end terribly… a world as wicked as it is convincing… only a matter of time before CBS sets about broadening the appeal of this magnificent bastard of a book.' — Tor.com
The second novel in the series, LUNA: WOLF MOON, is also due to be published in the UK by Gollancz, and in the US by Tor Books.