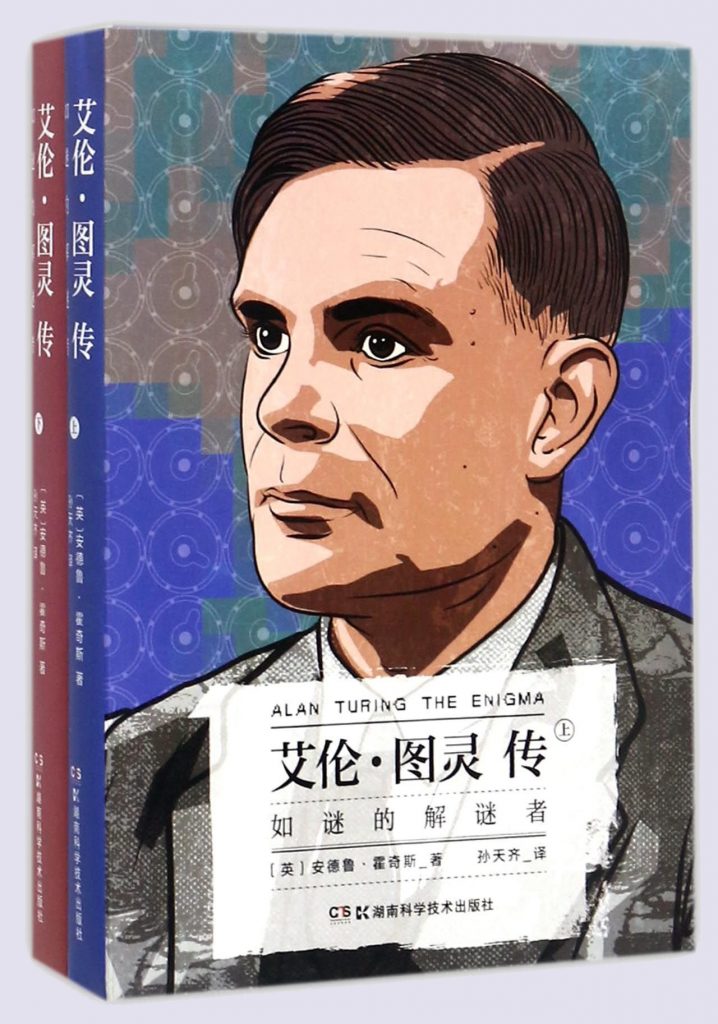 In case you missed it last year, there is a new Chinese edition of Andrew Hodges's best-selling, critically-acclaimed biography ALAN TURING: THE ENIGMA. Published by Hunan Science & Technology Press (湖南科学技术出版社) as 艾伦·图灵传—如谜的解谜者, here's the synopsis…
本书是世界共认的最权威的图灵传记。艾伦•图灵是现代人工智能的鼻祖,在24岁时奠定了计算机的理论基础。二战期间,他为盟军破译密码,为结束战争做出巨大贡献。战后,他开创性地提出人工智能的概念,并做了大量的前期工作。因同性恋问题事发,被迫注射激素,后来吃毒苹果而死。作者是一名数学家,也是一名同性恋者。他对图灵的生平有切身的体会,并实地走访调查图灵生前亲友,取得了大量的一手资料,写就此书。根据本书改编的电影《模仿游戏》获奥斯卡好的剧本改编奖。
The 艾伦·图灵传—如谜的解谜者 set pictured above includes the biography split into two parts.
The biography — on which THE IMITATION GAME movie was based — is published in the UK by Vintage, and in the US by Princeton University Press. Here's the English-language synopsis…
Alan Turing was the mathematician whose cipher-cracking transformed the Second World War. Taken on by British Intelligence in 1938, as a shy young Cambridge don, he combined brilliant logic with a flair for engineering. In 1940 his machines were breaking the Enigma-enciphered messages of Nazi Germany's air force. He then headed the penetration of the super-secure U-boat communications.
But his vision went far beyond this achievement. Before the war he had invented the concept of the universal machine, and in 1945 he turned this into the first design for a digital computer.
Turing's far-sighted plans for the digital era forged ahead into a vision for Artificial Intelligence. However, in 1952 his homosexuality rendered him a criminal and he was subjected to humiliating treatment. In 1954, aged 41, Alan Turing took his own life.