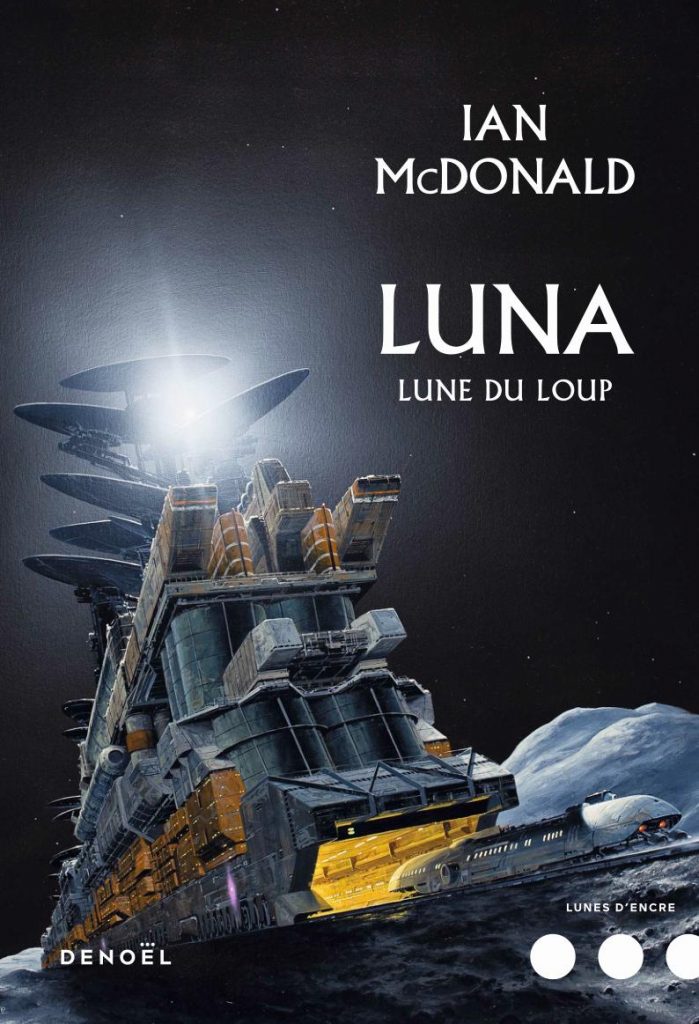 The French edition of WOLF MOON, the second novel in Ian McDonald's critically-acclaimed science fiction Luna series, is due out in two weeks! Published by Denoël as LUNA: LUNE DU LOUP, here's the synopsis…
Sur la Lune, deux ans après les événements qui ont précipité la chute de la famille Corta, les Mackenzie se sont approprié les restes de leur entreprise. Il n'y a donc plus que quatre «Dragons», ces consortiums familiaux qui se partagent l'exploitation des ressources lunaires et, donc, le pouvoir. Pourtant, les Mackenzie se déchirent sur les cadavres encore frais de leurs ennemis de toujours. Les Sun continuent, discrètement, à élaborer des plans visant à affaiblir leurs adversaires. Les Vorontsov vendent toujours leurs indispensables services au plus offrant. Et les Asamoah tentent tant bien que mal de préserver leur neutralité de façade. Mais le statu quo, même sous gravité réduite, n'est jamais acquis. D'autant que les rares survivants de la famille Corta – blessés, en fuite ou sous la protection d'autres Dragons – n'ont pas dit leur dernier mot.
Avec le deuxième tome de sa trilogie, Ian McDonald continue, sans temps mort, l'exploration minutieuse de sa colonie lunaire, nouveau Far West où tous les coups (bas) sont permis.
Denoël has also published the first in the series, NEW MOON, as LUNA.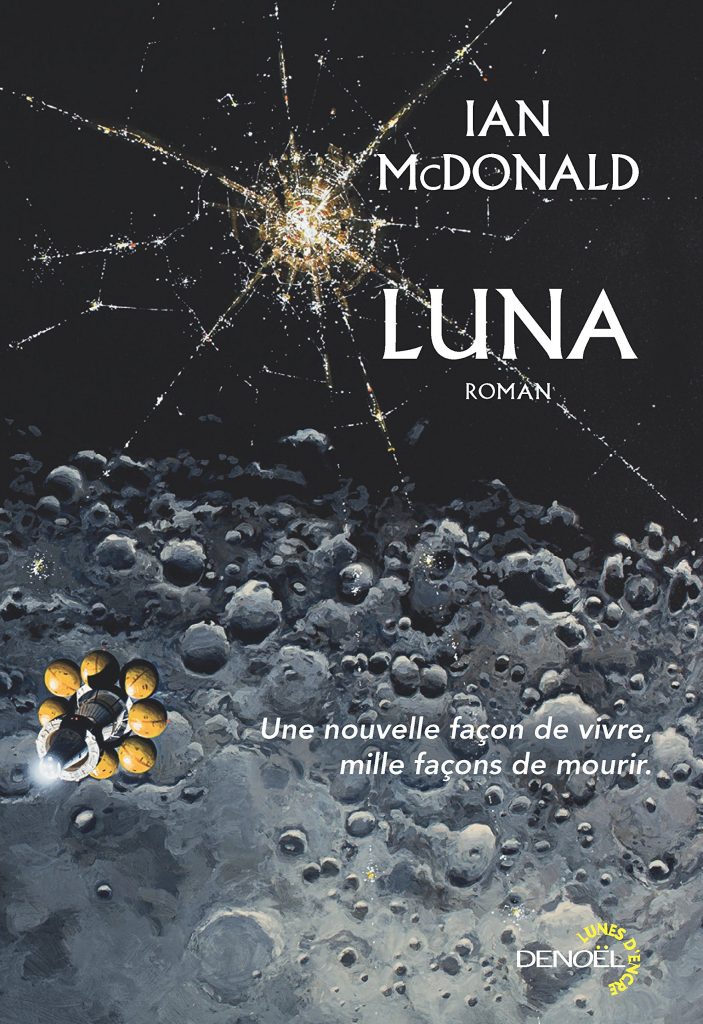 The Luna series is published in the UK by Gollancz, and in the US by Tor Books. The third novel in the series, MOON RISING, is due out later this year. Here's the English-language synopsis for WOLF MOON…
Corta Helio, one of the five family corporations that rule the Moon, has fallen. Its riches are divided up among its many enemies, its survivors scattered. Eighteen months have passed.
The remaining Helio children, Lucasinho and Luna, are under the protection of the powerful Asamoahs, while Robson, still reeling from witnessing his parent's violent deaths, is now a ward — virtually a hostage — of Mackenzie Metals. And the last appointed heir, Lucas, has vanished from the surface of the moon.
Only Lady Sun, dowager of Taiyang, suspects that Lucas Corta is not dead, and – more to the point – that he is still a major player in the game. After all, Lucas always was a schemer, and even in death, he would go to any lengths to take back everything and build a new Corta Helio, more powerful than before. But Corta Helio needs allies, and to find them, the fleeing son undertakes an audacious, impossible journey — to Earth.
In an unstable lunar environment, the shifting loyalties and political machinations of each family reach the zenith of their most fertile plots as outright war between the families erupts.