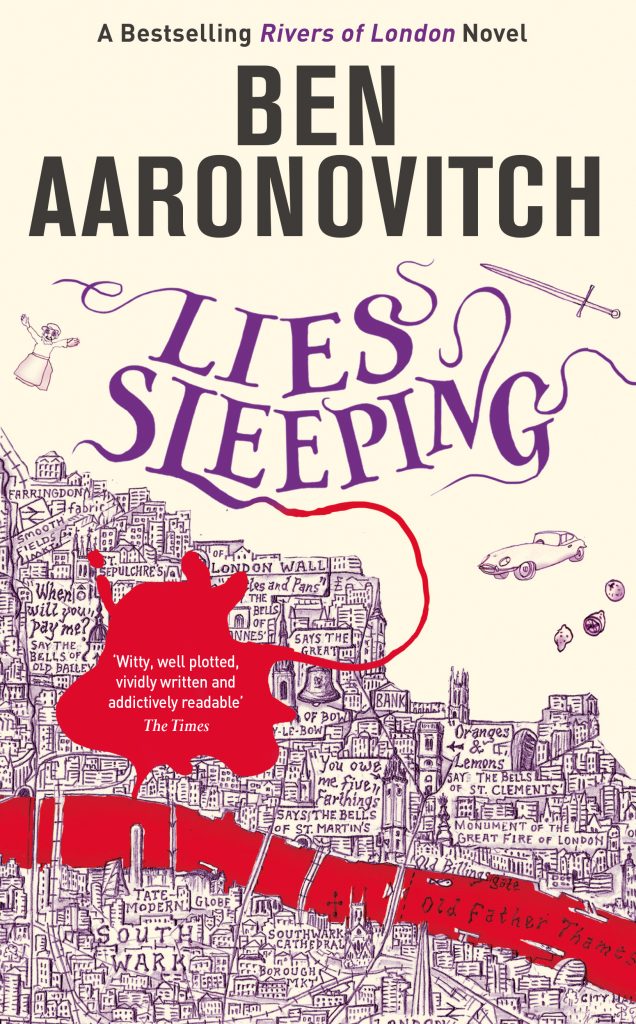 The cover for Ben Aaronovitch's highly-anticipated seventh Peter Grant novel, LIES SLEEPING, was unveiled today by Waterstones (see the Tweet and animated reveal, below) and Unbound Worlds! Due to be published in November by Gollancz (UK) and DAW Books (US), here's the synopsis…
Martin Chorley, aka the Faceless Man, wanted for multiple counts of murder, fraud, and crimes against humanity, has been unmasked and is on the run. Peter Grant, Detective Constable and apprentice wizard, now plays a key role in an unprecedented joint operation to bring Chorley to justice.
But even as the unwieldy might of the Metropolitan Police bears down on its foe, Peter uncovers clues that Chorley, far from being finished, is executing the final stages of a long term plan. A plan that has its roots in London's two thousand bloody years of history, and could literally bring the city to its knees.
To save his beloved city Peter's going to need help from his former best friend and colleague — Lesley May — who brutally betrayed him and everything he thought she believed in. And, far worse, he might even have to come to terms with the malevolent supernatural killer and agent of chaos known as Mr Punch…
November can't come quickly enough! Here are the (UK) covers, in chronological order…
Waterstones will also have a limited stock of signed hardcover editions of LIES SLEEPING, which you can pre-order here. Here, too, is Waterstones' Tweet, unveiling the cover…
Attention, @Ben_Aaronovitch fans: we're proud to reveal the 7th book in the Rivers of London series, arriving 15 Nov, filled with more magical occurrences. Don't hesitate: we have LIMITED SIGNED EXCLUSIVE editions available to pre-order: https://t.co/F9Ms6r5j8H pic.twitter.com/bXOOSN0CnS

— Waterstones (@Waterstones) May 3, 2018