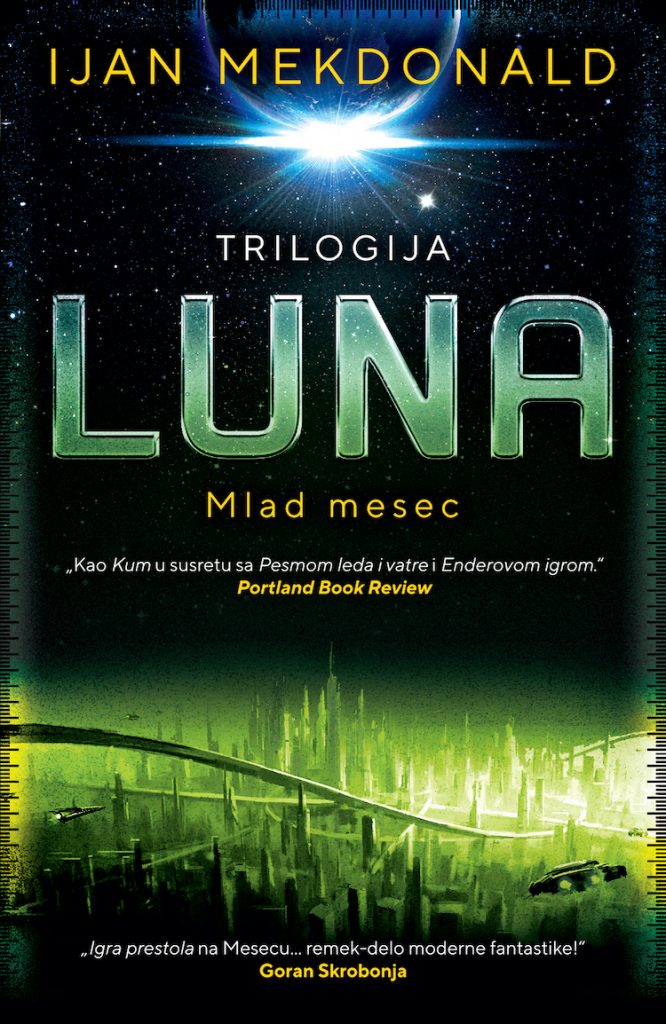 NEW MOON, the first novel in Ian McDonald's acclaimed Luna series, is now available in Serbia! Published by Laguna as MLAD MESEC, here's the synopsis…
Mesec želi da vas ubije.
Možda će vas ubiti kad ostanete bez dnevnice koja vam je dodeljena za hranu, vodu ili vazduh. Možda će vas ubiti kad ste u klopci između vladajućih korporacija, takozvanih Pet Zmajeva. Na korak od bogatstva, u sumanutom futurističkom feudalnom društvu, na Mesecu morate da se borite za svaki pedalj koji želite da steknete. I upravo je to učinila Adrijana Korta.
Kao vođa najmlađeg Mesečevog Zmaja, Adrijana je preotela kontrolu nad industrijom helijuma 3 od korporacije Makenzi metali i borila se da stekne novi status za svoju porodicu. Sada, pred kraj života, Adrijana shvata da je njena korporacija, Korta helio, suočena sa brojnim neprijateljima koje je stekla tokom svog meteorskog uspona. Ako porodica Korta misli da preživi, petoro Adrijanine dece moraju da odbrane majčino carstvo od brojnih neprijatelja… i jedno od drugog.
This edition is translated by Goran Skrobonja.
NEW MOON and the other novels in the series are published in the UK by Gollancz, in North America by Tor Books, and also in a wide range of translated editions around the world. (See below for a selection of the covers.) Here's the novel's English-language synopsis…
The Moon wants to kill you.
Maybe it will kill you when the per diem for your allotted food, water, and air runs out, just before you hit paydirt. Maybe it will kill you when you are trapped between the reigning corporations-the Five Dragons-in a foolish gamble against a futuristic feudal society. On the Moon, you must fight for every inch you want to gain. And that is just what Adriana Corta did.
As the leader of the Moon's newest "dragon," Adriana has wrested control of the Moon's Helium-3 industry from the Mackenzie Metal corporation and fought to earn her family's new status. Now, in the twilight of her life, Adriana finds her corporation — Corta Helio — confronted by the many enemies she made during her meteoric rise. If the Corta family is to survive, Adriana's five children must defend their mother's empire from her many enemies… and each other.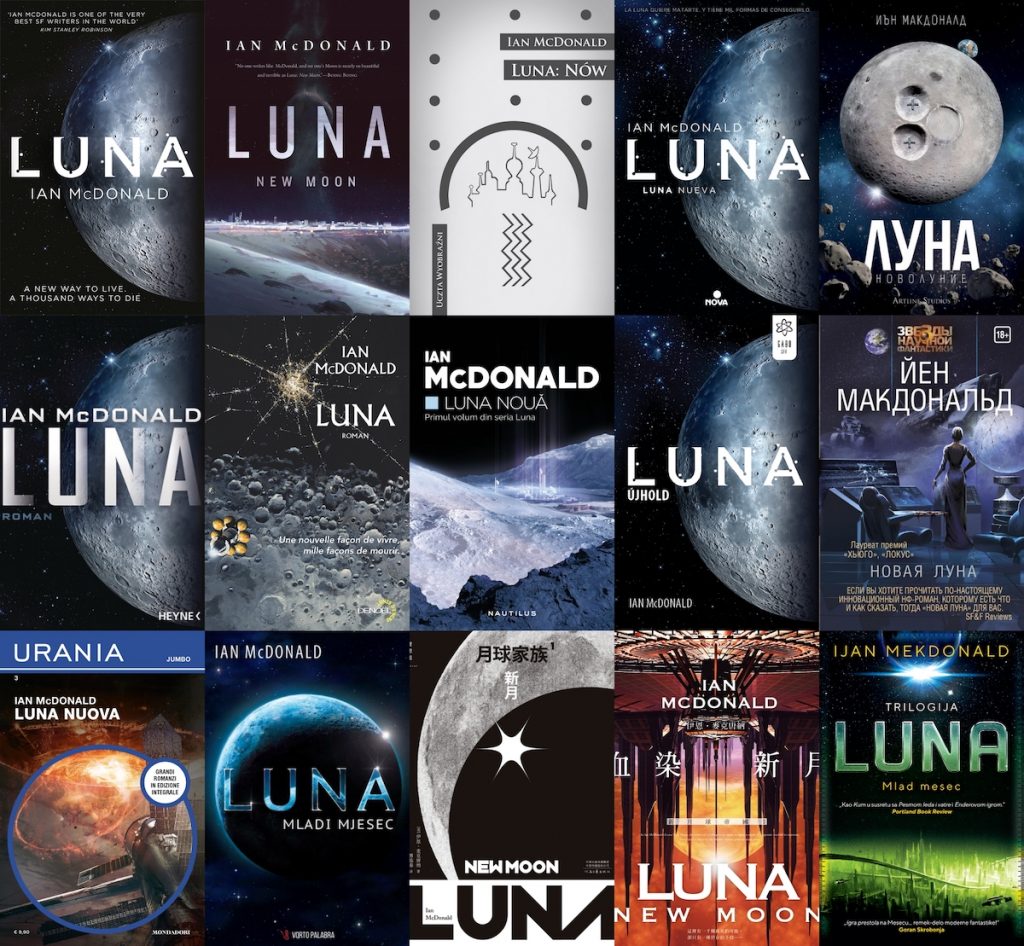 Finally, here are just a few of the great reviews NEW MOON has received so far…
'Smart, funny, passionate and at times quite dark, McDonald brings the touch we've seen in RIVER OF GODS and DERVISH HOUSE to an entirely new culture as it evolves in a distant hostile place where business or family rules all… it's terrific. My only complaint: it leaves you wanting the second book right now!' — Jonathan Strahan
'McDonald… begins his superb near-future series… scintillating, violent, and decadent world. McDonald creates a complex and fascinating civilization featuring believable technology, and the characters are fully developed, with individually gripping stories. Watch for this brilliantly constructed family saga on next year's award ballots.' — Publishers Weekly (Starred Review)
'Mafia-style mining families clash in a compelling fantasy that offers up all the pleasures of a cut-throat soap opera in space…That McDonald is able to spin a compelling story from this unforgiving set-up is testament to his skill as a writer… One thing Luna does exceptionally well is to puncture Old Heinlein's assumption that a frontier society based on the primacy of the family and a disregard of conventional laws would end up like idealised smalltown America. Luna argues that any realistic future colonisation of the moon will be much more The Sopranos than The Waltons. LUNA is as gripping as it is colourful, and as colourful as it is nasty.' — Guardian
'No one writes like Ian McDonald, and no one's Moon is nearly so beautiful and terrible… Ian McDonald's never written a bad novel, but this is a great Ian McDonald novel… McDonald has ten details for every detail proffered by other sf writers. Not gratuitous details, either: gracious ones. The fashion sense of William Gibson, the design sense of Bruce Sterling, the eye for family drama of Connie Willis, the poesie of Bradbury, and the dirty sex of Kathe Koja and Samuel Delany… McDonald's moon is omnisexual, kinky, violent, passionate, beautiful, awful, vibrant and crushing. As the family saga of the Cortas unravels, we meet a self-sexual ninja lawyer, a werewolf who loses his mind in the Full Earth, a family tyrant whose ruthlessness is matched only by his crepulance, and a panoply of great passions and low desires. LUNA: NEW MOON is the first book of a two-book cycle. Now I'm all a-quiver for the next one.' — BoingBoing
'Fans of cerebral, high-concept science fiction will love this exploration of society on the moon many decades after it has been colonized. The focus is more on concept and plot than on character, but the former are compelling enough to make this an addictive page-turner. Including the stories of many characters gives the reader important insights into different facets of society, and although the book starts at a slow pace, it accelerates into a mesmerizing political thriller.' — RT Book Reviews
'LUNA: NEW MOON is the best moon novel I've seen in many years, but it's also something of a piece with the recent movement on the part of Paul McAuley, Kim Stanley Robinson, and oth­ers to confine novels to the solar system, out of a realistic assessment that this is likely all we'll have to work with – but McDonald takes this a step further. Possibly the most chilling lines in the book for an SF reader come from Adriana herself, in her own narrative: ''There was no law, no justice,'' she writes, ''only management. The moon was the frontier, but it was the frontier to nothing. There was nowhere to run.'' Inasmuch as it challenges one of the cherished master narratives of SF, in which the moon is only a stepping-stone, and despite what it owes to the tropes of '70s-era social melodrama, McDon­ald's novel has some formidable SF stingers not far beneath its densely textured surface.' — Locus
'The way that Ian McDonald flawlessly adapts his writing to the relevant culture and country at hand is ingenious, and he showcases this perfectly in his much-lauded previous work. In LUNA: NEW MOON though, McDonald has clearly perfected this skill… McDonald certainly shows off the well-developed Cortas to illustrate his knack for creating dynamic human relationships that encompass the whole Moon… LUNA: NEW MOON is a world that has been intricately woven together by its author. It's compelling and thought-provoking, and all without relying on overbearing sci-fi clichés. Brilliantly done.' — SciFiNow
'In its gravitas and tension and, alas, tragedy, it's damn near Shakespearian… a setting so brilliantly built and deftly embellished that buying into it isn't ever an issue; a vast cast of characters as satisfying and sympathetic individually as they are as part of McDonald's elaborate ensemble… a world as wicked as it is convincing…' — Tor.com