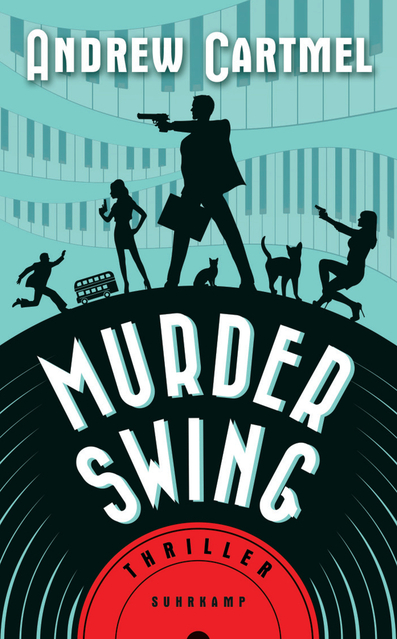 We're very happy to report that WRITTEN IN DEAD WAX, the first novel in Andrew Cartmel's critically-acclaimed Vinyl Detective mystery series, has been selected as a top 10 crime pick by Germany's Deutchlandfunk Kultur website! The novel is a 'Super Mix aus Comic, Krimi und Groteske, heiter bis jazzig.' (A superb mix of comedy, gritty crime and cheerful jazz.)
Published in Germany by Suhrkamp Verlag as MURDER SWING, here's the synopsis…
London, heute: Er ist ein Plattensammler, ein Spezialist für äußerst seltene LPs, die er kauft und verkauft. Die Jobbeschreibung auf seiner Visitenkarte lautet: ›Vinyl-Detektiv‹. Und manche Leute nehmen das ganz wörtlich – so wie die geheimnisvolle Nevada Warren, die ihn für eine Unsumme anheuert, um für einen anonymen Auftraggeber eine Platte zu finden, die zu der schmalen Produktion eines winzigen kalifornischen Jazz-Labels gehört, das in den 1950ern nur ein Jahr existierte.
Bald häufen sich seltsame Todesfällen, die allesamt mit dieser Platte zu tun haben könnten. Aber was könnte auf ihr zu hören sein, was sie so ungemein wertvoll macht? Und was hat einer der mächtigsten Konzerne der weltweiten Unterhaltungsindustrie damit zu tun? Zu allem Überfluss hat unser Detektiv bald auch noch die »Aryian Twins« Heinz und Heidi an der Hacke, zwei ziemlich extravagante Killer…
The Vinyl Detective series is published in English by Titan Books: WRITTEN IN DEAD WAX, THE RUN-OUT GROOVE, VICTORY DISC, and FLIP BACK.

Here's some of that aforementioned critical acclaim…
'This charming mystery feels as companionable as a leisurely afternoon trawling the vintage shops with a good friend.' — Kirkus
'… fast-paced, lighthearted adventure… marvelously inventive and endlessly fascinating…' — Publishers Weekly
'Author Cartmel has combined the tropes of the several genres into a surprising, refreshing story centered around old-fashioned records… the story delivers multiple chuckles per chapter… Based on this volume, the series will be a hit.' — New York Journal of Books
'The story is so charming, funny and engaging… You can really tell that Andrew Cartmel is intimately familiar with both London and the vinyl scene. There is a wonderful sense of time and place, each location filled with a varied cast of colourful characters… Even more impressive, the protagonist's passion for vinyl never comes across as preachy or boring. There is an engaging tapestry of technical information and jazz history being woven throughout, so convincing that it would take an expert to separate fact from fiction… The Vinyl Detective has it all… intrigue, mystery, romance, action, travel, humour, music, history… It's the perfect chilled-out read… It's British crime fiction with an American jazz soundtrack and it's delightful. As long as Andrew Cartmel keeps spinning these characters, I'll keep reading.' (9/10) — Alternative Magazine Online
'[Cartmel's] charity-shop-haunting, record-fair-regular vinyl obsessive with an encyclopaedic knowledge of jazz is a natural and welcome addition to the genre's pantheon… a highly entertaining cast of supporting characters… a pair of utterly convincing cats which effortlessly steal every scene in which they appear… a sharp, amusing and compulsively readable detective yarn packed with witty asides dealing with everyone from Sun Ra to Elvis Presley, as enjoyably accessible to the jazz obsessive as it is to the general reader.' — London Jazz News