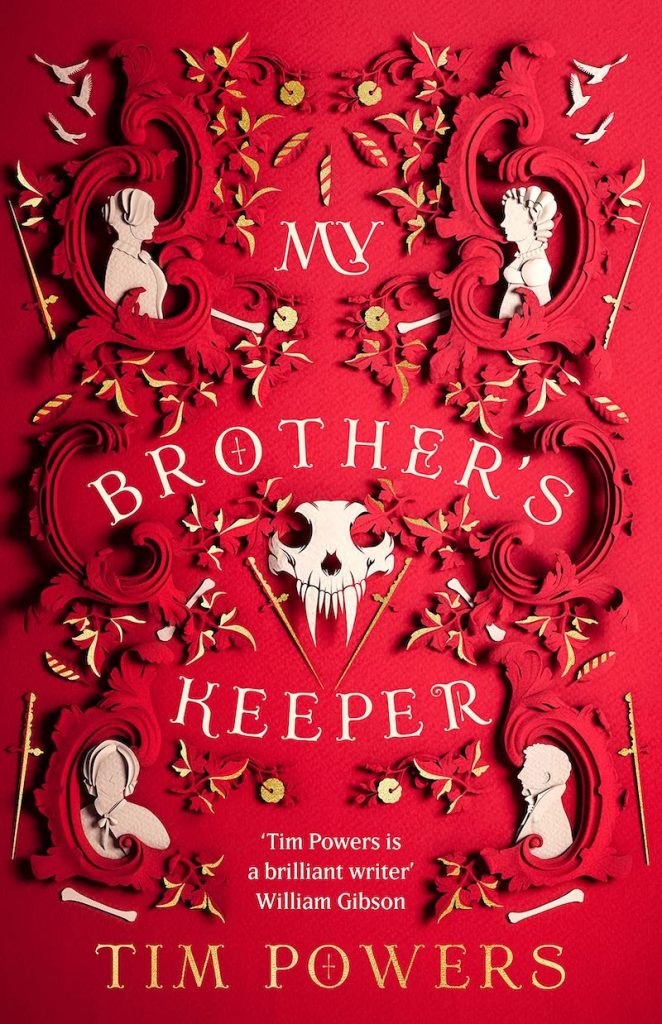 The highly anticipated new novel from Tim Powers, MY BROTHER'S KEEPER is out this week — on Thursday, to be exact (October 12th)! Published by Head of Zeus, here's the synopsis…
Howarth, 1846. The edge of the Yorkshire moors.
Here, in solitude, live a widowed parish priest and his family: three daughters and their single brother.
Though the future will celebrate the three daughters, right now they are unknown, their genius concealed. In just a few short years, they will all be dead.
And it will be middle daughter Emily's chance encounter with a grievously wounded man on the moor that sets them on the path to their doom.
My Brother's Keeper introduces an ancient secret haunting the moors, a dark inheritance in the family bloodline and something terrible buried under an ogham-inscribed slab in the church.
An atmospheric, claustrophobic gothic novel from a revered fantasy author… featuring… have you not guessed yet?
Here are just a couple of great recent reviews the novel has received…
'[A]n impressive mash-up of literary biography and werewolf lore… Through all the supernatural drama, the shifting family dynamic remains the heart of the story and their domestic travails prove just as harrowing as any paranormal showdown. The result is a treat for Powers's fans and Brontë lovers alike.' — Publishers Weekly
'A masterly, compelling, and moving tale that places Tim Powers among the greatest fantasy writers of his or any generation. Countless novels have involved the Brontë family, but none would so surely please and enchant them as this one. MY BROTHER'S KEEPER is a pure delight.' — Dean Koontz
'Combines the Brontës, a mysterious cult, and werewolves… run, don't walk, to your bookstore for this decadent Gothic bonbon.' — Silvia Moreno-Garcia
'MY BROTHER'S KEEPER is at its strongest when deftly mixing real-world biography with the stuff of horror… an eerie period piece perfectly well-suited to darkening October nights.' — Wall Street Journal
'… a joltingly good read… Powers brilliantly weaves through the hallowed family history a tale of ancient Irish curses, consumptive ghosts, fairylands and a werewolf cult that is blighting the North Country. It's gruesome, gripping stuff as the fearless Emily, aided by her dog Pilot, forces her family to confront uncomfortable truths and lay a curse to rest.' — Daily Mail (UK)
Looking for more novels by Powers? The author's Fault Lines trilogy is published by Gollancz, as part of their Fantasy Masterworks series; other novels of his have been published in the UK by Corvus.