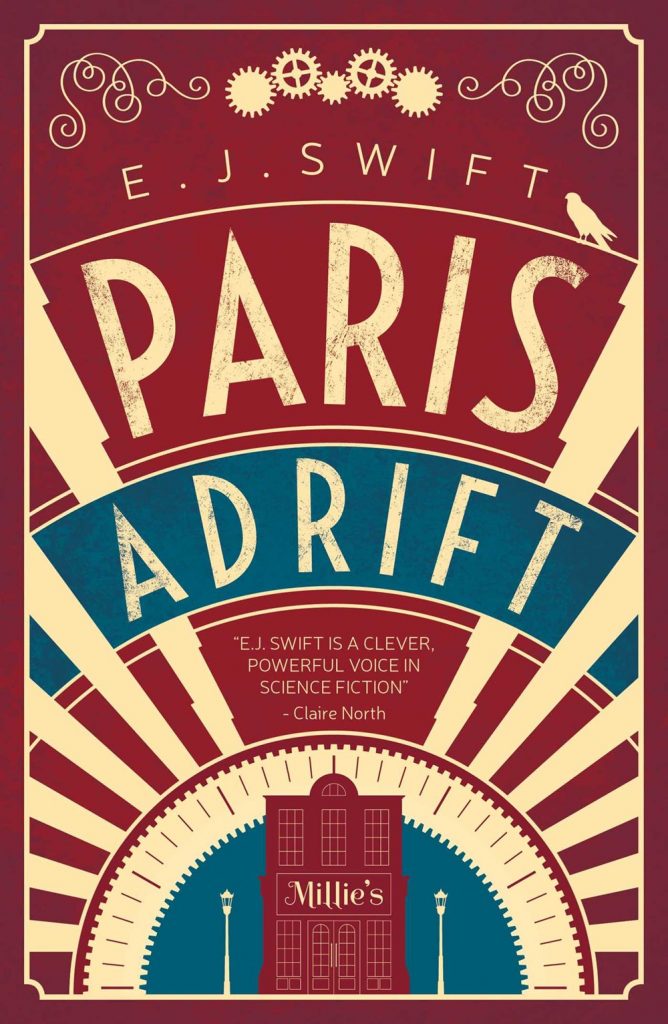 The new edition of E.J. Swift's acclaimed PARIS ADRIFT is out tomorrow! Due to be published by Solaris, graced with the fantastic new cover above, here's the synopsis…
Determined to escape her old life, misfit and student geologist Hallie packs up her life in England and heads to Paris. As a bartender at the notorious Millie's, located next to the Moulin Rouge, she meets Gabriela, who guides her through this strange nocturnal world, and begins to find a new family.
But Millie's is not all that it seems: a bird warns Hallie to get her feathers in order, a mysterious woman shows up claiming to be a chronometrist, and Gabriela is inexplicably unable to leave Paris. Then Hallie discovers a time portal located in the keg room. Over the next nine months, irate customers will be the least of her concerns as she navigates time-faring through the city's turbulent past and future, falling in love, and coming to terms with her own precarious sense of self.
Described as 'The Time Machine meets Midnight in Paris', here are just some of the great reviews the novel has received…
'As well as being a profound mediation on history and the need to defend democracy, Paris Adrift is also a gorgeous evocation of youth and growing up… a celebration of that particular moment in our lives, when we feel those connections all the more strongly because we know on some level they will come to an end.' — Fantasy Faction
'[A]n effervescent blend of revisionist history, fantasy and science fiction… Hallie's newfound family and bar life is utterly charming, and it's this that holds your attention even as the plot meanders. The stakes — world-destroying as they may be — never feel higher than whether Hallie will make it through a shift at Millie's.' — Washington Post
'E.J. Swift's PARIS ADRIFT is her best novel yet: a time-travelling adventure that, despite the cosmic stakes, is bravely and beautifully intimate. Despite the apocalyptic backdrop, PARIS is also wistfully hopeful – a novel of ordinary, extraordinary heroism… PARIS ADRIFT uses science fiction's largest and most unwieldy mechanic for its smallest and most intimate stakes: this isn't about the world, it is about Hallie. PARIS is a story about significance at every level, individually and collectively; ultimately, whether that's in time, life, or simply one's outlook – this is a poetic demonstration of how little changes make big differences. Despite being a novel that's – literally! – timeless, you couldn't find a work more wonderfully fitting for 2018.' — Pornokitsch
'[A] really gripping book that was also really thought provoking and moving… [The novel] deals with many themes which are very relevant right now and Hallie's time travel to a bleak 2042 felt too plausible… [I] loved reading about Hallie's expeditions to 1875. Paris really came alive for me and I just loved all the sub stories going on, particularly Millie's. PARIS ADRIFT also touches on what it's like to feel adrift and alone in this big world, whether we're living the best versions of ourselves. This story is about getting lost in order to find yourself. There's a good message in this book, that doing small deeds to help strangers can have huge effects later on and the future is something we should all be thinking about.' — British Fantasy Society
'Paris Adrift is a different type of time travel book, one I hope to see more of, and I would recommend it to anyone who enjoys Paris, the fear for the future, and traveling into the unknown. Be sure to check out the other stops on the tour!' — Utopia State of Mind
And, for the sake of completeness, here's the novel's original cover, by Joey Hi-Fi, which we also think is pretty fantastic…