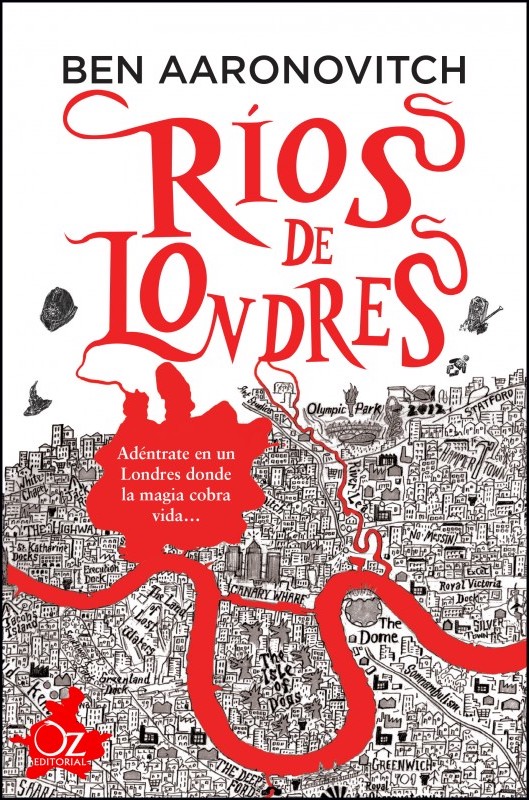 Oz Editorial has published a new Spanish edition of Ben Aaronovitch's best-selling, critically-acclaimed first Peter Grant novel, RIVERS OF LONDON!
En Londres, la magia está fuera de control
El joven Peter Grant era un agente de policía novato más hasta que un día, durante la investigación de un terrible asesinato, recibe cierta información de un testigo ocular muy especial: un fantasma. Tras descubrir que la magia existe, Grant ingresará en un departamento secreto de Scotland Yard que se encarga de las investigaciones sobrenaturales y, junto al enigmático inspector Nightingale, llevará a cabo tareas tan singulares como negociar treguas entre el dios y la diosa del Támesis, desenterrar tumbas en Covent Garden y perseguir a un espíritu maligno y vengativo que está sembrando el caos en la ciudad.
RIVERS OF LONDON, as well as the other Peter Grant novels, are published in the UK by Gollancz. Here's the English-language synopsis for the novel…
My name is Peter Grant and until January I was just probationary constable in that mighty army for justice known to all right-thinking people as the Metropolitan Police Service (and as the Filth to everybody else). My only concerns in life were how to avoid a transfer to the Case Progression Unit — we do paperwork so real coppers don't have to — and finding a way to climb into the panties of the outrageously perky WPC Leslie May. Then one night, in pursuance of a murder inquiry, I tried to take a witness statement from someone who was dead but disturbingly voluable, and that brought me to the attention of Inspector Nightingale, the last wizard in England.
Now I'm a Detective Constable and a trainee wizard, the first apprentice in fifty years, and my world has become somewhat more complicated: nests of vampires in Purley, negotiating a truce between the warring god and goddess of the Thames, and digging up graves in Covent Garden… and there's something festering at the heart of the city I love, a malicious vengeful spirit that takes ordinary Londoners and twists them into grotesque mannequins to act out its drama of violence and despair.
The spirit of riot and rebellion has awakened in the city, and it's falling to me to bring order out of chaos — or die trying.
[Incidentally, at the time of writing, RIVERS OF LONDON is part of Amazon UK's Autumn Kindle Sale, at only 99p!]
The series is also published in the US by Del Rey and DAW Books, in Germany by DTV, in France by J'ai Lu, and widely in other translations.