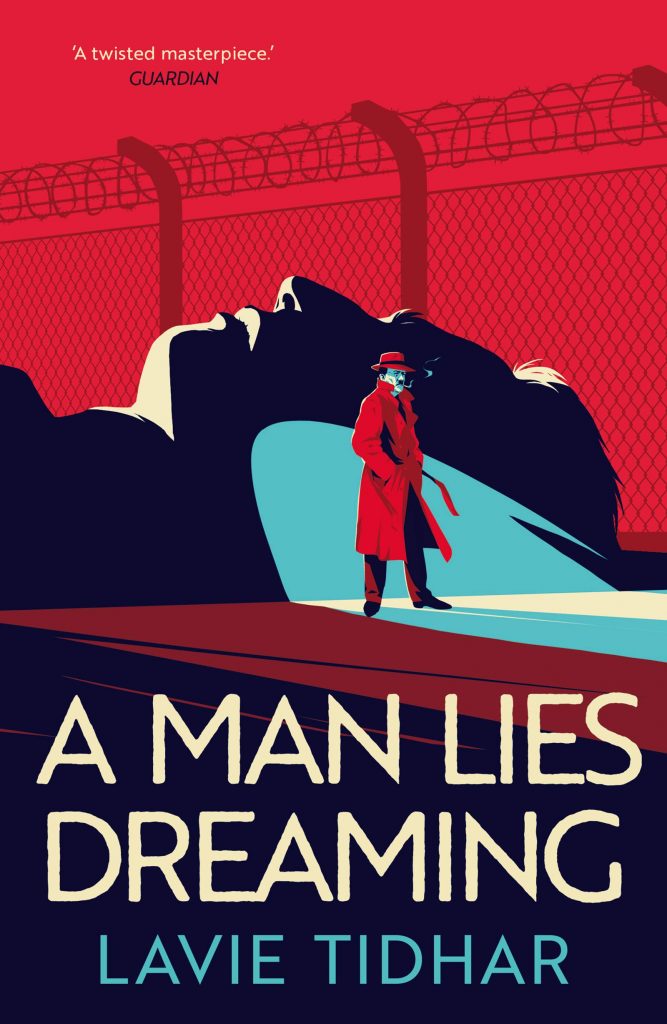 We're very happy to report that a new UK edition of Lavie Tidhar's Jerwood Fiction Uncovered Award-winning novel, A MAN LIES DREAMING is due out next week! To be published by Head of Zeus on April 15th, here's the synopsis…
1939. In a grotty corner of London, in a flat above a shop, a private eye known as Wolf keeps his office. The city is in the throes of a very British Fascism, and Wolf is far from the life he left behind in Germany, before the Fall. Business hasn't been good, so when a glamorous Jewish heiress comes through his door, he has no choice but to take on her case.
It's a decision Wolf will soon regret.
For in another time and place, a man lies dreaming. Once a Yiddish pulp writer, but now imprisoned in a hell of humanity's making, Shomer creates lurid tales of revenge in his sleep…
Prescient, darkly funny and wholly original, the award-winning A Man Lies Dreaming is a modern fable for our time.
The novel is also available in North America, published by JABberwocky (with a great cover by Sarah Anne Langton).
Here are just a few of the great reviews the novel has received since it was first published…
'Wild, noir-infused alternative history from genre-bender Tidhar… A wholly original Holocaust story: as outlandish as it is poignant.' — Kirkus (Starred Review)
'…savagely funny… A MAN LIES DREAMING, by the Israeli-born novelist Lavie Tidhar, has not been published with the fanfare bestowed on Martin Amis's The Zone of Interest or Howard Jacobson's J, but it is their equal for savage humour… Those who enjoy laughter in the dark will relish Tidhar's parade of mordant ironies… This novel is weird, upsetting, unmissable.' 5* — Telegraph
'No one can accuse Lavie Tidhar of being risk-averse… Tidhar reveals – as he did earlier in OSAMA and to some extent in THE VIOLENT CENTURY – that he's really less interested in the mechanistic ''what-ifs'' of conventional alternate history than he is in the interpenetration of real and in­vented histories, or perhaps more grandiosely in the interpenetration of art and life – even the often-demeaned art of sensational fiction or (as in the case of THE VIOLENT CENTURY) comic books. This is what makes him such an interesting writer, and what makes A MAN LIES DREAMING quite a bit more complex than it at first appears… the novel is not without a fair amount of humor, and that might well be the boldest risk Tidhar is taking here…' — Locus
'The best book I read last year is A MAN LIES DREAMING by Lavie Tidhar, a form of fictional historiography based on a' what if 'principle. I love that, if it is done well and intelligently… It sounds ridiculous and it has certainly been written down with a great sense of irony, but at the same time it is so cleverly constructed and such a spectacular conclusion unfolds that you are going to take it all very seriously.' — Sting (yes, that one) to Volksrant
'How does one write the Holocaust? This high-wire act of a book is his attempt. Does it work as pulp? Yes. It's nasty, clever, waspish and witty. It finds room for guest appearances from Leni Riefenstahl, Ian Fleming and Evelyn Waugh and quotations from everyone from Chandler to Ukip…  You turn the pages avidly. You read it for the pulp story. And you read it for the frame that surrounds it. And you can't stop reading.' — Herald Scotland