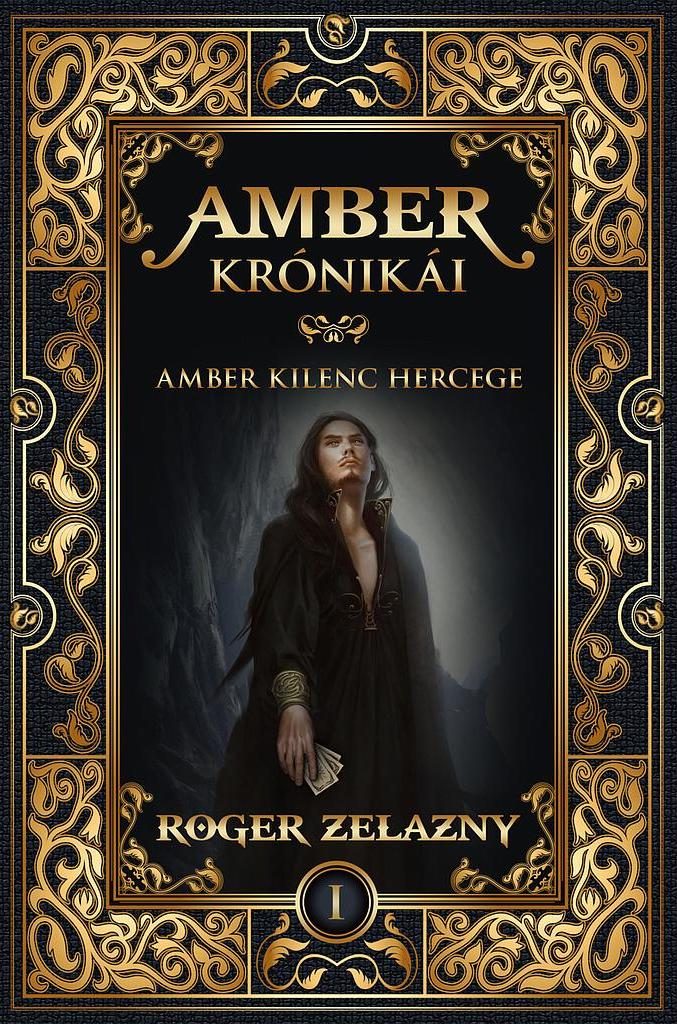 NINE PRINCES IN AMBER first novel in Roger Zelazny's classic fantasy series, Chronicles of Amber is out now in Hungary! Published by Édisvíz as AMBER KILENC HERCEGE, here's the synopsis…
A fantasy irodalom egyik legimpozánsabb alakja, az összehasonlíthatatlan Roger Zelazny számtalan díjat kapott alkotásaiért – köztük hat Hugo- és három Nebula-díjat – legendás írói karrierje során. Több mint ötven könyve közül azonban vitathatatlanul az Amber krónikái volt a legkiemelkedőbb irodalmi sorozata. Az Amber krónikái tíz könyvből álló történet, amely egy lángelme fantáziájának és elbeszélő képességének olyan darabja, ami fantasy írók generációit ihlette meg, köztük Neil Gaimant és George R. R. Martint.
AMBER az egyetlen valódi világ, aminek minden más világ – köztük a mi Földünk is – csak árnyékvalósága. Amber ott lüktet főhősünk, Corwin szívében és vérében, annak ellenére, hogy századokra száműzték erre az árnyékbolygóra, amit mi Földnek hívunk. Innen hazatérni azonban nem egyszerű az amnéziában szenvedő hercegnek, hiszen nem könnyű hazatérésről van szó, hanem egy trónörökös harcáról Amber trónjáért egy multidimenzionális világban. Az emberfeletti erővel rendelkező Corwin hercegnek meg kell harcolnia a többi örökössel, akik veszélyes és fondorlatos gátakat gördítenek felemelkedése útjába. Az Amber koronájáig vezető út a képzeletet felülmúló valóságoktól, démoni orgyilkosoktól és horrorisztikus tapasztalásoktól hemzseg. Egy földi kórházban ébredve hősünk arra sem emlékszik, ki is ő valójában, honnan jött és milyen körülmények áldozata lett. Amint lassan világossá válik számára, hogy ő Oberonnak, Amber királyának fia, az is körvonalazódni látszik, hogy ezzel együtt egy párhuzamos univerzumok felett uralkodó királyság jogos örököse is.
NINE PRINCES IN AMBER, the first of ten novels in the series, was first published in 1970. Here's the English-language synopsis…
Awakening in an Earth hospital unable to remember who he is or where he came from, Corwin is amazed to learn that he is one of the sons of Oberon, King of Amber, and is the rightful successor to the crown in a parallel world.
Amber, the one real world, wherein all others, including our own Earth, are but Shadows. Amber burns in Corwin's blood. Exiled on Shadow Earth for centuries, the prince is about to return to Amber to make a mad and desperate rush upon the throne. From Arden to the blood-slippery Stairway into the Sea, the air is electrified with the powers of Eric, Random, Bleys, Caine, and all the princes of Amber whom Corwin must overcome. Yet, his savage path is blocked and guarded by eerie structures beyond imagining; impossible realities forged by demonic assassins and staggering horrors to challenge the might of Corwin's superhuman fury.
Zeno represents Roger Zelazny in Translation, on behalf of the Zelazny Estate.